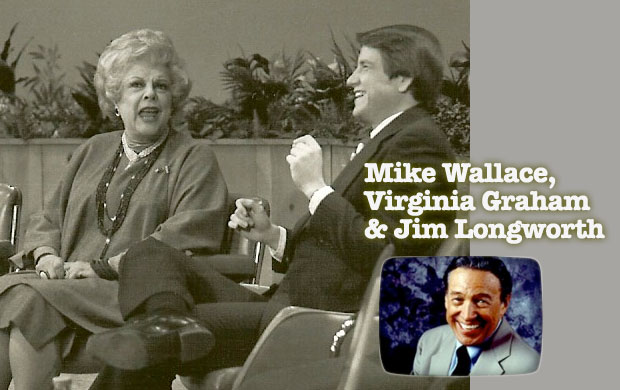 by Jim Longworth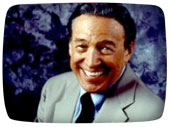 Legendary broadcaster Mike Wallace passed away April 7, 2012 at the age of 93, and for most Americans, he will forever be remembered as the man who pioneered the modern day, hard hitting interview. But behind every interviewer is a good producer, and Mike had a number of them over the years. One day in 1979, though, it was Mike who worked behind the scenes to help produce a segment for someone else. More on that in a moment.

Mike Wallace graduated the University of Michigan with a degree in journalism, but he was not always a journalist. During WWII he served as a Navy communications officer, and after the war he worked as a radio announcer on such programs as "The Green Hornet". He even dabbled in acting, starring in the 1949 police drama "Stand By for Crime".
Then, as network television expanded its programming, Wallace spent his time hosting game shows. But by the end of the 1950's Mike had found his niche, and was becoming known as a top notch interviewer on shows such as "Biography" and "Nightbeat". One of Wallace's most memorable interviews was with Malcolm X who told Mike, "If you want to know what's going on with Black people, don't ask Black leaders". Malcolm also predicted his death, and shortly after the interview, he was assassinated.

One of Mike's admirers was Don Hewitt, a protege of Edward R. Murrow who had produced the Kennedy/Nixon debates. In 1968, CBS asked Hewitt to create a news magazine show that would be hard hitting, so Don hired Mike to co-anchor with the mild mannered Harry Reasoner. After a few schedule changes, "60 Minutes" landed in its permanent Sunday night time slot, and became the most respected news program in the history of broadcasting.

Mike's attack-dog style of interviewing was a perfect fit for "60 Minutes", which gave him a forum for uncovering scams and corruption. "He would take on anyone and ask the questions no one else had the guts to ask", said Hewitt. Wallace stepped down as host of "60 Minutes" in 2006, having collected hundreds of awards, including twenty EMMYs.
But I will always remember Mike Wallace as a fun-loving guy who helped me produce a segment that was specifically designed to embarrass one of his best friends. The year was 1979,and I was hosting a live, daily television talk show in Richmond, Virginia for abc affiliate WXEX (now WRIC). Though we got creamed in the ratings by Donohue (just my luck I would be on opposite the King of daytime TV), I went all out to attract interesting and notable guests.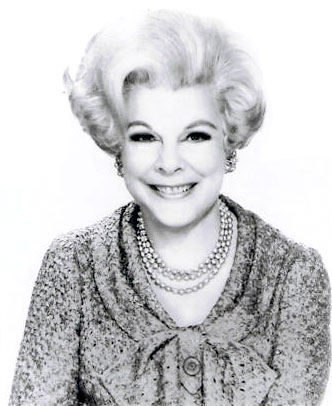 On this particular week I was scheduled to interview Virginia Graham who pioneered Women's talk shows. She blazed a trail for Oprah, Sally Jesse, and Ellen, and was still a big star. Back in the mid 1950's, though, Virginia hosted a daily radio program titled, "Weekday". Her co-host was a young Mike Wallace.

I began doing research on Ms. Graham a couple of weeks prior to the interview, and discovered her connection to Wallace. That's when I decided to see if the "60 Minutes" attack dog would give me any dirt to use on Virginia, so I dialed up CBS in New York, and asked for Mike. In those days, the CBS switchboard operator would connect you directly to the office of their on-air personalities.
After one ring, a deep, distinctive voice came over the phone, and two things went through my mind immediately. First, I couldn't believe Mike Wallace would answer his own phone. And, second, I couldn't believe I was speaking to him.

Fortunately I snapped out of my daze, and explained that I was looking for a funny anecdote I could use when Virginia came on my show. Without a moment's hesitation, Mike gave me a dandy story. It seems that one day while doing their radio program together, Mike made Virginia laugh so hard that she literally peed in her panties. "Use that", Mike told me, and I did. A few days later I shocked Virginia by revealing her most embarrassing moment in broadcasting, and she laughed so hard that we nearly witnessed a repeat of her infamous excretion. That day, I had a better show than Donohue, and it was all due to the advance work of my very own celebrity producer.

The late Andy Rooney once said of Mike Wallace, "He was a genius at getting people to reveal themselves on camera". True enough, but Mike was also willing to share his genius with others, and, on this one occasion, help a young, upstart TV host beat Donohue's ass. At least for a day.

A blooper from a radio show in 1956 when Wallace and Graham served as co-host of the NBC radio show Weekday - listen to how annoyed co-host Mike Wallace sounds!
MIKE WALLACE &
VIRGINIA GRAHAM
"I determined that if I was to carve out a piece of reportorial territory for myself it would be [doing] the hard interview, irreverent if necessary, the façade-piercing interview." - Mike Wallace
Please consider a donation
so we can continue this work!

Amazon Prime - unlimited streaming
of your fave TV shows and movies!
Get your FREE 30 Day Trial!
PR4 & PR5 Pages for Advertising