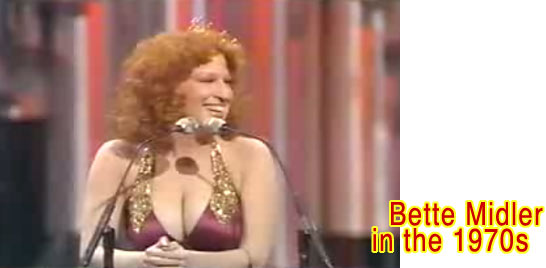 Bette Midler's 1970's Albums by Billy Ingram
After her initial rush of success in 1972-73, Bette Midler lost her footing as a recording artist, her LPs for the rest of the decade were hit and miss.
Midler's first two albums, produced (mostly) by Barry Manilow, were both top ten hits that yielded a smash #1 single 'Boogie Woogie Bugle Boy' and another top 40 hit 'Friends.' By 1974, Barry Manilow was beginning his phenomenal rocket to stardom leaving Bette Midler to languish on vinyl, a great talent stifled by poor musical choices, erratic management and heavy handed producers.
Released in 1976 (after a 3 year sabbatical that her advisors warned her could be - and was - career crippling) Bette's third album 'Songs for the New Depression' failed to find an large audience despite some nice moments like a duet with Bob Dylan and a cover of Tom Waits' 'Shiver Me Timbers.'
I found 2 songs from that album on You Tube - first the single, a disco version of 'Strangers in the Night' that went to #7 on the dance charts but failed to sell many copies.




Next a live version of 'Love Says It's Waiting' from The Promise Suite.



This was originally slated to be a double LP but Atlantic Records stepped in and re-worked what they saw as a troubled project. Two superbly nostalgic songs were added from previous album sessions, 'Old Cape Cod' and 'Marahuana,' and many were cut, leading to a disjointed musical journey.

Songs for the New Depression peaked at #27 on the Billboard Album charts but came and went quickly. Bette's luscious version of Old Cape Cod was released as a single backed by Tragedy but it went nowhere. "I was spooked by the difficulties I had making my first two albums," Midler told a reporter at the time, "and Rolling Stone's extremely negative review of my second album scared the daylights out of me."

In 1977 her best album of the decade was released, Live At Last, a soaring concert LP that captured the star in her element, at her peak, in front of a live audience. One of the best live albums of all time, it only made it to #49 on the charts but attracted a legion of fans and has never been out of print.

Here's the show stopping 'In The Mood' - the studio version of that song from the second album was released as a single but didn't chart.


The single from the live album, 'You're Moving Out Today,' was a studio track stuck on to the LP as an intermission. It limped to #42 which meant little to no radio airplay.
1977's Broken Blossom continued the trend of throwing every musical style against the needle to see what grooved. Nothing did. The LP was, for the most part, poorly received.
Talk about running the gamut, Harry Nilsson's 'Paradise' was covered on Broken Blossom as was Sammy Hagar's 'Red' - here are both tunes, but I'm going to give you the vastly superior live versions, the first from the motion picture Divine Madness, the second from the Rolling Stone magazine's spectacular 10th anniversary TV special.
There were sublime moments on this album - 'Make Yourself Comfortable' is a pitch perfect lush life refrain as is the cover of Edith Piaf's 'La Vie En Rose.' Midler also dueted with Tom Waits in a honky tonk jam called 'I Never Talk To Strangers' that worked well. Tom and Bette were good buddies during this period.
Other songs covered on Broken Blossom (with mixed results) include 'Empty Bed Blues,' Disney's 'A Dream Is a Wish Your Heart Makes' and Billy Joel's 'Say Goodbye to Hollywood.' The LP only hit #51 on the Billboard Album Charts; 'Storybook Children' and 'Paradise' were released as a single but didn't make a ripple.
The diva told Circus magazine, "All right, I made some funny little records, but I liked them. They are certainly not like a recording anyone else would make."
NEXT: PART TWO:
Bette Midler in the 1970s
- did she find the hits she was looking for?

BONUS: This is a 1970s demo of Bette performing one of Jim Steinman's histrionic tunes originally made famous by Meat Loaf.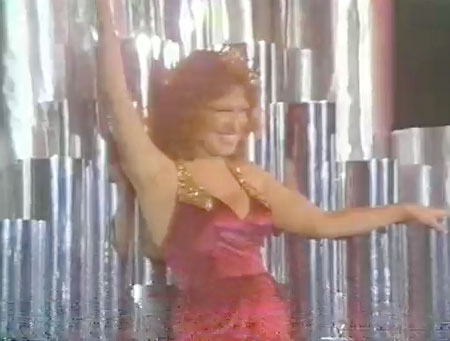 SEE ALSO:
Bette Midler on TV in the 1970s