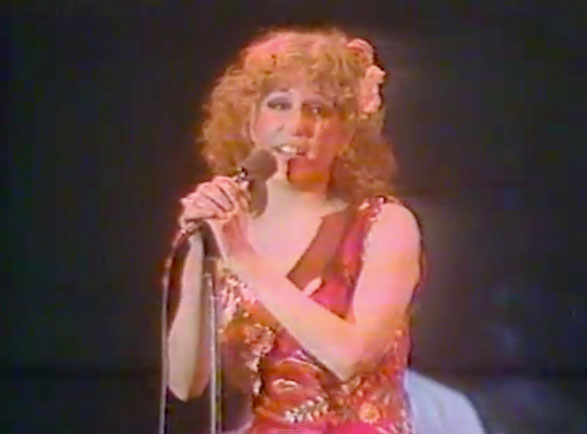 Bette Midler's 1970's TV Appearances
by Billy Ingram
One of the joys of television in the 1970s were Bette Midler's appearances on talk shows and especially on the awards presentations. Here she is in 1973 winning the Grammy for Best New Artist against some seriously stiff competition... like Barry White.
What a coincidence that Bette used to make fun of Karen Carpenter in her live act during this period and Karen and her brother Richard are the presenters for Midler's category. That may explain Karen's low key announcement that Bette Midler was the winner.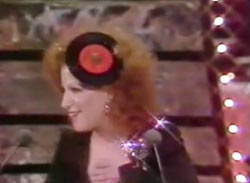 Her 1974 appearance at the Grammys, where she was a presenter, was the performance that propelled her to TV stardom. (Video not available.)
Bette Midler quickly became the hottest 'get' whether it was for the Grammys or the Tonys.
Watch Johnny Carson and Bette Midler at the 1974 Tony Awards when the Diva won an honorary award. This was a more serious guest turn, she has some profound things to say about the theater.
Bette Midler had her own spectacular one hour NBC special in 1976 (Old Red Hair Is Back) and she also appeared on quite a few variety specials hosted by others - here's Bette Midler with the Mills Brothers from a 1975 Bing Crosby show.
Barbara Walters interviewed Bette Midler in 1975.
Her 1976 Grammy Awards show appearance was another funny turn where, again, she skewered the music business with comedic precision. I have to admit I didn't fully appreciate how good mainstream pop music was in the early 1970s, looking back it wasn't so bad.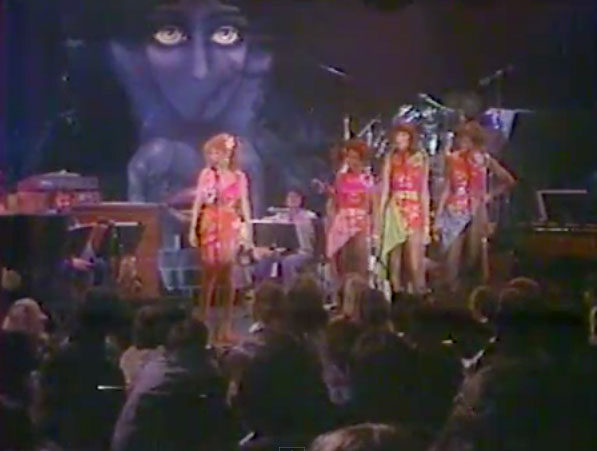 I remember the 1977 primetime CBS Rolling Stone Magazine 10th Anniversary Special as being absolutely awesome. In memory, at least, it was an exciting 2 hours of music and comedy. I kinda wondered if it would ever turn up anywhere, lo and behold the entire special (with commercials) is on You Tube.
I didn't remember the weird claymation opening, in fact the entire broadcast is weirdly disjointed but an accurate reflection of where the music business was coming from in 1977... floundering and unsure of what the public wanted. And still under the sway of the Beatles' music from a decade earlier. And Rolling Stone was still obssessed about Nixon.
Bette Midler was particularly hilarious on this special (she starts around 43:00), I would love to see the outtakes from that spot, they taped an entire concert just for her segment then cut it down to fifteen minutes or so. It was shot at The Roxy on Sunset in West Hollywood, "God, I never thought I'd be playing lounges again," The Divine Miss M quips.
Jerry Lee Lewis was also hot again at the time and The Killer was in fine form in concert on stage with Midler. There are some genuinely trippy moments in this 2 hour romp... and it could only have happened in 1977.
SEE ALSO:
Bette Midler's Albums in the 1970s
- did she find the hits she was looking for?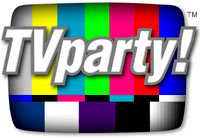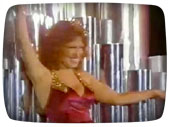 Bette Midler on TV in the 1970s
---
Barry Manilow, the Harlettes and Bette were reunited on Roseanne Barr's talk show in the 1990s.
BETTE MIDLER INTERVIEW
Bette Midler in a bawdy 1984 interview where she talks about various things including busting out some of her filthy Sophie Tucker jokes and singing 'In The Mood'. Is she really serious that she didn't know this song had lyrics? The Andrews Sisters recorded it and it was her follow up to the Andrews Sisters remake 'Boogie Woogie Bugle Boy'.