THE JACKSONS TV SHOW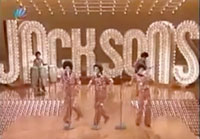 THE SUMMER OF '76
That was when The Jacksons debuted on CBS, a half-hour variety show starring Michael along with his brothers and sisters. The Jackson 5 had just left Motown for CBS Records so a 4 week CBS TV show was good synergy. It was also a chance to debut the group's new name and introduce younger brother Randy who replaced Jermaine when he chose to stay at Motown.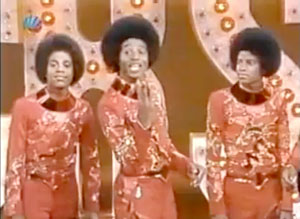 Not that Michael particularly wanted to do the musical comedy series, he was already looking ahead to a time when he would shed the unnecessary background singers and go out on his own. By this point it was obvious to everyone that Michael was carrying the group even if his most recent solo album in 1975, Forever Michael, failed to hit.
Here's a bit from the fourth and last episode of the summer series. Note the groovy but already dated looking outfits. Were the Jacksons using their tour outfits for the show? They had some hideous, gaudy getups during this period.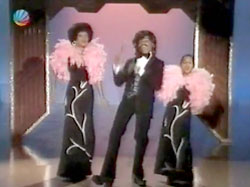 The Jacksons did so well in the ratings the series was picked up as a mid-season replacement but the summer sizzle was gone and so was the show in just a few weeks. No wonder, with the lame skits and feeble guest stars like Ed McMahon, Joey Bishop, John Byner and the like. What were they doing on a show hosted by The Jacksons?
The group was even reduced to singing Andrews Sisters tunes and other 1940's ditties. Brighter spots came when the group performed their hits and on an episode that guest starred Dom DeLuise and Muhammad Ali. David Letterman also appeared a couple of times as a standup. Here's the opening to a second season show with guest Redd Foxx.