RODNEY DANGERFIELD
Rodney Dangerfield in the 1970s & 1980s
by Billy Ingram
Rodney Dangerfield was a comic made for TV. He broke out on The Ed Sullivan Show in the 1960s and soon became known for his "I Don't Get No Respect" routine, a genius hook for a comedy bit.
Dangerfield appeared on the Tonight show 35 times, he was one of Johnny's favorite guests and no wonder, he killed every time and was right in line with Johnny's sense of humor.
Here's Rodney in 1978: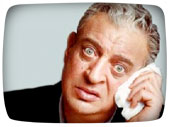 His career really took off in the 1980s with a string of hit movies. I remember working on the campaign for Rover Dangerfield, an animated movie produced after Dangerfield's successful movie run was over. That expensive 1991 production was God awful and caused the comedian to loose a good chuck of his own money. I think everyone involved knew it was a doomed project but Rodney himself was a very pleasant guy and he loved the poster art we did.
Here's Rodney Dangerfield on the Tonight show just before Caddyshack was released, where he rat-a-tat-tats his way through some of his funniest material. You'll be telling these jokes at work tomorrow - if you can remember them. Watch as Johnny plays straight man for ten+ minutes and loves it.
Oh, let's face it you want more - once again Johnny plays straight man as Rodney blows the audience away.