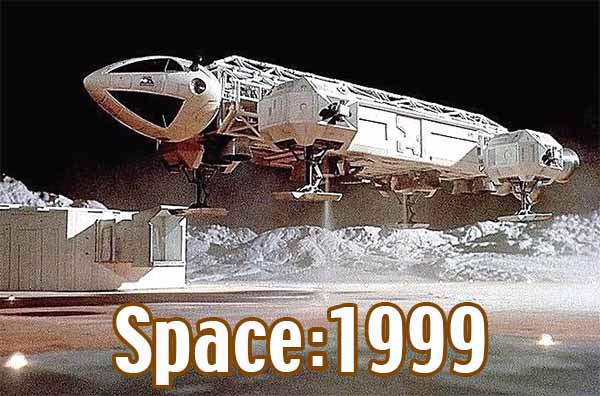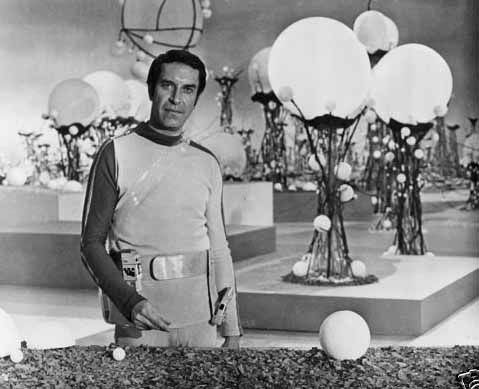 by Cary O'Dell
If it appears that the final episode of "Game of Thrones" will be inspiring debate and derision for many years to come, picking up any of the slack left over from those still traumatized by the closing moments of "The Sopranos," both series, it seems, still have a ways to go before they reach the debate levels that pertain to the 1970s syndicated sci-fi series "Space: 1999."
For surely "1999" must be one of the disputed series in the history of TV. Now, 40 years after its final episode was shot and aired, the series remains the topic of a passionate online dialogue among both among TV science fiction fans and even among fans of the series itself. Generally, the discourse about the series centers around a handful of basic questions: Is the series good or not? Is it better that "Star Trek"? Of Space-1999's two seasons, which is better?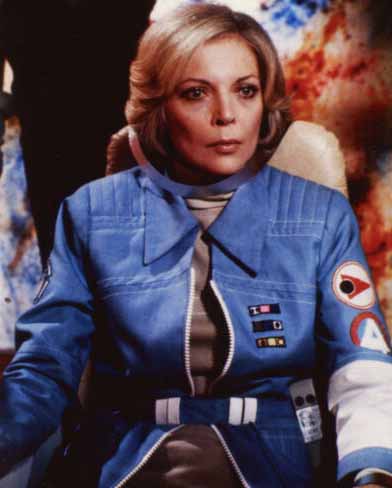 "Space: 1999" debuted in 1975 and was set, as can be ascertained from the title, then 24 years in the future. Earth (or at least America and England) has colonized the moon with a large man-made complex named "Moonbase: Alpha." It is fully staffed (with around 300 people according to dialogue in one episode) and completely self-sustaining. In regard to the latter, that would prove to be a good thing because, in Space-1999's debut episode, a cataclysmic explosion on the moon's dark side (where various nuclear waste had been not-so-safely stored) caused it to be propelled out of its orbit and shot into the far, far reaches of space. "Space: 1999" therefore was sort of "Star Trek: Voyager"-like in its premise as the residents of Alpha must now find a way to survive and, hopefully, eventually return to their home planet.
Space 1999 pilot

"Space: 1999's" entry into first-run syndication was hyped and heavily anticipated. Though "Star Wars" was still a year or so away, the post-cancellation, syndicated success of the original "Star Trek" seemed to prime the pump for science fiction.
The series also brought back to TV the actors Martin Landau and Barbara Bain, previously highly successful on "Mission: Impossible" and it featured respected British actor Barry Morse, who many audiences remembered from his role on "The Fugitive."
Along with the talent in front of the camera, some proven talent was calling the shots behind the scenes, too. The series was created by and was, originally, produced by Gerry and Sylvia Anderson who had previously had success with their Supermarionation series "Stingray" and "Thunderbirds" and with their such live-action British series "UFO" and "The Protectors."
Additionally, huge amounts of money were spent on the show's dazzling special effects, an extremely costly and work intensive situation during these pre-CGI days of dry-ice smoke and small-scale models. Even the uniforms of the Alpha crew had a high-end flair; they were created by noted British designer Rudi Gernriech, supposedly done via a request from his friend, Barbara Bain. The sets of Alpha (created by Keith Wilson), too, were sleek and metallic (except for their chairs seemed to be white plastic) and had a bit of an antiseptic feel, not unlike a hospital operating room.
In fact, to some, the entire series, once it launched (pun intended), felt a little too antiseptic with sterile plotlines (and plot holes) and characters as chilly as the dark side of the moon. Even the on-air relationship between Landau and Bain (married in real life at the time) seemed strangely distant.
Theoretically, the interpersonal behavior of the Alphans might stand to reason. Had they not all been recently plunged into a strange, foreign experience, dislodged from the Earth and unsure of their future? Certainly their emotions and relationships would be deeply affected by such uncertainty.
If not with those specific aspects of the series, other earlier viewers and critics drew issue with some of the scientific fallacies of the show not the least was its very premise. An explosion strong enough to knock the moon from its orbit would actually also destroy the moon and probably part of the earth.
Leaps of faith and the ignoring of various scientific principals though was much easier to take-at least for this viewer-than some of the excessively "talky" nature of many of "1999's" first-season installments. Various S1 episodes are way too ponderous and drag by way too slow even for a time even before modern technology dimensioned our collective attention spans.
Perhaps, these dialogue-heavy representations were "1999's" more serious inclinations, its attempt to use itself (as science fiction can often be effectively used) as social commentary and parable. In one episode-"Black Sun"-they seem to even debate the nature and existence of God. (Of course, even the original "Star Trek" often did this-consider Kirk and company's take on racism in its 1969 episode "Let That Be Your Last Battlefield.")
But, sadly-despite some highly effective early episodes like "Full Circle" and "Alpha Child"-these various factors from the series (its heavy-handedness, its stilted characters rendered) the entire series "good" but not "MUST SEE." And, as season one wore on, despite all the hype and marketing (the toy aisles were full!), "1999" began to lose its audience.
By the close of season one, it wasn't even a sure thing that "1999" was going to live to see 1976.
Hence, before the start of season two, "1999" underwent a major overhaul. The Andersons remained only ceremonially (if that) with the series and veteran sci-fi producer Fred Friedberg (who had worked on the US's "Star Trek") joined the series and promised, among other changes, more action-oriented episodes.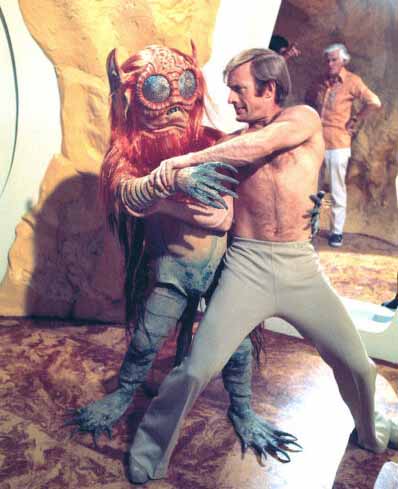 Various other changes also took place. First, Barry Morse (never happy on the series, supposedly finding it all too heavy on mechanics and not on character) departed the series; his character was killed off via a heart attack. Co-star Nick Tate, as rogue-ish pilot Alan Carter, would probably have been jettisoned too if he not proven to be, during the show's first season, such a fan favorite. Though Landau, Bain, etc., all got their fair share of fan mail from viewers, Tate, by far, proved to have the biggest audience following. Hence, in season two, Carter garnered more screen time.
Friedberg also brought aboard actor Tony Anholt, previously known to American viewers for his role on the syndicated series "The Adventurers." The handsome Anholt played Tony Verdeschi and far better fit the space swashbuckler mold than the more mature, refined Martin Landau did.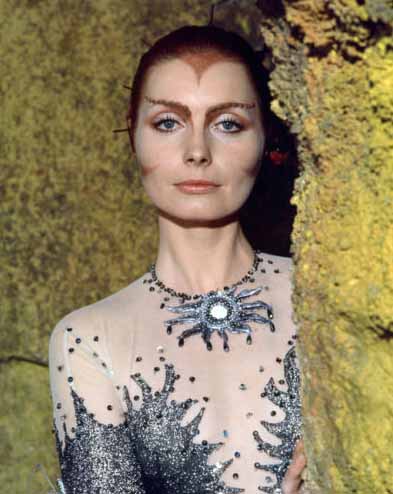 But perhaps the biggest addition to season two was actress Catherine Schell (who had guest starred in season one as a different character) as alien turned Alpha science officer Maya. Along with an incredible scientific and mathematical mind, Maya also possessed the ability to physically morph into any other living thing. During the course of the second season, her "Manimal"-like abilities would be used to ample effect and she would shape-shift into any variety of creatures-from a mouse to bird to a plant to a ninja to any number of untold types of alien lifeforms-depending on the need and situation.
Many saw the arrival of Schell/Maya as a low-rent Spock takeoff and a desperate attempt to lure in viewers with more FX and wild creatures and make-up. Others viewers found Maya an enlivening presence. Friedberg's promise to "humanize" the characters also bore out in S2 as did his pledge for greater suspense, stunts and space heroics.
But, even by season two, for "1999," time was running out. Most of the original departed viewers did not return to the "new, improved" Moonbase Alpha and diminishing ratings combined with the high price tag of each and every episode, foredoomed the series's cancellation after its second year.
In 1977, for the editors of "Starlog," the end of the series could not come soon enough! Though the show was still in production at the time, "Starlog" included a discussion of it in their handy early TV sci-fi guide "Fantastic Television." And they were not enamored by the series at all. Possibly written by a die-hard Trekker, the write-up for the Alphans lambasts the series for (in their opinion) its wooden characters, stiff acting, and faulty grasp of science-in both seasons!
Still, despite "1999" being somewhat remembered as a brave yet failed experiment, the series has never left the airwaves and retains a fiercely devoted, enduring fanbase-a fanbase that, perhaps, remains energized by these debates that surrounds the series and its characters and overall legacy.
Personally, for what it's worth, I prefer season two of the series as I find the inclusion of the Maya character (and Catherine Schell's iconic, empathetic performance) to be a great addition-science fiction should bold and out there!
In retrospect, "1999" should be recalled as an important transitional program that had to exist between the more rabid gunplay and fistfights of the original "Star Trek" to, then, the more cerebral, philosophical nature of "Star Trek: The Next Generation" and myriad of more modern-day science fictions programs and feature films that successfully blend the two.