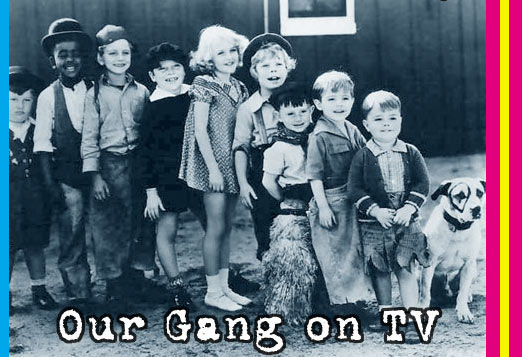 ::The Little Rascals & Our Gang::
by Billy Ingram & Kevin S. Butler

"REMARKABLE!"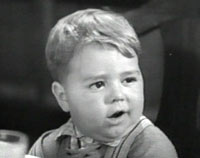 It has now been more than fifty years since The Little Rascals / Our Gang short subjects came to television.
A staple of local broadcasts in the fifties and sixties, the Our Gang comedies have virtually disappeared from TV today. In some measure that's because they may be perceived as racially insensitive; more likely it's because they have very little relevance to our modern society - or today's kids.
Classic TV Blog / / / TV Shows on DVD / / / TV Show Reviews / // / TV on BLU-RAY
The very first 'Gang' in 1922 consisted of Allen "Farina" Hoskins (the black kid), Mickey Daniels (all-American freckle-faced boy), Joe Cobb (the fat kid), Mary Kornman (the pretty girl), and Pete the dog (with a thick, black circle painted around his right eye).
As the kids grew up they were replaced by a younger crop, including: Jean Darling, Jackie Cooper, Tommy "Butch" Bond, Darla Hood, Darwood "Waldo" Kaye, Robert "Wheezer" Hutchins, Mary Ann Jackson, George "Spanky" McFarland, Dickie Moore, Carl "Alfalfa" Switzer, Norman "Chubby" Chaney, William "Buckwheat" Thomas, Matthew "Stymie" Beard, and Mickey Gubitossi (aka Robert Blake) among many others.
Viewed from the perspective of today's over-indulgent parents and their ridiculously pampered offspring, these films take on a whole other layer of humor.
In the early productions the kids were often portrayed as orphans and neglected, dirt-scratching urchins roaming the neighborhood with unattended babies and an unleashed pit bull. While avoiding the police and truant officers attempting to coral them into school, the gang was frequently plagued by vagrants, burglars, carnival workers, larcenous circus midgets, snotty rich kids and drunken monkeys.
The early shorts weren't pretty but the world was a harsh place during the depression. Stymie, Dickie, baby Spanky and the gang typically found their fun in dusty lots behind crummy looking outbuildings, railroad tracks, and the depressingly dilapidated shacks they lived in.
STORY CONTINUES AFTER THIS AD
---
---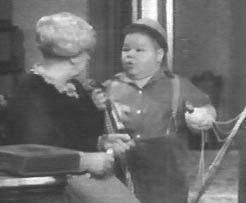 Fly My Kite, made soon after the series went from silent to talkies in 1929, illustrated perfectly the environment the kids inhabited. In the film, the Gang's friend "Grandma" is being evicted to the Poor Farm by her no good son-in-law. She gives Chubby some "worthless bonds" for his kite that turn out to be worth a fortune, leading the kids to have to beat the crook half to death to get them back.
Fathers were more often than not presented as loudmouthed louts or prissy simpletons; mothers were gold-digging flappers, argumentative and parentally uninvolved. That is, until one of the kids ends up at the bottom of a well ("Well, well, Spud fell in the well!") or the authorities show up.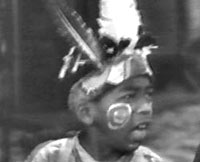 These films were made for a different era, so there was some discussion in the 1950s as to whether scenes with bug-eyed, slow-talking Negroes would be appropriate for broadcast. But for every scene that might be considered offensive today there were dozens of examples of the racially mixed cast all getting along as equals; they even went to school together. Their world was fully integrated while the real world was thoroughly segregated; ethnicity just wasn't an issue in the films.
As an example of this color blindness, in the 1933 short The Kid from Borneo, Dickie, a white kid, mistakenly (but wholeheartedly) believes his uncle is an untamed African jungle man. When he shows a picture of his 'uncle' to his best friend Stymie, an African-American lad, this dialogue followed: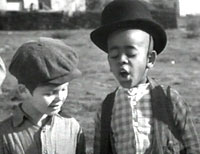 Dickie: "Hey fellows c'mere. Take a look at our uncle. Pop says he's plenty wild, too."
Stymie: "He sho' do look wild. What makes him so black?"
Dickie: "Mom says he's the black sheep of the family."
Stymie: "Them horns make him look more like a goat!"
NEXT: GROWING UP
And the Little Rascals come to TV!

Our Gang / Little Rascals:
Little Rascals - the Early Years
Little Rascals on TV
Little Rascals Shows in NYC
What Happened to the Little Rascals?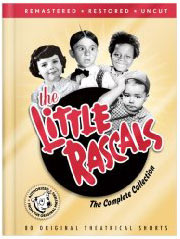 ---
Our Gang / Little Rascals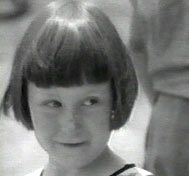 Created by comedy producer Hal Roach.
Directed by Robert F. McGowan.
Our Gang went to sound in 1929.
The most popular characters in the earliest Our Gang shorts were Sunshine Sammy; Mickey Daniels, Mary Kornman, and a very young Farina.
Our Gang went "all-talking" in April of 1929 with Small Talk, a three-reeler.
The first one-reel, ten minute, Our Gang short, Bored of Education, won the Academy Award for Best Live-Action Short Subject (One Reel) in 1936.
Alfalfa, Buckwheat, and Spanky stayed with the series until they were in their early teens.
DID YOU KNOW:
Carl "Alfalfa" Switzer was a regular in the Our Gang series for only five years.
George "Spanky" McFarlane was with Our Gang from 1932-1942.
MGM bought the Hal Roach Studios in 1938. Hal Roach produced Our Gang comedies from 1922 to 1938; Metro-Goldwyn-Mayer from 1938 to 1944.
Porky from Our Gang died in 2005.
The Our Gang comedies were renamed The Little Rascals for TV syndication.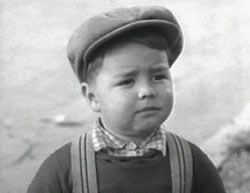 "Okey-doke!" - Spanky
---
Mr. Welling: "If you were my kids, I'd punish you."
Stymie: "If we were YOUR kids, we'd punish ourselves!"
---
Buckwheat: Hey, Spanky, me and Porky have an idea.
George "Spanky" McFarland: Keep it, you might need it when you grow up!
Buckwheat: Oh-tay.
---
The Death of Alfalfa
What Really Happened?!?
---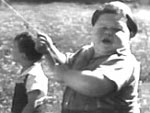 Check out this catalog of classic TV shows on DVD!
Amazon Prime - unlimited streaming
of your fave TV shows and movies!
Get your FREE 30 Day Trial!
PR4 & PR5 Pages for Advertising
The Death of Alfalfa
What Really Happened?!?