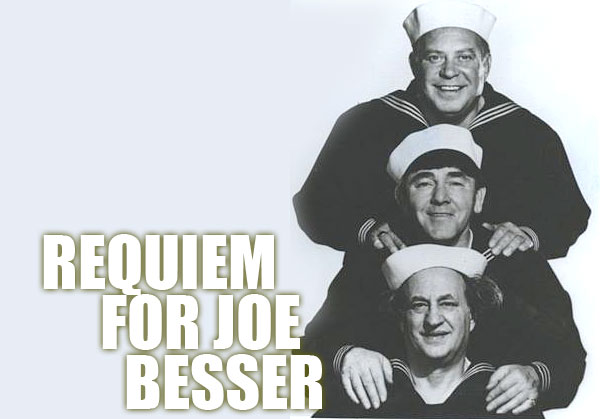 by James H. Burns
For whatever reasons, Joe Besser has always made me laugh. And I always found him funny!
There are a lot of myths about the Besser STOOGES shorts, the most prevalent being that Besser had it in his contract that he couldn't be hit. Most of these misimpressions stem from the simple fact that the Besser shorts have never been shown as frequently, as the other STOOGE efforts.
But all it takes is a viewing of just a few of the Besser-shorts to see that, often, Moe gives Besser the works! Despite whatever lack of merits the Besser era held, I also always liked the remarkable energy level that Besser brought--an element that was certainly missing in much of Joe DeRita's work.
(This is not, necessarily, to knock DeRita. As a four-year old, watching the 3 Stooges cartoons' wraparound live-action segments, I always liked what seemed a certain--for lack of a better word--sweetness, or gentleness, that appeared intrinsic at that point to DeRita's performances.)
There's something else to be said for the Besser Stooges films. In at least a few of the shorts, Columbia tried a very interesting experiment, having Moe, Larry and Joe playing defined characters OTHER than their normal screen personas. While these efforts weren't necessarily successful (!), it's at least interesting to see Larry and Moe, play other types.
Another factor, at least subliminally, might have bothered long-time Stooges viewers. For the Besser era, there seemed to be a concerted effort by the filmmakers to reset the Stooge characters more in terms of their ages. If memory serves, MANY of the films begin with the boys in a very normal, typical, almost middle class 1950s apartment.
It's almost as though these particular Besser shorts are what a new, STOOGES television series COULD have been like: A happy domestic setting used, at least, as a launching point for the episode's storyline.
For kids watching the shorts on a DAILY basis, on television in the 1950s, and 1960s the jump from the brilliant, absurd, often symphonically silly shenanigans of the Curly and Shemp eras, to the different emphasis of the Besser shorts might have been kind of jarring. More than anything, it was Columbia Pictures' lack of attention to the shorts' screenplays, and other production values, that let these films down.
It would have been fun if the studio scribes had written more to Joe Besser's, and Larry Fine's and Moe Howard's, strengths...
I always felt that the final word on Joe Besser's quality as a Stooge belonged to Moe and Larry, who WANTED Besser to continue with the act. It was only Besser's wife's illness that made him leave the Stooges, and that necessitated Moe and Larry turning to DeRita.

James H. Burns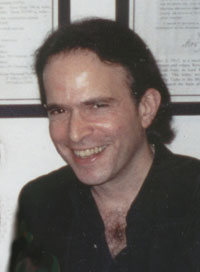 James H. (Jim) Burns, a writer/actor living in New York, was a pioneer of the second wave of fantasy and science fiction movie magazines, being one of the first writers for STARLOG (and several other late 1970s publications), and a contributing editor to FANTASTIC FILMS, and PREVUE. He wrote the earliest of these articles, when he was THIRTEEN...!
Jim was also a key figure in many of the era's North Eastern comic book and STAR TREK conventions. Burns was one of the field's first writers to cross over to such mainstream fare as GENTLEMAN'S QUARTERLY, ESQUIRE, and AMERICAN FILM, while still contributing to such genre stalwarts as CINEFANTASTIQUE, STARBURST, HEAVY METAL and TWILIGHT ZONE magazines.
More recently, Jim has made several contributions to Off-Broadway, and Broadway productions, become active in radio, and written Op-Eds, or features, for NEWSDAY, THE VILLAGE VOICE, THESPORTINGNEWS.COM and THE NEW YORK TIMES.