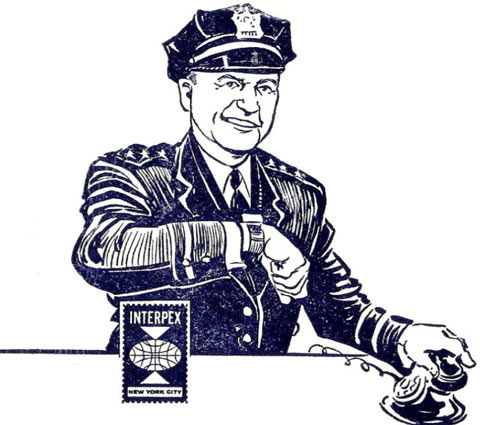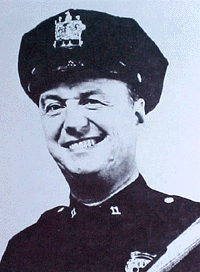 Officer Joe Bolton /
Three Stooges Shows
RIGHT: Officer Joe strikes a familiar friendly pose at the gateway to WPIX TV's Three Stooges Funhouse circa 1958.
On Monday evening, January 17, 1955, WPIX Ch. 11 became the first NYC based TV station to air reruns of the Our Gang / Little Rascals film comedies on their own daily kid's TV show, "The Clubhouse Gang".
The films were screened against the backdrop of a neighborhood clubhouse and local school kids became a part of the studio audiences, including one up and coming comedic talent named Billy Crystal.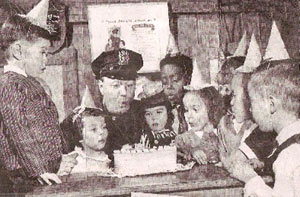 The show had everything, except someone to host. The programing director needed a MC for the show and he found him in a very unusual way.
The programming director's son was celebrating his birthday that January in 1955 so he gave his son and his friends a birthday party at the Ch. 11 TV studios. Along with the games, gift giving and ice cream & cake, the PD showed The Little Rascals films to test their popularity with the kids at the party.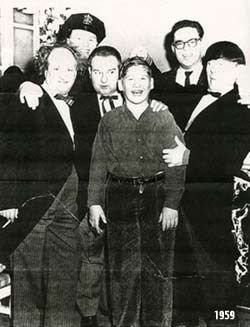 Afterwards, he asked his son and his friends if they had a good time? The kids all responded: "Yes!"
Then the PD told them that films featuring these funny kids, The Little Rascals, would be seen on a new daily kid's show. Who would the kids vote for the host/performer of their new "Clubhouse Gang Show"?
11 out of 12 children at the birthday party said. "the Tasteweatherman!"
The WPIX Programing director was shocked that his son and most of his friends would choose a TV meteorologist to host a kids TV show.
But that's how (long before Willard Scott played Bozo and Ronald McDonald in The Washington, D.C. viewing area) Joe Bolton, who had been doing the weather reports and other types of TV shows for WPIX TV, became the first NYC based kids TV host/performer to screen The Little Rascals.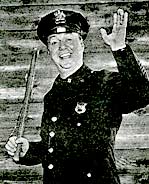 Originally the station execs at Ch. 11 wanted Bolton to host the show as a funny tramp character. The idea of a kid's host/performer playing a tramp clown was nothing new, since many local and network affilliated stations already had many of their own broadcasters and local entertainers playing buffoons on numerous kids series.
Bolton balked at the idea, claiming "that a tramp is an inappropriate character" for kids to look up to. The idea of a kids TV host/performer playing a trampclown was nothing new, since many local and network affiliated stations already many of their broadcasters and local entertainers playing buffoons on numerous kids series.
Another Ch. 11 exec suggested that Bolton host the show as a Policeman. Despite efforts from some WPIX execs to try and make Bolton's Officer Joe character a clownish version of a cop, he decided instead to play the character straight.
On the show, Officer Joe would engage his Clubhouse members (studio audiences) and viewers at home in games, songs, stories, craftmaking, informational segments and interviews with guest performers between reruns of the cinematic antics of Darla, Spanky, Buckwheat, Porky, Alfalfa and Butch.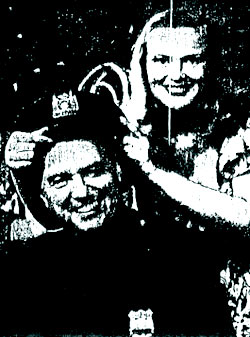 One very special guest who appeared on Ch. 11's Clubhouse Gang was former Little Rascal Jean Darling (then a successful stage/nightclub/radio & TV performer.) Saturday evening May 14, 1955, Ms. Darling entertained Officer Joe and the kids as she talked about her career as a member of The Little Rascals.
She also gave Bolton a new police officer's cap (up until that time, Officer Joe had a badge and a cap that didn't have the number 11 on the front).
After The Clubhouse Gang doors were closed on Friday, September 13 1957, the TV rights to The Little Rascals film comedies were sold to WABC TV Ch. 7.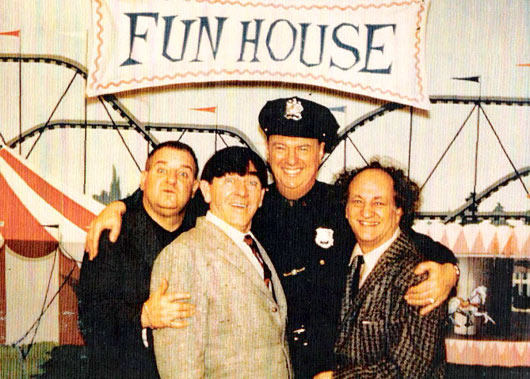 On Monday evening September 8, 1958, WPIX Ch. 11 became the first NYC station to air The Three Stooges film comedies on a daily show.
"The Three Stooges Funhouse" was set against the backdrop of the gateway to a mythical amusement park funhouse. Officer Joe Bolton returned to engage viewers in sing alongs, stories, craftmaking, hobbies, informational segments and interviews with guest performers and personalities between airings of the cinematic antics of Moe Howard, Larry Fine and Curly Howard.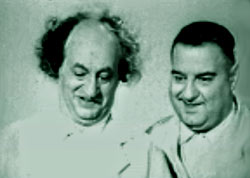 "The Stooges" became an instant hit with NYC kids - up until that time, reruns of Bugs Bunny and Popeye had been the number 1 cartoon attraction on local and network affiliated stations. Kids could relate to the mishaps of the Stooges - and were happy to imitate the slapstick stunts that were performed in the shorts. The Stooges' tragic encounters with adult authority figures mirrored the problems that kids were having in the real world.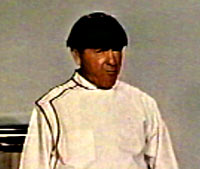 By January 1959, Bolton began doing a series of personal appearances with Moe, Larry & "Curly Joe" De Rita at movie theaters in New Jersey.
The theaters were packed to capacity as kids came to see The Three Stooges try to play music on a faulty xylophone (with the typically disastrous results) and, along with Officer Joe, answer questions about their lives and careers between a screening of the team's feature film Have Rocket, Will Travel.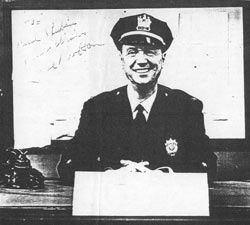 The public appearances were a hit and by the following month, Bolton and the boys were doing more PA's like the Lowes movie theaters in NYC.
Bolton became very friendly with the team and he invited them to appear on his kid's show in March, 1959. The Stooges made more guest appearances with Officer Joe on Channel 11 in 1960 and in 1961.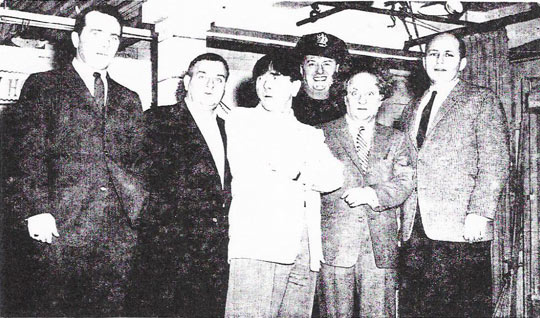 ABOVE: Two unknown station execs from WPIX are standing on either side of The Three Stooges and Officer Joe Bolton on the set of The Three Stooges Funhouse.
They also did more PA's with Bolton in venues during the 1960's. Their best known appearance was at NYC's most ambitious theme park, "Freedomland".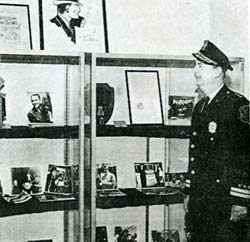 Officer Joe continued to entertain and inform visitors to The Three Stooges Funhouse until Wednesday, September 6, 1961.
The next day, on Thursday September 7, 1961, Bolton became the Police Chief host/performer of Ch. 11's Dick Tracy Show while "Fireman Todd" Russell (formerly Big Todd Russell of NBC & ABC TV's Rootie Tootie Club/Rootie Kazootie Club) became the new host of The Three Stooges Firehouse, airing weekday evenings.
The Three Stooges Firehouse was the first NYC based kid's TV show to air the post-1947 Three Stooges films that starred Moe, Larry & Shemp.
Fireman Todd manned Channel 11's "Firehouse" from Thursday, September 7, 1961 to Friday, March 15, 1963. For a time, "Captain Jack" McCarthy took over the hosting duties for The Popeye/Three Stooges Show (from Monday, March 18, 1963 until Friday, June 21, 1963). Fireman Todd returned to maintain Channel 11's Three Stooges Firehouse on Monday, June 24, 1963.
The station execs at WPIX shut down Fireman Todd's firehouse for good on Friday, August 31, 1963.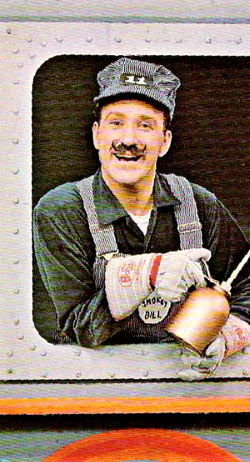 Entertainer Bill Britten (then playing Bozo The Clown on WPIX) hosted reruns of Laurel and Hardy, Three Stooges films and Popeye cartoons on Channel 11's Cartoons Express Saturday mornings from October 13, 1962 to November 3, 1962.
Captain Jack McCarthy would show the post 1947 Three Stooges comedies on The Popeye/Three Stooges Show on WPIX from Monday March, 18, 1963 to Friday June 21, 1963.
Entertainer Eddie Lawrence (The Old Philosopher) performed character comedy skits and read viewer's jokes and mail in-between Stooges films on The Eddie Lawrence Show weekday evenings on Ch. 11 from Monday, September 9, 1963 to Friday, September 16, 1963.

Horror Show host/performer John Zacherle(y) and Officer Joe Bolton both entertained viewers on WPIX's Three Stooges Show. Zacherle(y) MC'ed the program from Monday, January 6, 1964 to Friday January 31, 1964.
Meanwhile, Officer Joe Bolton returned to hosting a show beginning Monday, February 3, 1964. The show was set against the backdrop of a local police station. Bolton showed (for the first time on NYC TV) the last series of short Three Stooges films with Moe, Larry and Joe Besser.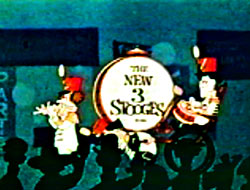 Moe Howard made guest appearances in April, 1967, April, 1968 and one last time with his son, freelance art director Paul Howard on Tuesday and Wednesday, July 2 & 3, 1969.
From December, 1968, Officer Joe hosted The Three Stooges Show, this time against the backdrop of a neighborhood clubhouse; once again he was entertaining a studio audience full of kids.
Officer Joe hosted WPIX's Three Stooges Show until Peggy Charren's Act & Forum swayed Channel 11 to pull the comedic trio from the NYC airways on Thursday May 7, 1970.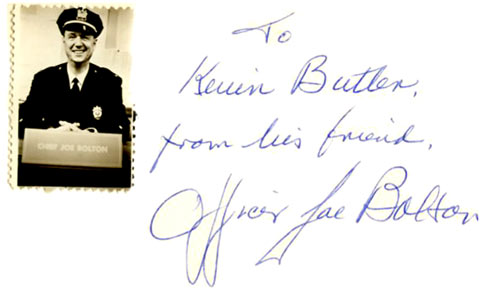 Two Officer Joe Bolton clips for you former
NYC kiddies to enjoy, this one from Christmas:
Officer Joe Bolton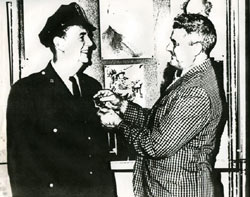 Dear TVparty;
Many years ago, I was having a drink in Sardi's, the Broadway bar, prior to going to a movie preview/screening--this was in the days when I was a "movie journalist" (so-called, anyway}, when I noticed a really beautiful brunette, late twenties, with another lady-friend, at the other end of the bar... I went over to say hello, only to discover that we were all going to the same screening. (Memory's a funny thing--I just flashed on that the movie was "Paternity", a Burt Reynolds picture, directed by David Steinberg).
The gal's name was Katherine Bolton--
Now, I didn't think there could possibly be a connection to Officer Joe Bolton, but I figured why not ask--and on the long shot that she was related--'maybe even impress her with some obscure information I knew about Joe.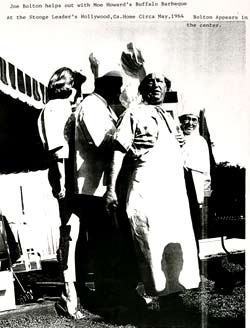 (You can sort of see how dumb I could be, back in the early '80s...I hope things have improved!) Now, you have to understand, that if you grew up in New York, watching "Officer Joe Bolton,", he was--like many other kids show hosts--a part of your life...  
As a five or six-year old, when you were driving around with your parents, if you passed a patrolman, you'd ask them, "Was that Officer Joe..?"
You actually expected to run into Joe Bolton, WORKING as a police officer!
Now, when I was a kid, it wasn't long before I realized that Joe Bolton was an actor of some sort, working for the TV station... But I was surprised, some time in the mid-1970s, when my dad found a book in the library, about METEOROLOGY, written by "Joe Bolton"!
It turns out while that Joe wasn't necessarily a CERTIFIED meteorologist (I learned later),he HAD done weather reports, and other newscasts, on WPIX, for YEARS (even, at times, concurrent with his kids-show gigs, but always in jacket and tie--rather than policeman's garb!)....
Now, with this gal at Sardi's, I nonchalantly asked, , "Do you happen to be any relation, to the meteorologist, Joe Bolton?"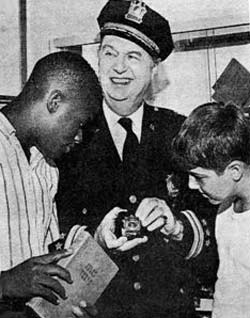 Katherine flashed a smile, and said, "Do you mean, Officer Joe?" She was his daughter! (At the time, Katherine, was working as an executive with the Six Flags Over America amusement park corporation.)
We wound up having a great conversation--she and her friend were charming people, and we walked over to, and sat at, the screening, together... (Unfortunately for me, I remember being disappointed that there was no opportunity to date the beauteous Miss Bolton, because she was getting married, in a few weeks!)
One of the best parts of meeting Katherine, was finding out that her Dad was okay. Like many other kids-show hosts of the '50s and '60s, Joe one day just disappeared off the screen, with nary a trace, after having been such an important part of New York television history.
(THE OFFICER JOE SHOW, under various titles, actually lasted much longer than most of its contemporaries and was still being broadcast on weekday afternoons by WPIX as late as the very early '70s.)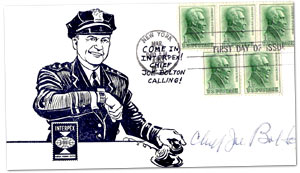 Katherine said that her Dad's retirement was going great, and that he was enjoying life...
Although Joe Bolton passed on in 1986 (this story happened around late 1981), it was tremendously pleasant to discover that life, off the air, had at least gone relatively nicely, for the fondly remembered, kids-show host!
The other remarkable story that Katherine told me was that, the Three Stooges' Moe Howard--who would, at times, drop by Officer Joe's show--would also often come over to the Bolton's apartment, when she was growing up!
Kathlerine said that when Moe would come over, he'd often make tuna fish sandwiches for her, and that she remembered, "He'd always trim the crusts..."
Being a kid in New York City, in the 1960s, with one of The Three Stooges hanging out with you, in your kitchen, had to be kind of terrific!
Best,
James H. Burns (Jim Burns)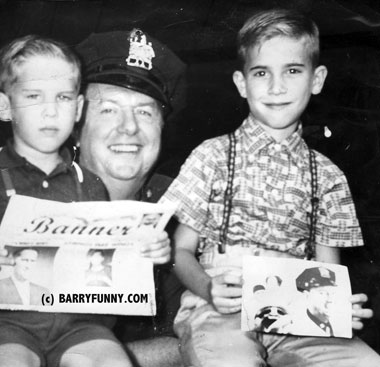 Barry Mitchell writes: From the crumbling, black construction paper pages of our family album... this 1961 photo of my brother Arthur (left, holding the local Howard Beach, Queens, NY newspaper, "The Banner"), WPIX TV's Officer Joe Bolton, and myself. This was taken at a Howard Beach carnival/bazaar. I don't think this particular photo ever made it into The Banner, but they were nice enough to give us an 8x10 glossy.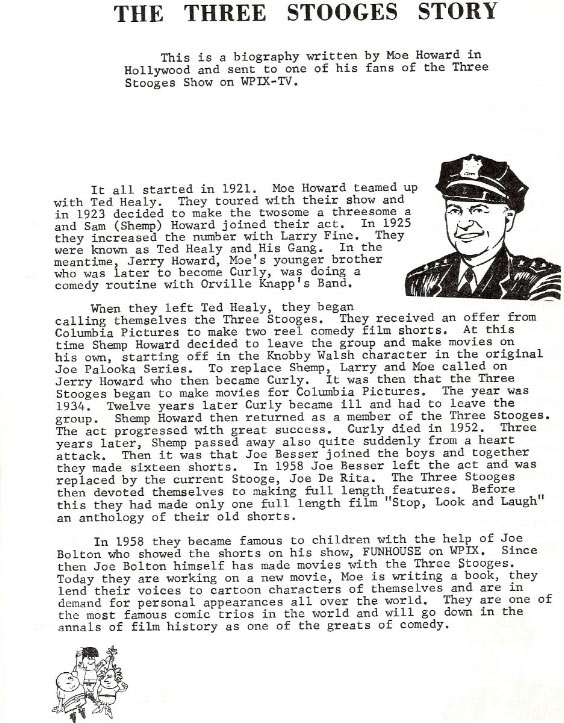 CLICK HERE to see a bio of the
Three Stooges sent to viewers of
Officer Joe Bolton's show
ANOTHER mailer -
the Three Stooges Glee Club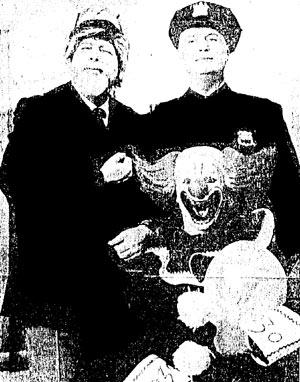 Captain Allen Swift, Officer Joe Bolton and Bozo