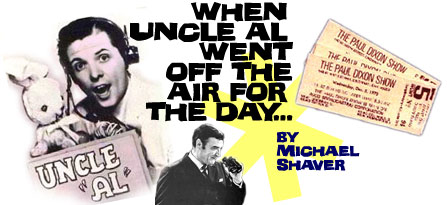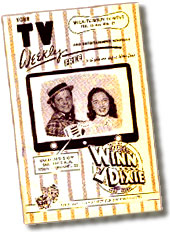 Anyone living in Cincinnati during the glory days of local television will remember at least one or two aspects of what it was all about- and what made local TV in Cincinnati what it was.
Aside from the kids' shows, television stations in Cincinnati laid much of the groundwork for many other markets to follow, and also accomplished a lot of things that can never be imitated or repeated.
From news (Al Schottlekotte) to talk shows (Bob Braun, Phil Donahue and Jerry Springer-- well, one-and-a-half out of three isn't bad) to just plain honest laugh-out-loud entertainment (who else but "Paul Baby" Dixon), Cincinnati was the Midwest's nucleus for quality local television. And just in case you can't remember much of what we grew up with, let's see if I can jog your memory with some of these. (and anyone reading is more than welcome to expound on these seeds) ...
-'JUVENILE COURT': WCPO drama starring real-life Judge Paul Trevor. An obvious fact-based forerunner of People's Court and its numerous successors. The only difference was that on Juvenile Court, except for the judge, the participants were actors.
-'BPA's KING OF BOWLING': hosted by WCPO sports anchor Jack Moran. The one thing I remember was the sponsor- Burger Beer, or, as Moran said, "That SMOOOOOO-TH BURGER!"
-'THE EARLY 9 MOVIE': hosted by Wirt Cain on WCPO. A weekday afternoon movie with plenty of giveaways. Cain also hosted a short-lived local game show called 'What Would You Say?', an imitation-combo of 'Truth Or Consequences' and 'Beat The Clock'.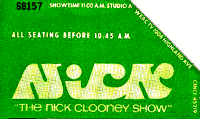 -'THE NICK CLOONEY SHOW': An afternoon affair on WKRC (ch 12). I remember the theme music, his "Nostalgia" moments, and some "Spinning Wheel" contest where they used an instrumental version of Blood Sweat & Tears song of the same name. I remember most where a member of the audience would always introduce him saying "And now here's Nickey Cloone!" (Think maybe that's where Rosie O'Donnell got that idea??)
-'TELETARGET 5': During the early 70's, WLWT had a contest called Teletarget 5. During a 'Beat The Clock' (with Jack Narz) commercial break, an announcer would call someone at random and they would play over the phone. A camera would be positioned behind the sights of a dart gun poised to hit one of three bullseye targets- each a different shape (a triangle, a square and a circle target, all with rings numbered 1 to 5, with 5 being the bullseye.), and the player would adjust the range of the gun from home over the phone by simply saying "up", "down", "left", "right" or "stop" and then "fire" when it was where they wanted it.
The closer they got to the bullseye the more they won. They got only one shot, and if they hit the mystery target (which was selected before airtime), they would win a bonus. I remember an instance where one caller completely missed all three targets. When she said "fire", The announcer asked her if she was sure, to which she replied yes. Obviously she wasn't watching the TV screen.
-'PLAY IT SAFE': A Sunday morning kids' game show (WCPO) hosted by an actual police officer (who opened the show by blowing his whistle and saying 'Stop what your doing! It's time to... Play It Safe!'.) The game was played on a large-scale quasi-Game Of Life game board complete with a shuffling "number board" (which kids used to determine the number of spaces they moved by yelling 'stop!'- ala "Press Your Luck"), stop signs, dead ends and a judge/puppet who would dole out rewards or punishments (anything from going forward a number of spaces to going to jail.) to players who landed on certain spaces.
The game itself dealt with kids, in multiple teams of three or four, starting out at school and going across the game board trying to get home. They would answer trivia questions about safety, traffic laws and identifying road signs by pulling paddles marked "yes" or "no" out of their color-coded team smocks while moving along the game board. The first team that completely made it home would get a prize or two while the others would all get as many pennies they could carry courtesy of the Provident Bank.
But out of all the games, all the sports, all the local movie shows, during the days when local television was much, much more than just local news and meager community service shows only seen on late Sunday nights, one man, Iowa born and raised, who began his broadcasting career in Chicago, who came to Cincinnati in the 40s first as a newsman, then as a disc jockey, would for nearly 20 years stand head and shoulders above all the others. His real name was Gregory Schleier. But under his stage name he was famous for hosting...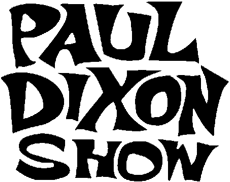 THIS DUMB SHOW!
Between 1955 and 1974, the undisputed king of local daytime TV in Cincinnati was, of course, Paul Dixon. 'The Paul Dixon Show' entertained thousands of housewives (and on occasion just as many non-housewives and kids, myself included when I wasn't watching Uncle Al.) in Cincinnati as well as in Indianapolis, Dayton, Columbus and quite possibly thru syndication in Louisville and Lexington.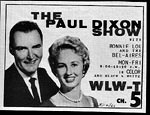 The show was simple: A 90-minute broadcast (it originally started as 30 minutes) Monday thru Friday taped live, warts-and-all, with no rehearsals or scripts; just Paul along with his co-hosts Bonnie Lou (left) and Colleen Sharp, both of whom would sing a song on each show; house band Bruce Brownfield and the Bellaires would occasionally play while the cameras panned thru the audience.
Even Paul, although he couldn't carry a note in a wet paper sack, would on occasion sing a song himself. (The one I remember him doing was "You're Nobody Till Somebody Loves You") And except for an occasional guest star, which was a extremely rare occurrence, that was it... in a highly truncated nutshell; nothing more, nothing less. For nearly 20 years, that's what housewives came to love.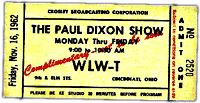 YOU CAN'T DO THAT ON TELEVISION... TODAY!
Either because of or in spite of his huge following, "Paul Baby", as his fans came to affectionately call him (the nickname was given to him by one of his prop boys) managed to get away with doing many things that in this day and age you just can't do on television- unless of course your name happens to be Jerry Springer (who also worked on TV in Cincinnati! Is there a pattern here??) But considering that only 1% of the show featured guest stars, Paul's antics, though they might have been on a sliding scale, were repeated on numerous occasions.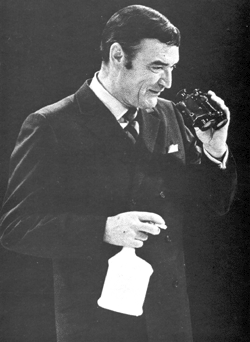 Chief among them took place at the beginning of every show: Paul would use his binoculars and squirt bottle, two of his numerous trademarks, and examine the village of Kneesville, of which Paul Baby was Lord Mayor. Kneesville was nothing more than female audience members, all wearing miniskirts or hot pants, sitting in the front row. (Legend has it that the ladies actually fought to get a spot in Kneesville!)
Paul would use his squirt bottle asking how many of them took a bath that morning, and then award the best-looking knees with a garter, or a "knee-tickler", a dangling earring he'd attach to the hem of her skirt. Oh, yeah. In this day and age that would have litigation written all over it!
Another Paul Baby-ism, and the one that stands out the most for me, was the T-Shirt. Whenever he gave a T-Shirt to a female audience member he would put it on her himself, pulling it over her head in such a way that would work itself into an embrace between the two. Hmm... a sexual harrassment case in which Exhibit A is a Peter Pan Peanut Butter T-Shirt? Go figure!
PART TWO:
Was Paul a sexist pig or was it all just clean fun?
And - the wedding of the century?!?

Lost Kid Shows Homepage / Shock Theater's Zacherle / Sesame Street / Andy's Gang / Sandy Becker / TV Pow! / Hilarious House of Frightenstein / The Friendly Giant / Madison's Cowboy Eddie / Who Was Doodles Weaver? / Lost Kid Show Recordings / Winky-Dink and You / Remembering Winky-Dink / Captain Kangaroo / The Old Rebel Show / The Soupy Sales Show / Walt Disney's Shows / The Magic Garden / Mad Mad Monster Party / Houston Local Kid Shows / Boston Local Kid Shows / Fabulous Sally Starr / New York City Locals / More New York City Locals / Tooter the Turtle / Crusader Rabbit / Paul Winchell and Jerry Mahoney / Alex Toth's Television Work / Diver Dan and Whirlybirds / Sonny Fox's Wonderama / The Pinky Lee Show / Bizarre Kid Shows / Chicago's Kid Shows / Chicago's Ray Rayner Show / Garfield Goose and Friends / Bob Bell's Bozo Show on WGN / Bill Jackson's Shows / Gigglesnort Hotel Memories / Bob McAllister's Wonderama / Cincinnati Local Kid Shows / More Cincinnati Locals / Make A Wish / Hot Dog / Supermarionation Puppet Shows / Philadelphia Kid Shows / Philly's Captain Noah / The Chief Halftown Show / Philly's Gene London / Bertie the Bunyip / Dickory Doc / Adam Android / LA Kid Shows / The Merry Mailman / Do Do The Kid From Outer Space / Romper Room / Romper Room Around the USA / St. Louis Kiddie Shows / Religious Kid Shows / San Francisco Local Kid Shows / Johnny Jellybean / Johnny Jupiter / Shrimpenstein / Uncle Fred Sayles / Raleigh's Uncle Paul / Shenanigans and Video Village / Pip the Piper / Thanksgiving Day Cartoon Specials of the 70s / Monster Movie Matinee / Big Blue Marble / STM Club / Popeye on TV / Cleveland Local Kid Shows / Wixie's Wonderland / Jet Jackson and Sky King / The Original Animated Hercules / Ruff & Reddy