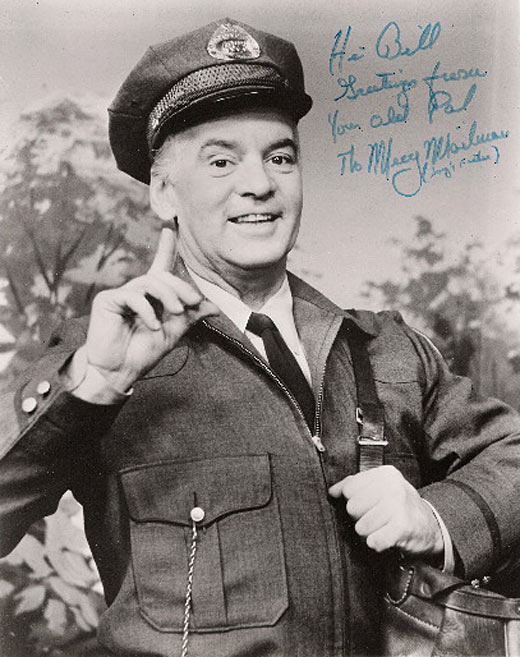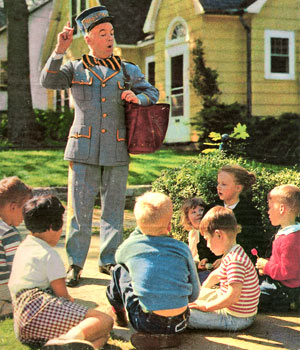 When The
Mailman
Was Merry
by Kevin S. Butler
"The Merry Mailman" made his debut on WOR-TV Ch. 9 in NYC on Monday evening October 16, 1950 as a fifteen-minute cartoon fest (not as the hour long kid's wraparound or variety TV series it would later become).
Originally, Mr. Heatherton's "MM" simply introduced old movie cartoons dressed in his mailman's uniform, working in front of a plain curtain. The format was not working out and the show was in danger of being canceled when WOR-TV's general manager Mr. Tom O'Neil decided to hire a new producer/director for the show. He found such a creative showman in the person of Mr. Sandford Howard.
Sandy Howard was a veteran radio director, who helped create many successful radio shows and he also helped to create the landmark TV panel show "Author Meets The Critics" with Mr. Martin Stone (the guy who marketed "Howdy Doody").
Howard felt that Mr. Heatherton needed to work with a studio audience in order for his gentle rapport to be accepted by viewers. He added songs, stories, craftmaking, hobbies, games, interviews with visiting guest performers and personalities and interaction with the kids in the studio and at home. "The Merry Mailman" was also able to instill good values in his young viewers by talking to them about school, customs, health care tips, safety, etc. He spoke in a gentle, intimate manner that made him more of a friend than a parental or a teacher figure.
Around 1953 or 1954, Milt Moss joined the show as the Merry Mailman's comedy assistant. A former burlesque comic actor and mimic, Moss performed character comedy skits that were zany without being risqué or raunchy. He played such characters as "Mr. Pennywhistle", "Don Jose" and "The Happy Garbageman". Moss also manipulated the puppets that occupied 'The Puppethouse Stand'.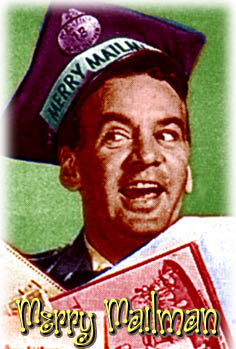 "The Merry Mailman" was seen weekday evenings and afternoons on WOR TV Ch.9 in NYC from Monday October 16, 1950 to Friday June 22, 1956. Sadly, Mr. Heatherton became a victim of the Communist witch hunts, when a bogus supermarket chain owner wrongly accused him of being in support of 'the Red Menace'.
The show began to lose ratings and sponsors as a result. Tom O'Neil didn't believe that Ray Heatherton was a communist and agreed to maintain the series as a station-supported show.
Along with The Merry Mailman, Mr. Heatherton also hosted "The Ray Heatherton Theater" (a combination live action and filmed anthology series aimed at teens) that aired on WOR weekday evenings from Monday, January 9, 1956 to Friday March 9, 1956. He also hosted "The Cartoon Parade"on Ch. 9 - first as himself (not as the Merry Mailman) beginning on Monday evening March 12, 1956 to Friday, April 6, 1956.
"The Cartoon Parade" began it's march again on WOR-TV on Monday afternoon, June 25, 1956. Happily, once again Ray Heatherton hosted the show as "The Merry Mailman". "The Cartoon Parade" didn't end it's march on Ch. 9 until Friday, September 14, 1956.
Heatherton also served as the second sea captain host/performer of WPIX TV Ch. 11 NYC's "Popeye Show" Saturday and Sunday evenings beginning September 8, 1956 until Sunday, April 13, 1958.
Ray Heatherton returned as "The Merry Mailman" when the series was picked up by WPIX TV Ch. 11 in NYC on Monday afternoon September 25, 1961. Unfortunately, the station execs at Ch. 11 forced Mr. Heatherton to host the show without a comedy assistant/puppeteer - or even a studio audience
Forced to host cartoons solo in his mailman's uniform (this time against the backdrop of a city park), the series didn't do very well and finally went off the air on Friday, May 31, 1963.
Ray Heatherton died Friday, August 15, 1997
---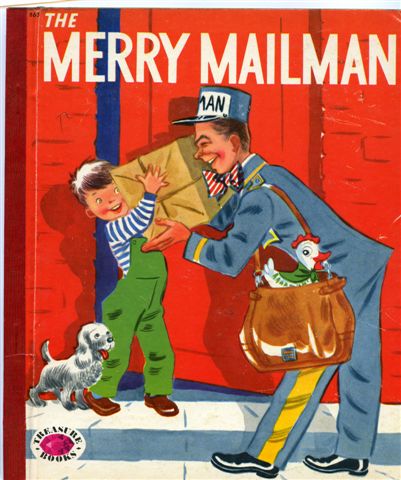 "For what its worth I was a guest in the show's audience when I was about 3-4 years old. My aunt (who was one and a half years older) sat behind me and kept covering up my face for the camera. I watched the show religiously every day and thought the Merry Mailman was a real cool guy.
"As I was growing up I heard rumors to the effect that the reason he was so merry was because he was three sheets to the wind for every broadcast. Don't know if there's any truth to it, though.
"I remember rushing home on the subway so we could see it that evening on TV. I also recall that we got a jar of Ovaltine and a Jar of that marshmallow stuff as a reward for being good during the broadcast taping. It was a lot of fun and now that I think of it, it would be really cool if there was a way to get a hold of that tape, if its still around."
- THX.
"The Merry Mailman was my first electronic friend, tho I never got to see his television shows - I had one of his delightful children's albums, and I played it until it wore out. I often wondered, as a three year old, if OUR mailman was the singing Merry Mailman.
"The Merry Mailman was none other than big band singer and Broadway star Ray Heatherton. He had a hit with the Paul Whiteman band in the Forties.
"Ray presided over Merry Mail Land, a world of puppets, songs and lots of letters to read.
"After the show ended, Heatherton performed at the Garden City Hotel on Long Island, where he was also Director of community relations. He also had a radio show and was former president of the actor's union AFTRA.
"His daughter is Joey Heatherton, Las Vegas and television musical variety performer. A frequent Bob Hope Special guest, Joey entertained the troops in Viet Nam and was a spokesperson for Serta mattresses on TV."
- Billy E
"I was on the Merry Mailman show when I was about 3 -- about 1954. It was broadcast live, I believe.
"Two notable events: 1) My older brother and another kid we knew were on with me. When Ray Heatherton was telling the kids how to behave, etc. just before airtime, our friend yelled out "Hot dog!" I was so proud that our pal Bill had actually succeeded in getting the Merry Mailman to say "Shut up!" to him.
"2) I was still pronouncing "R"s like "W"s. Heatherton asked me on camera, "What's your name?" "Wicky," I said. "Oh, Wicky?" the Merry Mailman cracks wise. "NO -- WICKY!!" I protested, hopelessly unable to modify my articulation. Apparently all the parents were doubled over laughing.
"I am 50 years old and have still not lived this incident down in my family (my brother who was on still addresses birthday cards to Wicky). I also remember the room where all the parents waited, watching a monitor. It wasn't a true technical monitor, lacking a tuner, etc. It was just a crummy old (& this is the early 50's!) TV set with all the knobs pulled off.
"Also, yes, Herb Sheldon did just exude kindness. In fact, he belonged to our synagogue and seemed just as sweet in real life as he acted for kids on TV. I also want to add that the first version of Wonderama (starring my idol, Sandy Becker) was 6 hours long -- I think 10 am to 4 pm. Every 60 minutes, Sandy would say, "OK, time to take a break -- and ask your parents if you can watch the NEXT hour of Wonderama!"

"Just discovered this whole site about an hour ago. My mind is blown. How am I supposed to get anything done with all this amazing stuff to read?"
- R Lieberman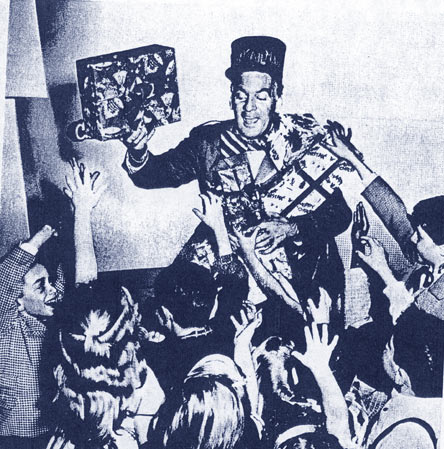 ---
"Ray Heatherton was also the father of WCBS Radio host Dick Heatherton, who now is on an LA based radio station. Ray went on after the Merry Mailman to host "Luncheon at Sardi's", "The Celebrity Club" on TV, and Long Island's Radio program "The Breakfast Club" (which he retired from in 1995, leaving his nephew, Dave Heatherton, as host.)
"While in the spotlight, he was also the Vice President of Franklin National Bank and later director of Public Affairs at LI's Garden City Hotel. In late 1967, he was given the title "honorary mayor of Long Island" by then Attorney General, Robert Kennedy.
"On Long Island he performed at just about every organization, parade, and charitable event. He left this world in 1997 to continue delivering mail to the angels in heaven."
- D Heat