---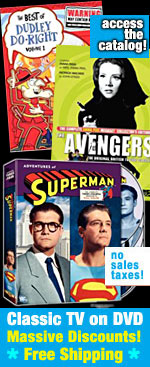 Beginning in syndication on August 23, 1965, Do Do - The Kid From Outer Space imitated the popular Japanese imports of the time ('Astro Boy', 'Kimba'). The British-made cartoon, from Halas and Bachelor productions, featured the adventures of Do Do and his pet company, aliens from the atomic planet Hydro. They came to Earth to assist Professor Fingers, a noted scientist, in his research on many scientific mysteries left unresolved.
The Halas and Batchelor Studios had been founded in 1940 by Hungarian-born John Halas and his wife Joy Batchelor. In 1954, the studio had produced the first full-length cartoon to be produced in the United Kingdom - Animal Farm, based on George Orwell's book. Throughout the history of the studio, it had concentrated its attention on sponsored films of all kinds. In addition to its original works, Government sponsored and industrial cartoons, the studio also animated The Jackson 5ive and The Osmonds cartoons for Rankin-Bass, and the 1973 version of The Addams Family and The Partridge Family:2200 A.D. cartoons for Hanna-Barbera.
In Europe, Do Do aired not long ago on The Children's Channel, a London-based pan-European satellite TV channel and on "Super RTL" a German satellite station that runs kids cartoons.
- Lee Edlestein

PR4 & PR5 Pages for ads - CHEAP!