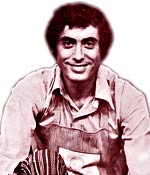 Hiya Kids ,
It is ten to nine and I'm watching the battle for the Presidency and understand more than ever how difficult the two party system really is and how Ralph Nader brought about this whole situation which seems perfectly timed for the new century. Wouldn't it be great if the two parties didn't vote for their side, but realized we must do what's best for America?
That's probably what I would have said after drawing a picture of Uncle Sam. But twenty years ago children wouldn't have understood what I was saying; today's kids are so different than all of you were in the old days.
Still whenever I meet a fan they say, "Your show should be on the air today". I loved that show and I'm happy you remember it with such fondness - I do too. I'm enclosing a few pictures from my archives that I particularly like -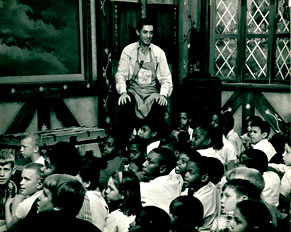 Here I'm at the magic window, pot-belly stove on one side and the trunk that held the magical golden fleece on the other. The kids are looking at themselves on the monitor, and the clouds in the magic window show that the story is just about to begin...
In a moment, the monitor will be turned off, the audience will turn to me to hear the "Let's Pretend It's Storytime" song and raise their arms and cross them while we all chant, "Magic Window on the wall - what's the best story of them all?".
The camera would slowly get a close-up of the window and the cloud slide would dissolve into beautiful film footage taken from some airplane window accompanied by a heavenly chorus announcing our entrance to storyland. Therein I told stories of make believe and acted out all the parts.
I was Zeus, king of the gods! I was Ceres , goddess of all green growing things! I was Pluto, god of the underworld ! Playing men of great strength, women of great weaknesses and evil characters like witches who"s gaze and laugh were so horrible that many a child sitting on the floor wet themselves so lost were they in the magic of my story telling.
My story telling skills were born of two movies that I saw when I was a small child - Walt Disney's first full length feature, "Snow White and the Seven Dwarfs" which taught me the meaning of fear ( how I loved being scared out of my wits ) - a delight that I would nurture on my show. The other film, naturally, was "The Wizard of Oz".
Alone in my room when all the other kids were playing ball I'd tell myself the story, acting out all the parts including Snow White standing by the side of the well singing, "I'm Wishing" and if I saw strangers walking by from my second story window I'd serenade them in my Snow White singing voice hiding behind the curtain as Snow White did in the movie.
My whole life centered around fantasy and if I was dancing around the house, pretending to be Rita Hayworth or was in the attic mixing a brew made of Mom's finger nail polish, oh such lovely colors, dropping in a lighted match to cap the finale. Unprepared as I was for the explosion and fire that ensued.
Quickly, I ran to the kitchen and busied myself reading a movie magazine in no time the Fire Department came to put out the blaze. One of my brothers was blamed for the fire and I said nothing.
So you see I was an actor even then producing my own show and bringing down the house.
Here 's a picture of my third grade class at Fairfax Elementary School in Cleveland Hts, Ohio - we're all eight years old and I remember posing for this picture.
See if you can find me I'll give you a clue: I'm the most theatrical kid in the class and my name then was... Eugene.
Email me at CartoonCorners@aol.com and if you want more of these letters tell me so.
Love you forever, Gene London
---


"Gene London was my favorite show on TV. I still draw swans using the number 2 and cats using the number 8. I have taught my children how to do that also.

"I believe that Gene London gave me a love of drawing which I still dabble into day. He was a special part of my childhood. I wish my children would have someone like him on TV to watch today instead of some of the cartoons.

"Thanks for this website as it brings back wonderful and happy memories..."

Faith M.
---
This is John Baker from the "Gene London Yahoo News Group"
Gene wanted me to email you and ask if you could post a message on the site to everyone out in Cyber TV land. Gene is adding items to his personal archive and wanted everyone to know about this new endeavor. He's asking that anyone with photo's, home movies or any memorabilia related to his career contact him through the site or at CartoonCorner@aol.com. He's absolutely sure something mutually agreeable can be worked out with anyone willing to contribute.

Have you seen our pictures and video clips on the site in the files and photo's section? If you care to here's the group address enjoy!! Also Gene is in the process of transferring select episodes of the show to DVD, more to come!
---
A Letter From Gene London
The Gene London Show
More Memories of Gene London
---


A Letter From Gene London
The Gene London Show
More Memories of Gene London
John Baker tells us about a once in a lifetime event: Gene London is planning a fan event in the area tentatively for April, 2010... a stage presentation,screenings of some episodes of the show, a tour of the Reading museum where he is currently showcasing pieces from his Hollywood collection. Aso quite possibly a luncheon... and meet and greet and Judy Bell the actress that played Gene's girlfriend on the show is participating.
More details to come!
PR4 & PR5 Pages for ads - CHEAP!
---
Good news for Gene London fans - and there are a legion of them, let me tell you. We get mail almost everyday from folks who grew up with his Philadelphia children's show and still adore him. Here's an example from just the other day:
I just wanted to share my short memories of the Gene London show. I lived in south New Jersey back in the 1960s and never missed an episode. I loved his show and remember having a crush on Gene. One time my Brownie troop went to Philadelphia for a field trip to sit in the audience of his show. I can remember that there was a raffle and one kid would get picked to go down and join Gene on stage. I completely remember my girlfriend nudging me that my name had been called. I got to run down and get a hug from Gene. I remember being completely awed by him and shy about being on stage. What great childhood memories!
- Elizabeth Rains Johnson
Now there's a Gene London news group and Gene is involved in the project. Check it out!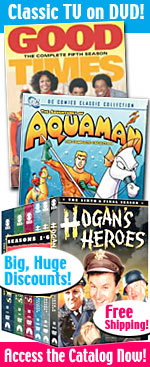 Catalog of all
Classic TV Shows on DVD
---
Come right on in to the General Store

We have licorice, gum drops, sourballs, Anything that you're hankerin' for,

You'll find in Cartoon Corners General Store.

There's lots of stories and songs that you know,

Toys to build and a big pot belly stove,

Something else I've forgotten, let's see,....

Of course, GENE LONDON, that's me......!!!

(Big finish with the organ.... at which point a cardboard crate covered with confetti would fall from the fly and land on his head.....)

Gene used to take us to "the Land of Let's Pretend" through the Magic Window; had a crush on Debby Dibley, his boss's daughter, and was terrified of Quigley Mansion

- nehpets
---
"Are you kidding?!?! I was in love with Gene London.

"I guess I was in elementary school and we took a class trip to the set. Aaaah, I just loved his voice, soothing, and as I said I thought he was cute. At 6 or 7, can you imagine? All the memories were good and still are."

Sincerely, Marie H, Phila. PA

TV on DVD
Holiday Specials on DVD
TV Commercials on DVD
TV Shows on BLU-RAY