Can you help us with information about these obscure kid shows of the past? It will be good for your karma, I promise.
---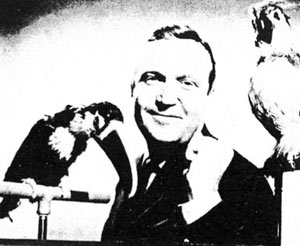 Jimmie Blaine
"I saw Pip the Piper when I was 10 thru 12, out of the Fort Worth - Dallas affiliates. I remember very little of the show, but a couple of things I remember very clearly.
"A football game was being played (off screen) and Pip and someone playing coach were on camera. Pip's team was being beat 100 to 0. I think Pip was the waterboy, or something, but begged to go on to the field to play. The coach reluctantly let him go on, and he immediately made 2 or 3 touchdowns, but of course could not win the game.
"Another time, Pip was in a conversation with an older gentleman who kept calling Pip "My boy." "My boy, we should do..." this or that, or "My boy, I think...." something or the other. Pip was obviously miffed at the condescension, and finally demanded, "MY BOY, will you please stop calling me that?" And, yes I loved the show, too. Twenty years later I was trying to recall who might have portrayed Pip. Sesame Street was hot in my son's life at the time, and I had a "vision" that Bob McGrath was Pip in an earlier life. I have harbored that belief in my heart for the last 20 years, until today, on your website, I learned the truth. Oh, well.
"Thanks for being out there, children's show fans."
- Steve Clark Fort Smith, AR
Please consider a donation
so we can continue this work!


)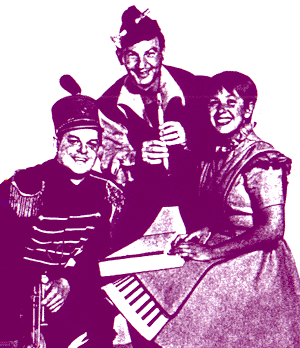 "I remember a show called Pip the Piper, which was probably very lousy quality, but utterly charmed me at age 3 or 4. The thing I remember from Pip's show was how it started each time: There'd be this flute music playing, and from the upper part of the screen, a cloud would come floating down, with Pip sitting on it, dressed not unlike Robin Hood, playing the flute (or miming playing the flute!).
"Once he "landed," he'd walk up to the camera, welcome everyone to today's program, introduce Maid Marion, and they'd get on with their show, which involved conversations with the friendly animals of the forest, and various local characters, none of whom I can remember now. In fact, I've told you all I can possibly recall without the help of hypnosis.
"I had the miraculous good fortune of actually meeting "Pip" himself, and his beautiful wife, "Miss Merry Note," at my swim-club in the early sixties! I swear it's true! They were regulars, just anonymously sunning themselves, until I ruined it for them. Once I discovered his presence, it wasn't long before all the other kids knew, too, and we actually persuaded them to do a performance of their show in the rec-room of the club! (Greenwood Swim Club, Florham Park, NJ.) But after that, we did leave them alone, since they'd been so kind to us. Anyway, quite a ramble there, but I've wanted to tell someone that story for years! So thanks for listening."
Thanx,
Jeff Westerman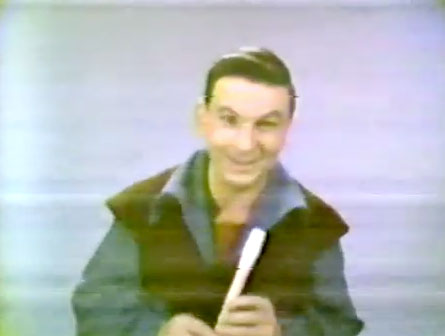 Pip the Piper was seen on the ABC network from 1960 - 61 on Saturdays and later Sundays. The show moved to NBC and back to Saturdays in 1961 and ran for another year. Jack Spear starred as Pip and Phyllis Spear as Miss Merry Note and Lucian Kaminsky asvarious other characters including Mr. Leader. It was one of TV's first live-action COLOR show.
The show aired on ABC in 1960 and then moved to NBC 1960-1961.
---
My friend just told me about your website after sooooooo many years of asking people if they remember a show called 'Winky-Dink'... I'm not crazy! Winky did exist!!!! Thank you, it was great to see him again!! Here's one for you....
What about a cartoon called 'JOT'.... or something like that... he was a dot... I remember he bounced around... doing I don't know what..... and I think he had a dot dog too.... anything on JOT ?
thanks!!!!!! :) :)
- Was Jot the Southern Baptist Convention sponsored cartoon that taught manners and honesty and reverence to the Lord in five minute (or less) segments? Jot's mom and Dad were unseen voices as I remember, that spoke to him like they were God and he would all the time be ashamed about some trivial thing he or his dog did. Probably why Southern Baptists are so judgemental today. (I'm joking!)
---
Anybody remember a cartoon from the early 60's (black and white) called Ruff n' Reddy, featuring a dog (Ruff) and a cat (Reddy). I saw it many times as a child, but forgot about it. I remembered it last year when I happened to be awake at 3 AM in a motel room in Adelaide, Australia, and (wonder of wonders) they were airing Ruff n' Reddy.
- Hamster B.
- Ruff and Reddy ran from 1957 - 1960 on the NBC network Saturday Mornings. It was the first Hanna-Barbera show.

Lost Kid Shows Homepage / Shock Theater's Zacherle / Sesame Street / Andy's Gang / Sandy Becker / TV Pow! / Hilarious House of Frightenstein / The Friendly Giant / Madison's Cowboy Eddie / Who Was Doodles Weaver? / Lost Kid Show Recordings / Winky-Dink and You / Remembering Winky-Dink / Captain Kangaroo / The Old Rebel Show / The Soupy Sales Show / Walt Disney's Shows / The Magic Garden / Mad Mad Monster Party / Houston Local Kid Shows / Boston Local Kid Shows / Fabulous Sally Starr / New York City Locals / More New York City Locals / Tooter the Turtle / Crusader Rabbit / Paul Winchell and Jerry Mahoney / Alex Toth's Television Work / Diver Dan and Whirlybirds / Sonny Fox's Wonderama / The Pinky Lee Show / Bizarre Kid Shows / Chicago's Kid Shows / Chicago's Ray Rayner Show / Garfield Goose and Friends / Bob Bell's Bozo Show on WGN / Bill Jackson's Shows / Gigglesnort Hotel Memories / Bob McAllister's Wonderama / Cincinnati Local Kid Shows / More Cincinnati Locals / Make A Wish / Hot Dog / Supermarionation Puppet Shows / Philadelphia Kid Shows / Philly's Captain Noah / The Chief Halftown Show / Philly's Gene London / Bertie the Bunyip / Dickory Doc / Adam Android / LA Kid Shows / The Merry Mailman / Do Do The Kid From Outer Space / Romper Room / Romper Room Around the USA / St. Louis Kiddie Shows / Religious Kid Shows / San Francisco Local Kid Shows / Johnny Jellybean / Johnny Jupiter / Shrimpenstein / Uncle Fred Sayles / Raleigh's Uncle Paul / Shenanigans and Video Village / Pip the Piper / Thanksgiving Day Cartoon Specials of the 70s / Monster Movie Matinee / Big Blue Marble / STM Club / Popeye on TV / Cleveland Local Kid Shows / Wixie's Wonderland / Jet Jackson and Sky King / The Original Animated Hercules / Ruff & Reddy