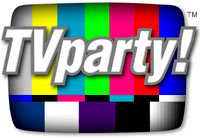 LOCAL KIDS SHOWS:
SAN FRANCISCO
in the 1960's and '70's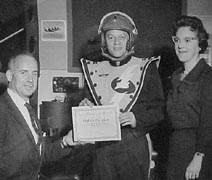 Mike Humbert writes:
Some of my earliest and fondest childhood memories are of watching Captain Satellite on KTVU channel 2. I probably started watching the show around 1963. Bob March portrayed the good Captain, wearing a futuristic dark blue uniform with a lighting bolt emblem on the chest.
March had an enthusiastic demeanor, and would occasionally get a case of the giggles. He used to crack himself up as he recommend peanut butter and bubble gum sandwiches to his young viewers: "They stick to your ribs-- and everything else!"
In the earliest days of the show, the Captain would introduce cartoons from his rocket ship, the Starfinder 2, which strongly resembled a television studio with about five dollars worth of set dressing. Every day, about a dozen kids would act as the Captain's "crew," sitting in bleachers to the left. (I remember Bob March commenting later that in those first days, the knobs on the control panels were actually pie tins held in place with nails!)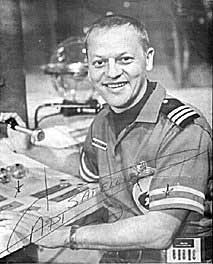 Around 1967, KTVU revamped the show. The Starfinder 2 set was retired and replaced by the higher budgeted Laser 2. Now at the beginning of each show, the Captain and his crew of three kids (different ones each day, of course) sat at a pretty-darn-good control console, preparing to blast off.
One of the kids was instructed to throw some switches, while another would sound the alarm. The third would handle the countdown. Footage would then run of a saucer-type space ship presumably sitting on a launching pad in the rocky hills. The model was decent, but unfortunately, the camera angle made it appear to be just what it was: a ten-inch model sitting on the ground amongst some rocks and dirt.
Smoke would begin to billow out from underneath, and the saucer would slowly rise. A different camera angle showed it climbing into the sky. At the end of the show, the footage was reversed. Usually the videotape technician would stop the footage before the exhaust smoke was shown apparently being sucked back into the bottom of the model. But not always. That must've confused a few kids!
Around this time, the Captain's uniform went to short sleeves, probably due to comfort considerations under the hot studio lights. Bob March once made a promotional appearance at a nearby elementary school, and I was fortunate enough to meet him and get an autographed picture. I also presented him with a drawing of the Lost In Space robot that I had made for him. It was all quite a thrill for a star-struck eight-year-old!
I also remember that when the show was cancelled, KTVU gave the Captain a big send-off, with many well-wishers dropping by for the final voyage of the Laser 2. Bob March later hosted the morning edition of Dialing for Dollars. March would run old sitcoms like the Patty Duke Show, then, during the breaks, would phone unsuspecting people "from the nine Bay Area phone books" to ask them if they knew the "count and the amount." Occasionally someone did, and won a modest jackpot.
March also had a tiny cameo at the beginning of Magnum Force, which was Clint Eastwood's second "Dirty Harry" movie. He played the councilman who had "no comment." I think it's safe to say that March will be best remembered as Captain Satellite!
Captain's Satellite direct competition on KRON channel 4 was The Mayor Art show. Hosted by the amiable Art Findley (who was later a talk radio host on KGO 810 AM), Mayor Art would introduce cartoons and perform short skits for the "City Council," about four dozen kids sitting in the bleachers to the right.
Befitting his important position, the Mayor was always dressed in a high hat and tails. All the members of the "City Council" would each get their own gray felt high hat with their first names hand markered onto the front, just above the black band. I was lucky enough to be a member of the "City Council" in early 1965. I still have the hat to this day!
Mayor Art also had a hand puppet sidekick, a bird named Ring-a-Ding who lived in a cuckoo clock, and had a tendency to bite the Mayor on his nose. Safety tips were also featured, and Mayor Art would advise against certain activities because they were "Danger-ROO-so!" Each episode would end with the Mayor promising the viewers: "We'll be seeing you" "SUBSEQENTLY!!!" the "City Council" would gleefully finish.
I assume ratings were dropping toward the end of the series. During the last year, the show was slashed from an hour to thirty minutes. In the end, Mayor Art did not get the big send off that Captain Satellite did. I remember Art Findley simply saying: "Well, kids, that was our last show!" and then closing the episode normally. I cried. Art Findley was later host of KRON's short-lived answer to Dialing for Dollars, called Pick-a-Show. It was shamefully low budget, and looked it. It tried to pass itself off as a game show, but was really nothing more than a half-hour commercial for the evening NBC shows.
Findley would phone people at home, and ask them to guess if the "X" was behind the picture of (for example) the Dean Martin Show, Laugh-in or I Dream of Jeanie. A right guess would win you a whopping five dollars. Making it the final round, which was almost unheard of, would net the contestant eighty dollars.
Both Captain Satellite and Mayor Art ended their runs in the early seventies. About that time, KBHK channel 44 introduced Captain San Francisco. Opening credits consisted of five seconds of stock NASA footage depicting an Apollo mission blasting off. The set was a porthole with stars outside.
I understand there actually was an on-camera "Captain" at some point, but by the time I started watching, the host was Sgt. Sacto, a nice-enough young guy in a jumpsuit, sitting in front of the porthole and introducing cartoons. There were no kid guests.
Also around the same time Stockton's KOVR channel 13 had Captain Delta. Televised from a studio made up to be the "Delta Queen," a Mississippi-style paddleboat, the four kid guests of the day sat uncomfortably as Captain Delta stuck a microphone in their faces.
I remember thinking how phony and smarmy the Captain was. He would ask each child a question about himself, and then chime in with a generic "Well, good for you! I'm proud of you!" --regardless of what the answer had been.
In any case, if Bob March, Art Findley and the rest are out there somewhere, "thank you" on behalf of a lot of us who were bay area kids in the sixties and seventies. You gave us a lot of nice memories!
---
"By the early 70s, kids shows in the San Francisco area were mostly half-hour or hour-long collections of cartoons. KTVU-Channel 2, then an independent (now a Fox affiliate), was one of the last stations in the Bay Area to have kids shows with hosts. In the late 60s-early 70s, Captain Satellite was a Channel 2 favorite.
"After Captain Satellite went off the air, about 1971, another Ch. 2 personality, Pat McCormick, brought back his creations "Charley and Humphrey." The "Charley and Humphrey" show had originally aired in SF on Ch. 7 in the 60s, and was brought back by McCormick on Ch. 2 when he became the fulltime host of "Dialing For Dollars." (McCormick had also previously hosted another children's show, "Brother Buzz.")
McCormick didn't appear on-screen on "Charley and Humphrey": they were puppets and he provided the puppeteering and the voices. Charley was a horse and Humphrey his not-too-bright dog friend. Also seen on the show (which I believe ran daily from 3:30-4:30 PM) was Pussyfoot, a classical piano-playing tabby.
Much loved in the Bay Area, the 70s version of "Charley and Humphrey" was on the air until about 1975-76. Public service announcements from the 70s featuring the duo ran on Ch. 2 late at night well into the 90s. Sadly, when McCormick retired from Ch. 2 a few years ago, he stated that virtually all of the episodes no longer existed. He also said that the puppets were still around but had deteriorated to the point where they could no longer be used.
In 1977, KTVU brought another kids show to the air, "Captain Cosmic." This was a half-hour show (airing, I think, from 4:30-5 PM) that primarily showed reruns of "Ultra Man." Captain Cosmic was Bob Wilkins, the longtime host of "Creature Features," a Saturday night horror-movie show seen on KTVU and in Sacramento on KCRA Ch. 3 (later on KXTL Ch. 40). Captain Cosmic was joined by his trusty robot, 2T2 (in a takeoff on Star Wars, which had just been released at the time.) Captain Cosmic welcomed guests such as Anthony Daniels, who played C3PO in Star Wars.
Captain Cosmic lasted about one year; rerunning shows like "Ultra Man" that were already in reruns for years sealed its fate.
About the same time, KTVU enlisted Pat McCormick to host another show. This would be KTVU's last live kids' show, called "TV Pow." It was a game show for kids; a giant version of Mattel Intellivision was put on the screen and kids called in to play the giant video game over the phone. The game was voice-activated by the kids going "Pow! Pow! Pow!" All too often, McCormick would have to stop the kids from overmodulating and going to fast. This concept lasted about a year as well.
I'm sure there are others who remember these Bay Area 70s shows as well.
- Jim
---
I was reading about KTVU's 'Charley and Humphrey' and remembered that I have the full audio of one of those Bits and Pieces spots, the one about "Borrowing Without Asking." I used to sit in front of the TV many an afternoon with my tape recorder, and still have quite a few of those old tapes. I was recently digitizing
it all (all that was worth saving, anyway), and the C&H spot is one of my favorites of them. I read where Pat McCormick himself said that most of those episodes don't exist anymore.

- Sebastian Morgan
---
"By a happy accident, I came across the article on the old local kids shows in the S.F. Bay Area by "Jim". I can elaborate on KTVU Channel 2's use of the Charley and Humphrey characters.
"Growing up in the late 70's-early 80's, I clearly recall KTVU's Bits N' Pieces Public Service shorts which ran between commercials during their afternoon cartoon reruns. Charley and Humphrey were prominently featured in these segments.
"There could not have been too many of these little "life's lessons" produced, because the same ones kept turning up consistently! A favorite seen many times had Humphery borrowing friend Pat McCormick's "favorite lamp, the family heirloom" without asking him. Charley finds out, tells Humphery its not right to borrow something without asking, convinces Humphrey to return it and... as Humphrey hurries off-screen to return the lamp, a piercing shattering sound is heard. Oops.
"By the way, Pat McCormick was also the longtime weatherman on KTVU's 10 O'Clock News. He had replaced the aforementioned Bob Wilkins of Creature Features and Captain Cosmic fame, who had simply tired of doing the weather forecast around 1974-75 . By that time not only was he doing Charley and Humphrey, but also hosting the afternoon Dialing for Dollars (according to KTVU's web page, they had two versions of this show initially-- Bob March hosted in the morning and Pat later in the day)
"Pat retired in the mid-90's to Oregon. KTVU has an extensive background on their 40-plus year history at their website, ktvu.com in the "About KTVU" section."
- Bill Griffiths
"P.S. - KTVU had a long-running campaign starting in the mid-70's "There's Only One 2" which was still being used periodically before I moved. They had a very upbeat theme which was last heard (I think) during their 40th anniversary in 1998.
"I'd love to hear it again in the clear, sometime. There were lyrics, but the often-used instrumental variations were the best. Brian Karmizad's 80's TV Theme Super Site had some local station themes, but his site has been down for some time."
---
SAN FRANCISCO
LOCAL KID SHOWS
(by you)
"I grew up in Hayward and fondly remember those shows, especially Creature Features. Here's a sample of Bob Wilkins' original Creature Features theme - it's original title was "The Gotham City Municipal Swing Band".
"Incidently, it was composed by Neal Hefti and was originally featured on the 60's "Batman" television soundtrack. I also have the 2nd theme as well (short version). Attached is a sample of that one.
"Last year at WonderCon in S.F. I met for the first time, Bob Wilkins and John Stanley. They were very nice and open to talking about the show. They both had very fond memories of those days.
"Bob's retired and living in Reno, and John still continues to write books and articles. I was lucky enough to take a picture with the both of them, and I just happened to have my home made Tom Servo Replica with me! The photo's also attached. Keep up the great work."
- Larry Lee Moniz
---
"Thanks for the great memories about the old
Captain Satellite
TV show from the 60s. I used to watch show every afternoon after I got home from school.
"I also remember Mayor Art on KRON Channel 4, Hocus Pocus on KNTV Channel 11, and Captain Delta on Channel 13 (I think) in Sacramento. I think there might have been a few others, but for the most part I can't remember the names now.
"A lot of the others were short lived. I think there was one called Buckaroo 5000 also on Channel 11 in San Jose. Do you have any information on any of these old Kids TV shows in Bay Area, or do you know of any other web sites that might have some information?
"I have a couple of friends that I grew up with during the 60s that I stay in contact with now and then. Every once a while the subject comes up, and we all three reminisce bout the few times that kids got yanked off the show while it was running, because a kid said something naughty on the air. Live TV at is finest.
"The example used most often always includes the kid saying a four letter word while messing up during the bean toss game on Hocus Pocus. Hocus Pocus told the kid that was "hokie pokie no no" and the kid fired back - "cram it clown". Anyway, I don't think these are the types of stories you want to share on your web site, but I couldn't resist sharing the story anyway. Thanks again for the great memories."
- Jeff, San Jose, CA
Are you worried about PMI-001 and 642-617? Check out our latest resources like ICND and VCP-510 for practice with definite guarantee of 642-359.
---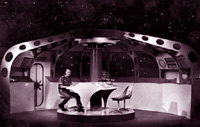 A NOTE FROM THE
CAPTAIN (Bob March)
The creation of Captain Satellite sprang from my youthful passion for Science Fiction.
As a boy I devoured magazines such as Galaxy, Flash Gordon, Buck Rogers etc. 1958 was fortuitous time for the emergence of a television program with a space theme. It was the year the Russians launched the first earth satellite named Sputnik. This started the "Space Race" an effort on the part of the United States to dominate the last frontier.
When I see the high tech computer generated special effects of today I am green with envy. The first set for Captain Satellite's space ship was a hodge-podge from pie plates fastened to the wall along with garden hose to simulate wiring to a dismantled pin ball machine.
Over the ten years the program aired the set evolved into a flying saucer. Thanks to film footage from NASA we were able to simulate a blast off which, at the time, was quite realistic.
I wanted audience participation so I created a game called "Space Lock" a contest where kids would send in a drawing depicting a space theme. If their picture was selected to be displayed a prize was awarded. The winner would choose one of three keys to open Captain Satellite's "Space Lock" which contained a really grand prize.
Captain Satellite was live television, which made for some hilarious and sometimes scary moments. Animals would get loose and start savaging the set or Santa's reindeer would relieve themselves on camera.
The crew would attempt to catch the Captain off guard. One day when no children were scheduled to appear on the program KSFO personality Don Sherwood (who was taping his weekly variety show in the studio next door) provided a memorable moment. The Captain strolled over to open the Space LockŠthe door slid open and there stood a beautifully posed nude model (courtesy of Sherwood)ŠThe Captain broke into hysterical laughter. Of course the camera had been positioned not to show the model to the TV audience.
Captain Satellite and all the other children's shows were a very special part of growing up in the Bay Area. Through their weekend personal appearances (at parks, markets, theaters, etc.) They would autograph a picture for you. In many cases you could appear on their programs.
- Bob
P.S. I am still working with children in an entirely different capacity as a mental health counselor at Juvenile Hall in Sacramento. As a licensed Marriage Family Therapist I find it extremely rewarding to help troubled youngsters make changes in their lives.
The children of the 50's and 60's lived in a simple time, they were fun to have on the show and meet in person at appearances. Today's children are being inundated in a flood of violence and over stimulation of primary instincts. In some ways they grow old faster.
Enough sermonizing
---
I don't know if you know this, or ever get any inquiries into Baby Daphne, Princess Pat, or The Princess... but that was my mother.
She was Princess Pat in the early 1950's in San Francisco, CA, on KRON TV, then later on KTTV and KHJ in Los Angeles. Her Princess shows were also syndicated as was Baby Daphne, and I also have some newspaper clippings of those shows. Actually, my sister found more newspaper reviews, etc. that our mother had saved, on her Princess shows than on her Baby Daphne shows.
I worked for her when she was Baby Daphne at KTTV TV... there was a big fan club of college students at USC... her fan mail was amazing, thousands of letters weekly. But it might be fun for her fans to see the photos of when she was younger and was a beautiful princess, those shows were equally as popular. She won many awards for those shows. She wrote all the stories she told, made her own costumes, etc., as she did with Baby Daphne. Let me know if I can be of help.
After talking to my sister, she reminded me that my mother was on Mr. Wishbone's show - but only her voice. She was a character that she created called, MLF (Mysterious Little Friend) who lived in a beautiful little house. MLF would read the funny papers with Mr. Wishbone. Later, MLF was a character on 'Daphne's Cartoon Castle' when she began that show; along with No Name Spider, Magic in the Air, Itsy Bitsy Pot, Mr. Makeup Man and other characters. Baby Daphne would talk to her viewers, addressing them as Witch-Watchers.
Sincerely, Kathleen Blake
---
San Francisco Local TV Kid Shows
Captain Satellite & More
Creature Feature
Captain Fortune
Mayor Art
Please consider a donation
so we can continue this work!

Amazon Prime - unlimited streaming
of your fave TV shows and movies!
Get your FREE 30 Day Trial!
PR4 & PR5 Pages for Advertising