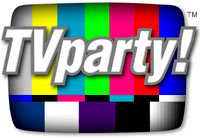 :LOCAL KID SHOWS:
SAN FRANCISCO in the 1960's and '70's
CREATURE FEATURE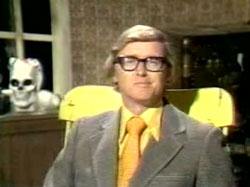 Kevin Butler tells us of the passing of a TV legend - Former horror movie host Bob Wilkins, MC of KTVU's Creature Features, died on Wednesday January 7, 2009 in Reno, NV; he was 76 years old when he lost his battle with Alzheimer's disease.
Born in Hammond Indiana on April 11, 1932 Mr. Wilkins served overseas in the Korean War. Following his military service he attended Indiana University where he graduated with a degree in marketing. He moved to Chicago where he worked for an ad agency,first as a mailroom clerk and then later as a copy writer.
In 1963 he left Chicago and moved to California where Wilkins wrote and produced TV commercials for station KCRA. A year later he made his television debut as the substitute host of an afternoon movie program. His work on the show was so successful that Wilkins began hosting his own late night movie show Seven Arts Theater from 1966 until 1971 when he joined KTVU to MC Creature Features, the first San Francisco TV program to air Plan 9 From Outer Space. The cinematic fare he screened on the program was not up to the quality of the classic Universal horror films of the 1930's and 40's, nevertheless the show was a hit with the Bay Area's young viewers.
From 1977 to 1979 he was also the MC of The Captain Cosmic Show, a local kid's cartoon series where he entertained viewers between reruns of the Universal Flash Gordon movie serials, Johnny Sokko & His Flying Robot filmed TV adventure shows, and Japanese superhero cartoons Star Blazers and Spaceship Yamato.
In 1979, former San Francisco Chronicle columnist John Stanley took over as the host of Creature Features and Wilkins joined KTXL in San Francisco here he revived Seven Arts Theater in 1979, he hosted this second version of the series until 1981. He left local TV and moved to Reno where he made guest appearances at comic book conventions and fantasy festivals.
Bob Wilkins was also interviewed for Planet X magazine and found the time for charitable causes. He was a caring, knowledgeable and kindly gentleman and he will be missed!
What a shame about Bob Wilkins …. Saturday nites weren't the same when Creature Features went off the air. And to think we would sit and watch those awful movies yet he made them palatable. Does anyone remember Brother Buzz? I just received the Steps to World Friendship poster that I had as a child. Contacted the great people at the Latham Foundation that still do humane education. Was told Pat McCormick of Charlie and Humphrey fame had purchased Brother Buzz and Miss Busy Bee marionettes - I loved that show! In fact am looking at their picture now, hanging in my cubicle at work. The youngsters here are ready to put me in a home but can't take away the fantastic childhood memories we had in the 50's … How about Miss Trudy? She hosted a show, after Capt. Fortune, where a story was read then the kids could pet the lambs, I believe. Now my memory is getting foggy. Thank you for the opportunity to add my memories to this site …

- CAROLE DRISCOLL
---