1970's TV shows on DVD
1960's TV Shows on DVD

Catalog of all
Classic TV Shows
on DVD
---
Classic TV
Hard-to-find Classic TV
Shows on DVD!
---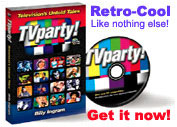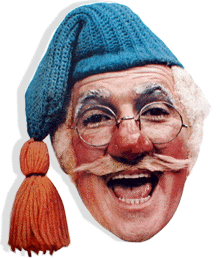 Dickory Doc
and Adam Android
[Photos from Bill &amp Greg Farnese]
"I remember Adam Android. Even though the show was quite simple (an orange and yellow curved wall with a cutout for the puppets and a control panel with flashing lights), my brothers and sisters and I enjoyed it a lot.
"We especially enjoyed Professor Schnitzel and, like others, still imitate him. I was working on a school project about television advertising when I made my way from Dover, Del to Jenkintown, north of Philadelphia, where Channel 29's studios were located at the time.
"Channel 29 was a very low budget operation at the time, and had just been bought out by Taft Broadcasting, thus changing it's call letters from WIBF-TV to WTAF-TV. They also showed reruns of my favorite show of all time, "Lost in Space".
"I visited Channel 29's offices and watched a live broadcast of the Adam Android show. I was totally fascinated by all of the behind-the-scenes activity. Aldo Farnese (Adam Android) was very professional, to the point of ensuring that I called him "Mr. Farnese". His android costume consisted of (as I recall) a purple shirt, brown pants and boots, an "Adam Android" medallion and a very 70's white wig, which he wore over very dark (and somewhat balding) hair. Chic Langanella (the Prof and others) was a mustachioed man with a great sense of humor.
"I enjoyed watching the show's production almost as much as I enjoyed visiting the rest of the station. I'm also very sorry to hear that he has since passed away. I think I still have some old black and white polaroids of my visit somewhere. BTW, I got top honors in the school for my project and won second-place for it in state-wide competition!"
- Jeff Brown Hartly
Access our
Classic TV
Catalog Now!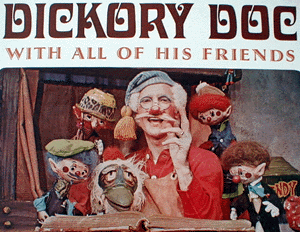 Does anyone remember Dickory Doc? He was a host of a cartoon show (Hector Heathcoat, et al), who worked with puppets.
How 'bout Captain Philadelphia (on the old Channel 48)?
There was another kids cartoon show host who worked with puppets (He may have been the same guy as Dickory Doc in a different costume). He was in a kind o' futuristic space traveler costume, and spoke to his puppets, who were actually pretty hilarious. I think it was he (or Dickory Doc, or both), who spoke to my fave puppet, Professor Schnitzel. To this day, my brother (Age 43) and I (age 36) still imitate Prof. Schnitzel.
Can you help us relocate him?
Many thanks, Jacqueline
---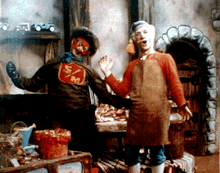 Dickory Doc was broadcast on Channel 48 in Philadelphia and on Channel 38 in Boston from 1966-1969
Up in the North Pole, Doc and his elves would make the toys for Santa to deliver every Christmas. His elves (named Choo-Choo, Prof. Shnitzel, and Mr. Bigsby) would join in with Doc and sing songs and play games. Sometimes Doc would get a visit from Puff the Flameless Dragon and Supermailman who would deliver the mail to Doc and the Elves.
Cartoons were also a part of the show. Kimba was a favorite. The show was produced and created by Aldo Farnese (Doc) and Chic Laganella (various voices and Supermailman)
Adam Android was broadcast on Channel 29 WTAF in Philadelphia. There would be fun and games on the Spaceship and the "Gerbil Races" were a big hit. Kids would call in and pick a Gerbil to win a race. This show was also produced and created by Aldo Farnese and Chic Laganella
- Bill, Greg Farnese
---
The character that Jacqueline writes about with Prof. Schnitzel is Adam Android, I think with Ch. 29. That was probably the best show of all time on TV!! The guy was a genius! A whole group of us in high school used to rush home to see what he was up to!
Who could forget the gerbil races?? He would call up viewers and they would guess which geribil would win! He was up against Wee Willie Webber, and had this amazing group of puppet charcters. As I remember, he had white hair and a silver space suit type thing. I think it he showed Three Stooges. Sort of a wink, wink, nudge, nudge sort of thing.
Wherever he is, I hope ol' Adam, and the professor, and that dragon guy, and everyone else, is happy! Does anybody know whatever happened to our favorite martian??
---

I have been trying to remember the name of the show I have long missed and now thanks to your site the mystery is solved.The show was called "Dickory Doc" and I Loved it!! I recall getting an album from the show autographed at a store openning by the host of that show.
I loved the way the puppet "Pierre" would get so upset when the dishes would break with a crashing sound somewhere in the backround by a clumsy puppet. And there was a flying mailman, I think, who would crash into the trash cans outside which made the doc seem worried. We would hear him fly and then crash.
The show had me mesmorized. I met Sally Star in a store while shopping with my mother as a young girl. We were eager to inform her that we lived on her street having moved in just after she had moved out. I was also on "Romper Room" in the 60's and have a home movie and pictures. I did wendy the weather girl, showed my barbie for show and tell, thru a ball we caught on sticks, and rode a horsey behind Miss Jones. I was also blindfolded and was supposed to guess that I was holding an orange.
I would love to be able to buy old episodes of Dickory Doc so my little one can enjoy his puppet show. These shows will always be close to our hearts. My mother had a Princess Spring Summer Winter Fall puppet from the Howdy Doody Show, wish she still had it : )
- Laura
---
There was a question about the Dickory Doc character on Channel 48 - well, after that character had passed his time Adam Android appeared on Channel 29. The gentelman's name was Aldo and later worked for tv stations in the area and handle camera work for many of the sporting events at the Spectrum in Philly.

Working for the Spectrum I went by Aldo for many years not knowing who he was. He passed away about two years ago but low and behold I was to become friends with another cameraman by the name of Greg at the Spectrum. And guess who he is? Aldo's son. It is a small world.

- Scott D
---
I've been looking for some remembrances of the great entertainment we had in the 60's and 70's. Until I found your site I thought I would never find anyone who remembered Dickory Doc.
Not to disrespect his memory, I will tell you a story my mother told me later in life. My ma would always hear me laughing while I watched Dickory Doc and one day she decided to join me. My ma, being an Italian woman who understood the language, said she was shocked. It seemed that the puppets would say off color things in Italian, things not intended for children's ears.
Regardless, my memories of Dickory will always be with me. Lets not forget Dr. Shock, another great local star.
My best memory of the Doc was when he was opening a show and was unable to open the lid of his casket. The camera panned away quickly and two stage hands could be seen running to the casket to assist. Being a true showman the Doc, clutching his heart, walked to his desk and opened the show.
As for Pixanne, Wee Willie Weber, Gene London,Sally Starr and all the rest, thanks for the memories.
- Darryl B


Lost Kid Shows Homepage / Shock Theater's Zacherle / Sesame Street / Andy's Gang / Sandy Becker / TV Pow! / Hilarious House of Frightenstein / The Friendly Giant / Madison's Cowboy Eddie / Who Was Doodles Weaver? / Lost Kid Show Recordings / Winky-Dink and You / Remembering Winky-Dink / Captain Kangaroo / The Old Rebel Show / The Soupy Sales Show / Walt Disney's Shows / The Magic Garden / Mad Mad Monster Party / Houston Local Kid Shows / Boston Local Kid Shows / Fabulous Sally Starr / New York City Locals / More New York City Locals / Tooter the Turtle / Crusader Rabbit / Paul Winchell and Jerry Mahoney / Alex Toth's Television Work / Diver Dan and Whirlybirds / Sonny Fox's Wonderama / The Pinky Lee Show / Bizarre Kid Shows / Chicago's Kid Shows / Chicago's Ray Rayner Show / Garfield Goose and Friends / Bob Bell's Bozo Show on WGN / Bill Jackson's Shows / Gigglesnort Hotel Memories / Bob McAllister's Wonderama / Cincinnati Local Kid Shows / More Cincinnati Locals / Make A Wish / Hot Dog / Supermarionation Puppet Shows / Philadelphia Kid Shows / Philly's Captain Noah / The Chief Halftown Show / Philly's Gene London / Bertie the Bunyip / Dickory Doc / Adam Android / LA Kid Shows / The Merry Mailman / Do Do The Kid From Outer Space / Romper Room / Romper Room Around the USA / St. Louis Kiddie Shows / Religious Kid Shows / San Francisco Local Kid Shows / Johnny Jellybean / Johnny Jupiter / Shrimpenstein / Uncle Fred Sayles / Raleigh's Uncle Paul / Shenanigans and Video Village / Pip the Piper / Thanksgiving Day Cartoon Specials of the 70s / Monster Movie Matinee / Big Blue Marble / STM Club / Popeye on TV / Cleveland Local Kid Shows / Wixie's Wonderland / Jet Jackson and Sky King / The Original Animated Hercules / Ruff & Reddy
PR4 & PR5 Pages for ads - CHEAP!

TV on DVD
Holiday Specials on DVD
TV Commercials on DVD
TV Shows on BLU-RAY