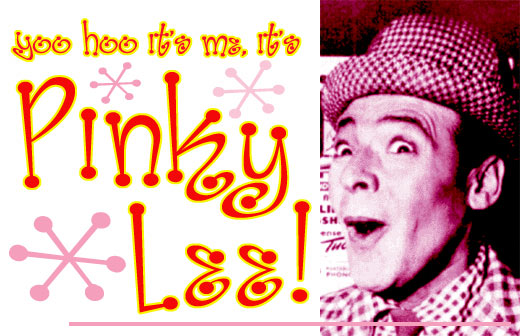 "I'm a brand new 50 year old who can't find anyone who remembers The Pinky Lee Show. I LOVED this show, but I don't remember the years in which it aired.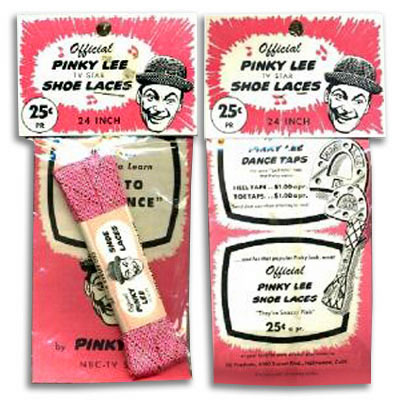 "The theme song was as follows:
Yoo-hoo, it's me
My name is Pinky Lee
I skip and run with lots of fun
For every he and she.
It's plain to see
That you can tell it's me
With my checkered hat and my checkered coat
The funny giggle in my throat
My funny laugh like a billy goat.
That's it's whooooo
PINKY!
"I also remember the live episode in which Pinky Lee collapsed during one of his dancing routines. It wasn't long after that the show was cancelled. I was never able to find out if he had died or had just retired due to his health. Any information would be great."
- Sincerely, Carol V.
---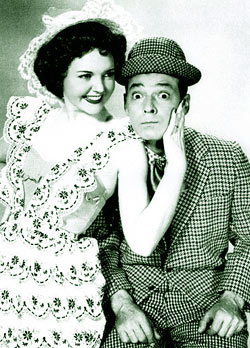 Pinky Lee's first foray into television, The Pinky Lee Show, was a standard fifties prime-time variety show that ran for seven months in 1950. This was an attempt to bring energetic visual burlesque comedians to a new visual medium. Many radio stars were reluctant to enter the television ring, they felt TV was too intimate and there was no way to retain a star quality on such a small screen in someone's living room, they reasoned. Early TV execs were scrambling to find talent to fill airtime - they were looking for the infant medium's future stars.
In 1951, a fifteen-minute musical sitcom called Those Two debuted, starring Pinky Lee and Vivian Blaine (later replaced by an actress named Martha Stewart) as daffy neighbors. The series was seen three nights a week. The show was not a hit with the critics - Jack Gould of The New York Times hit hardest: "Pinky Lee suffers from a dearth of both material and versatility." 'Just Us' ran for a year and a half.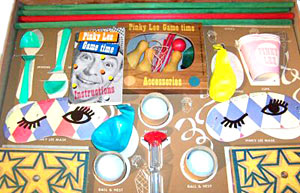 It was at that point that Pinky Lee turned to a juvenile audience. It happened because television producer Lawrence White's three kids bugged him relentlessly to put Pinky Lee back on TV after 'Just Us' left the air. The second Pinky Lee Show debuted on January 4, 1954 and was a big hit for NBC daytime, a solid lead-in to their long-running 'Howdy Doody Show'.
To open the show, Pinky would burst a balloon and bound onto the set singing his familiar "Yoo-Hoo it's me!" theme song. Dressed in trademark plaid hat and plaid suit, he would run whirlwind around the 'playground' set dancing, doing sketches and introducing novelty acts to the squealing delight of the children in the audience.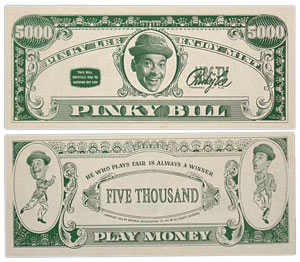 "In his show he expends more energy than anyone this side of Jerry Lewis," Newsweek magazine wrote in 1954. "The half-hour ends in a flurry of gift-giving, screeches and kiss-throwing." Joining Pinky on the series were regulars Molly Bee (a 14 year-old singer), Jimmy Brown and Barbara Luke.
Pinky Lee was the quintessential vaudeville comedian come to life on the screen, right down to his garish plaid suit and rapid fire joke delivery.
As far as Fifties' television audiences were concerned, Pinky Lee was a celebrity known more for his name than his reputation as a performer. As a result, he was very often the punchline of other comedian's jokes. One Broadway critic called him, "the comedian that comedians hate" because of his brash, over-the-top stage persona. Another columnist dismissed him as,"a five-foot-four lisper." (Pinky spoke with a pronounced lisp.)
One barb that stuck was told by Milton Berle at his bachelor party in 1954. Looking over a large assembly of the great comics of the day (future washed-up stars like Sid Caesar, Joe E. Lewis, Joey Adams and Henny Youngman), Berle offhandedly remarked, "If a bomb hit this joint, Pinky Lee would be a big hit."
Lee responded angrily to the quip in the press, but it didn't help his reputation any.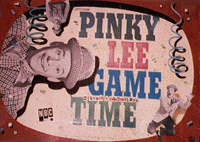 "I was the cleanest comedian in burlesque," Pinky Lee once said about his early years in vaudeville. And he had this to say about hosting a kid's show - "I don't sing any love songs. I'm never in love. No Jane Russell type jokes. No violence. There are no gestures, alluding to the derriere or other parts of the anatomy. Words like 'lousy' or 'stinker' are absolutely verboten... It's a happy, wholesome show"
No matter how much the kids in TV land loved the wildly manic host, parents groups and critics were not so easily won over to his free wheeling style. "After considerable research," one critic wrote, "I have found only one person who can stay in a room with a TV set while Pinky Lee is on. That is my seven-year-old daughter, who thinks he wears a funny hat."
The frenetic pace of 'The Pinky Lee Show' brought complaints from a number parents who felt the program was getting their kids all wound up unnecessarily, leading to disciplinary in homes problems after the show went off.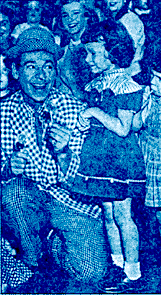 In August of 1955, NBC agreed to tone down the gratuitous crudeness on 'The Pinky Lee Show' and 'Howdy Doody' by limiting the destruction of property, bad grammar, squirting seltzer bottles, hurling things, name-calling and other antisocial behavior that would ordinarily be forbidden in people's homes - but was gleefully exhibited by the network's kid show hosts on a daily basis.
"Playing a trombone with a mouth full of watermelon is more messy than funny," was one comment from NBC about the changes.
By 1955, Pinky was on the air six days a week and rapidly becoming one of the most popular kid-vid hosts of all time, finally gaining some respect along the way. Time magazine called him, "One of the hardest working men in TV" but all of that hard work took its toll during an airing of his live program late in 1955. While performing one of his hysterical routines, Pinky Lee collapsed live on the air - stricken by what appeared to be a massive heart attack. It was later said to be a severe sinus attack.
Under doctor's orders, the host was forced to take a year off to recuperate. The show continued without the vaudevillian until June, 1956.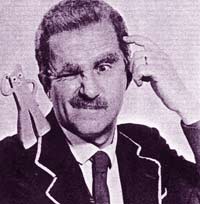 When Pinky Lee attempted to return to the tube in 1957, he found an unreceptive climate. He took over the hosting duties on NBC's 'The Gumby Show' on Saturday mornings for a short time in 1957 when the original host (Bobby Nicholson, seen here) departed.
The host felt sharing the show with a puppet frog and rabbit in a tree stump was a comedown from the days of having his own show - but it was the only offer he had. "My heart is crying" he told a reporter in 1957. "I have no pride. I just want to do the thing I love the best - entertain children."
Pinky sang, played the xylophone and tap-danced around with wild abandon, but when The Gumby Show ended in November 1957, no one else wanted to touch the kid show host who might once again collapse in front of thousands of children on their network.
Pinky turned up on the 'Ed Sullivan Show' in the early Sixties but did very little else on television until 1965, when KABC-TV in Los Angeles gave the comedian another shot with a new version of 'The Pinky Lee Show'. It lasted only a few months. The host was bitter about the 60's series, saying it was the 'Pinky Lee Show' in name only, that he had no creative control and was only allowed to do what he was told to do.
For the next two decades, Pinky Lee was relegated to game shows, Bob Hope Specials, and performing all around the country on the Burlesque and Dinner Theatre circuit. One of his last network appearances was on the NBC special The Yummy Awards in 1983, hosted by Ricky Schroeder. He worked with Dick Clark on Dick Clark Live Wednesday before taking over for Mickey Rooney in Sugar Babies. He had a heart attack in Peoria, IL, ending his career.
Pinky Lee was a performer who worked hard in the business, taking his knocks and entertaining millions of people over the years. He died peacefully in his sleep at age 85 on April 3, 1993.

1987 Pinky Lee interview
---
"I was just sitting by my computer tonight getting together some last minute data for a meeting tomorrow, feeling burned out and wondering where all the years have gone. I'm 50 years old now. I was thinking back to when I was a kid, trying to remember all the little things that shaped me, made me happy...were all part of my life.

"Out of the blue I started singing Pinky's theme song, so I searched the web just to see his face again. It took me right back to my childhood. I loved that show, and the Tootsie Rolls and the funny little man who danced and sang for me across that little black and white screen. I don't have much to say. I'm just feeling very sentimental and very grateful for Pinky sharing part of his life with me. I wish I had known him personally, just so I could have told him how special he was and what an indelible impression he made on me and so many others. The world could use a little Pinky Lee every once and a while.

"Thanks for putting this site out there, it means a lot...probably to more people than you realize."

- JB - Dallas,TX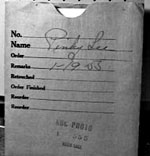 "I remember Pinky Lee on ABC. I guess this was in the 60's and they were re-runs of the original shows. I now work at NBC in Burbank Ca., where they broadcast the Pinky Lee show from as well as many many other great shows through the years.
"The other day, one of my co-workers showed me a photo in an envelope that was found while cleaning up a room. It must have fallen into a crack or something because it says PINKY LEE 1-19-55 and a stamp that says NBC PHOTO 1 555 HERB BALL.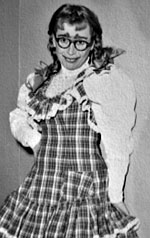 "This photo is of PINKY LEE dressed as a girl standing in a hall at NBC. Looks like a press photo taken by NBC. Did Pinky Lee do other characters? I have attached it for you to see. Hope you can get more information on it. I think this is a found treasure.
"Thanks for your great site. The site has many memories for me when TV was my baby-sitter. Now it is how I make my living."
- Sincerely, Bob Meza
TV Guide's Pinky Lee Page,
with TV Listings, Photos, Videos, Exclusive News and More.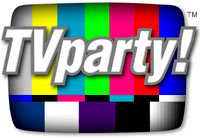 PR4 & PR5 Pages for ads - CHEAP!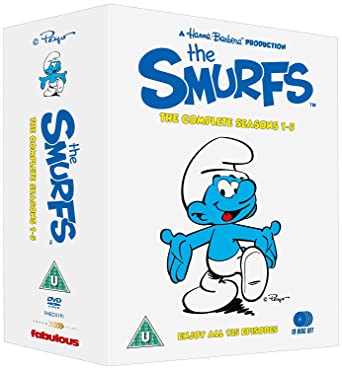 ---
"If I've done nothing else, I've at least left some love with children who have grown up. I've reached a very great height to say I've touched people's hearts and I've stayed there."
- Pinky Lee

Catalog of all
Classic TV Shows
on DVD
"I was in the studio audience of 'The Pinky Lee Show' on my birthday. As you may know, kids were placed in the front row of the audience, and would rush onto the stage on que.
"My mom and I didn't get to the studio early enough to find out how things were supposed to work, and were seated in the middle of the audience. When the call was made for "Birthday Kids", I scrambled to the aisle, and hurried down the stairs toward the stage, but I was too late, and was stopped by an usher/stage hand.
"So what was intended to be a wonderfully unique birthday treat for me, turned out unusually disappointing for this 7 year old."
- Gil Harrison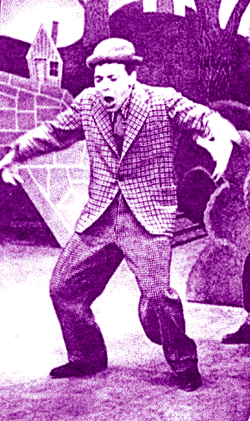 TVparty viewer Michael Bitterman was on the last episode of The Gumby Show starring Pinky Lee and provides these video clips from that show in 1957.
Pinky introduces Gumby
look for Michael in this clip.
He sang, he danced
and played instruments too. A very versatile performer - you had to be to survive in vaudeville.
Pinky does a commercial for Tootsie Rolls.
Pinky sings a delightful song
about two important words that parents today have forgotten to teach their children - PLEASE and THANK YOU! Then, he says goodbye for the last time.
---
"I was on the Pinky Lee show as a child, and the one thing I remember the most was the thrill of getting a large, cardboard Tootsie Roll filled with Tootsie Roll candies. So, you can imagine how much I enjoyed seeing the video of the commercial for Tootsie Rolls!
Thanks!" - Wanda
---
"I have some info about the song that Pinkie Lee sings at the end of the last episode of NBC TV's & Art Cloakey's/Roger Muir's "Gumby Show!".
"There Are Two Little Magic Words That Can Open Any Door With Ease" was written, arranged and performed by Stan Boreson, a musical entertainer, comic actor, mimic and songwriter and lyricist from Seattle, Wa. who hosted his own daily comedy kid's TV show "Kings Klubhouse" (later the show was retitled The Stan Boreson Show) weekday evenings on KING TV Ch. 5 in Seattle, WA, from 1950 to 1968.
Mr. Boreson and his fellow performers Chuck Snyder & Don Shutterburg would perform character comedy skits, read viewers mail, sing songs and interview guest performers and personalities between the reruns of old movie cartoons and "Little Rascals" film comedies.
Mr. Boreson was also a semi-regular on "The Lawrence Welk Show" when Mr. Welk's musical/variety show was still a locally produced program in the LA viewing area from 1951 - 1955.
- Kevin S. Butler
---
Dan Axelrod generously contributed these images from his extensive collection of Pinky Lee collectibles - the largest in the country!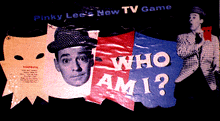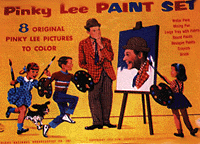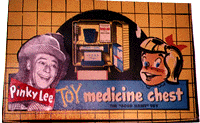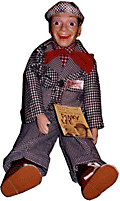 "Just read the page and watched the clips of Pinky Lee - you might want to include the very interesting fact that Pee Wee Herman and his show Pee Wee's Playhouse was lifted almost 100% from Pinky Lee - right down to the little slanted window on the set, the ill fitting checked suit, the laugh, the hat, the behavior, the eyebrows - as a matter of fact, with a minimum of morphing, the large portrait of Pinky Lee could actually be Pee Wee Herman, the resemblance is so strong."
- Nick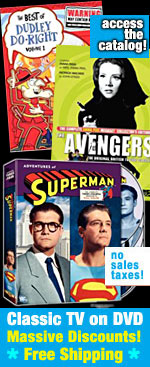 Batman TV Shows on DVD
Superman on DVD
Access our
Classic TV
Catalog Now!
---