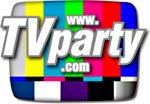 PR4 & PR5 Pages for ads - CHEAP!
TV on DVD
Holiday Specials on DVD
TV Commercials on DVD
TV Shows on BLU-RAY
Everything you're looking for is here:
---
THE FORGOTTEN CLUB:
THE "NEW"
MICKEY MOUSE CLUB (1977-78)
By Bill Griffiths
In 1975 the Disney studios re-released their original Mickey Mouse Club into the syndication market. Encouraged by its success, Disney embarked on creating a brand-new Club. A nationwide talent hunt followed, resulting in twelve youngsters from various ethnic and cultural backgrounds being named "Mouseketeers": Billy "Pop" Attmore, Scott Craig, Nita Dee [full name: Benita DiGiampaolo], Mindy Feldman, Angel Florez, Alison Fonte, Shawnte Northcutte, Kelly Parsons, Julie Piekarski, Todd Turquand, Lisa Whelchel and Curtis Wong.
Many of the same elements from the original Club were incorporated into the new series: themed days, individual talent segments, serials, "Mousekartoons", and of course, the roll call and Alma Matter song ("Now its time to say goodbye..."). Even the old animated opening (which was filmed in color) was used, set to a disco version of The Mickey Mouse Club March. There was no adult host as the producers felt contemoprary viewers would identify more with just the kids.
In late 1976, just weeks prior to the show's premiere, Disney commissioned a report to study audience reaction the the revival. The results were discouraging. Comments on the Mouseketeers ranged from "put-upon" to "distant" and "too smiley". In short, audiences simply felt they lacked the charm of the original performers.
Many also bemoaned the lack of an adult supervisor. The overall look of the series itself was described as being "too slick" in its videotape format. With many weeks worth of shows ready to air, it was too late to make any changes for the program's January 14, 1977 premiere.
As expected, viewers did not overwhelmingly embrace The New Mickey Mouse Club as had been the case 22 years earlier. However, the initial ratings were good, and the series did achieve some marketing success. "The All-New Mickey Mouse Club Album" was the top-selling children's record in 1977. Personal appearances by the new Mouseketeers at the theme parks attracted crowds and there was even a prime-time special on NBC's Wonderful World of Disney that November.
Still, what interest had been generated eventually faded. A lack of sponsorship, high production costs and mediocre ratings led to the program's cancellation in December of 1978. Of that new group, several went on to major post-Mouseketeer success: Lisa Whelchel, who played Blair Warner on 'The Facts of Life' from 1979 to 1988, Julie Piekarski also had a role in that series as Sue Ann Weaver for the first couple of years - Britney Spears and Christina Aguilera in another variation of the series in the late-Eighties.
For more information on all the eras of The Mickey Mouse Club, a recommended book is "The Wonderful World of Disney Television" by Bill Cotter (Hyperion, 1997).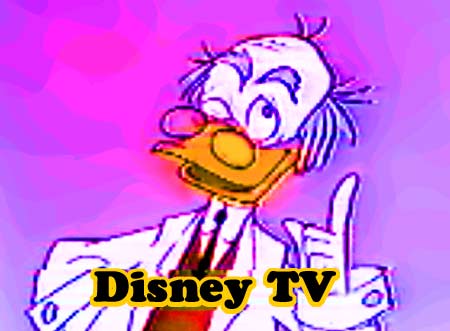 (1954-83, 1986-90, 1997-present)
By Bill Griffiths
There is so much that can be said about Walt Disney's weekly anthology series, that it could fill a book. And it has: Bill Cotter's "The Wonderful World of Disney Television" (Hyperion, 1997) covers nearly every production Disney has produced for the medium from their first special One Hour in Wonderland in 1950 to Home Improvement.
Walt Disney was the first major Hollywood producer to venture into television on a regular basis. His anthology series, under its nine different names, has graced network television for 35-plus years, save for a couple of extended hiatuses. Besides the consistency of quality through the years, one of its most memorable aspects has been its title sequences: the rapid-edit clips of all-things Disney and Tinker Bell (the pixie fairy from Peter Pan) flying around waving her magic wand. Equally memorable was the musical accompaniment.
Disneyland was the first title of the anthology, premiering on ABC October 27, 1954. Tying in with the soon-to-open Disneyland theme park in California, each week's episode originated from a different "land": Fantasyland, Adventureland, Tomorrowland and Frontierland. As Tinker Bell flew across the screen and with the award-winning song "When You Wish Upon a Star" from Pinocchio as the theme, announcer Dick Wesson would briefly describe the four lands, leading up to the title of the week's episode: "This week from Frontierland, Davy Crockett: Indian Fighter."
By 1958, viewers had obviously become quite familiar with the different lands and a full description was no longer deemed necessary. Renamed Walt Disney Presents, there was no elaborate opening, just the title and episode identification.
The series probably should have changed its name to simply Frontierland, as these made up the bulk of episodes for the next three seasons. Due almost entirely to the success of the Davy Crockett shows in the first and second seasons, ABC insisted on the Western emphasis. There was not much Walt could do, as he was bind to a seven-year contract. Once that expired in 1961 he was free to move if he wished. That's exactly what he did. More importantly, Walt could now do what he could never convince ABC to go along with- broadcast in color.
The majority of the ABC episodes had been filmed in color- a hindsight that would pay off beginning in the first summer of reruns on NBC. It was NBC's commitment to colorcasting that Walt found most attractive, not to mention marketable. With sponsorship from RCA (owner of NBC), Walt Disney's Wonderful World of Color premiered Sunday, September 24, 1961 at 7:30 PM.
With an original song by the Sherman Brothers, viewers with color sets were mesmerized as flashes of animated red, yellow and blue fireworks burst behind Sleeping Beauty's castle at Disneyland. Up flew Tinker Bell and with a few waves of her wand filled the screen with more colors blending into a kaleidoscope of Disney characters as a chorus thundered, "COLOR!" This sounded much better than "MONOCHROME!" which is how most viewers that first season saw World of Color.
Still, sales of color TV's increased dramatically over the following months and many baby boomers have fond memories of watching "Uncle Walt" Sunday nights in living color.
Of course there was more to the 1960's theme than just that one word, color. An expanded, although still brief tune later opened the show most weeks with a longer version occasionally being heard. This can be found on Volume 4 of the "Television's Greatest Hits" CD set, along with The Ballad of Davy Crockett.
Walt Disney died on December 15, 1966. After his final introduction aired on April 2, 1967, there would be no regular host for the remainder of the anthology's original run. The series continued as Walt Disney's Wonderful World of Color for another two years. To many it was still seen as "Walt's show" even though he only turned up in a brief clip during the opening sequence and in reruns, of course. Even the name itself was fast becoming antiquated.
So in 1969 the anthology became The Wonderful World of Disney. For a new theme, Disney staff composer George Bruns arranged a medley of familiar tunes: "Someday My Prince Will Come" and "Whistle While You Work" from Snow White and the Seven Dwarfs, "When You Wish Upon a Star", "Chim Chim Cher-ee" from Mary Poppins, "Zip-A-Dee-Doo-Dah" from So Dear to My Heart, "Davy Crockett", and "Bibbidi-Bobbidi-Boo" from Cinderella. During the next decade, the arrangement of songs in the opening medley as well as the film clips would change every few years or so to include more recent fare.
The overall anthology product would also change during the 70's, although not necessarily for the better. The number of original episodes produced for the series would gradually dwindle, with an increasing reliance on feature films (generally less successful movies and none of the full-length animated features) and reruns from earlier seasons.
For a while ratings remained strong, so consistent that NBC gave 'The Wonderful World of Disney' an automatic renewal through 1978.
By 1975, a slow decline began. Moved back to 7 PM and facing new competition from CBS's 60 Minutes, Disney fell out of the top twenty. It was also of no help that audiences were turning away from the Disney product in general, with the exception of the theme parks and merchandising.
With a threat of cancellation from NBC - having audience problems of its own - the anthology underwent another makeover in 1979. For the first time since the 60's, an original theme was developed. John Debney and John Klawitter composed a disco-flavored song that welcomed viewers to the new Disney's Wonderful World.
Bridging the two parts of the theme was a program preview narrated by Laugh-In alum Gary Owens or another anonymous announcer (long-time voice Dick Wesson had died that year). Dazzling computer-generated graphics and an abundance of clips- but no fireworks or Tinker Bell- supported the feeling expressed in the lyrics that this was "the friendly old place" with "a happy new face". Appropriately, the closing music thanked viewers for watching.
In a flashback to the original themed format, many episodes initially were divided into one of four categories: "Fantasy Night", "Adventure Night", "Comedy Night" and "Animation Night". Beneath the flashy surface, however, was more of the same: few original shows, re-treads of theatrical movies, far too many repeats and even frequent pre-emptions.
But ratings increased slightly and that was enough to give Disney another two years on NBC before executives announced the end of the "world".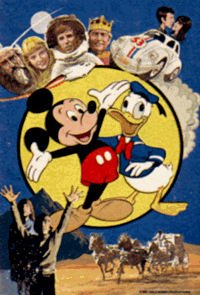 Almost immediately, CBS came to the rescue promising a renewed committment to original episodes and a move to Saturday nights. After a summer of extensive promotion, Walt Disney premiered on September 26, 1981 with part one of the 1969 hit The Love Bug. Ironically, this was actually a rerun, having previously aired as a two hour Disney's Wonderful World presentation. Oh, well!
Like the former series, the opening graphics were computer-generated, this time featuring still photos from the theme parks, films and characters. The sole theme once again was an updated instrumental version of "When You Wish Upon a Star".
There was a substantial increase in original episodes that first CBS year as were the overall ratings. Many of the original shows served as pilots for proposed spin-off series; a few of which did make it to limited-run status, but no further. The second CBS year saw another increase in reruns and with that came rumors that the anthology had finally outlived its purpose and would be cancelled. These were confirmed on April 18, 1983 when Walt Disney Productions launched The Disney Channel, thereby focusing nearly all their television resources on the cable service. Shortly after, CBS announced that Walt Disney would only be seen as an occasional special. On September 24, 1983, an important era in television history had come to a quiet conclusion.
Or had it? Following a management shake-up in September 1984, newly installed Chairman Michael Eisner expressed his desire to return Disney programming to network television on a regular basis. A number of individual series came first, including The Golden Girls produced by the new Touchstone division. But the television flagship would ultimately be an anthology series. ABC expressed the most interest in reviving the format and amid much fanfare, on Sunday, February 2, 1986, The Disney Sunday Movie premiered hosted by Eisner himself. Again, an instrumental version of "When You Wish Upon a Star" was used as the theme and even Tinker Bell came out of retirement to open each week's show.
For most of its 2 1/2 year run, Sunday Movie aired in a two hour format, which had actually been tried on a weekly basis briefly in 1977. To let viewers know this new series bore a direct kinship to the old, a few classic episodes were seen during the summer of 1986. Nostalgia and ratings were high initially, but both eventually wore down. The old nemesis 60 Minutes was as strong as ever and eventually pushed Sunday Movie back to one hour, then off ABC altogether.
As if history was repeating itself, NBC gladly picked up the series in 1988, re-christening it The Magical World of Disney. A "wheel" format of rotating miniseries was instituted, including new Davy Crockett adventures, but this soon faded back into the venerable (and vulnerable) anthology setting. After two more lackluster years, Disney was again cancelled, with the name retained for The Disney Channel's weekly showcase of premiere movies and specials.
And now The Wonderful World of Disney is back again on Sunday nights. Eisner is still there and so is Tinker Bell and competition from 60 Minutes. Only now ABC is owned by The Walt Disney Company.
In an unusual move for any network series these days, approximately 35 new episodes aired during the first season of the latest revival- that counts the network television premieres of theatrical features and made-for-TV films. Thus far the ratings have been average, but in this era of Jerry Springer and D.C. sex scandals, Disney remains a haven for quality programming, something that has never wavered and reminds us that the world is still wonderful.

Lost Kid Shows Homepage / Shock Theater's Zacherle / Sesame Street / Andy's Gang / Sandy Becker / TV Pow! / Hilarious House of Frightenstein / The Friendly Giant / Madison's Cowboy Eddie / Who Was Doodles Weaver? / Lost Kid Show Recordings / Winky-Dink and You / Remembering Winky-Dink / Captain Kangaroo / The Old Rebel Show / The Soupy Sales Show / Walt Disney's Shows / The Magic Garden / Mad Mad Monster Party / Houston Local Kid Shows / Boston Local Kid Shows / Fabulous Sally Starr / New York City Locals / More New York City Locals / Tooter the Turtle / Crusader Rabbit / Paul Winchell and Jerry Mahoney / Alex Toth's Television Work / Diver Dan and Whirlybirds / Sonny Fox's Wonderama / The Pinky Lee Show / Bizarre Kid Shows / Chicago's Kid Shows / Chicago's Ray Rayner Show / Garfield Goose and Friends / Bob Bell's Bozo Show on WGN / Bill Jackson's Shows / Gigglesnort Hotel Memories / Bob McAllister's Wonderama / Cincinnati Local Kid Shows / More Cincinnati Locals / Make A Wish / Hot Dog / Supermarionation Puppet Shows / Philadelphia Kid Shows / Philly's Captain Noah / The Chief Halftown Show / Philly's Gene London / Bertie the Bunyip / Dickory Doc / Adam Android / LA Kid Shows / The Merry Mailman / Do Do The Kid From Outer Space / Romper Room / Romper Room Around the USA / St. Louis Kiddie Shows / Religious Kid Shows / San Francisco Local Kid Shows / Johnny Jellybean / Johnny Jupiter / Shrimpenstein / Uncle Fred Sayles / Raleigh's Uncle Paul / Shenanigans and Video Village / Pip the Piper / Thanksgiving Day Cartoon Specials of the 70s / Monster Movie Matinee / Big Blue Marble / STM Club / Popeye on TV / Cleveland Local Kid Shows / Wixie's Wonderland / Jet Jackson and Sky King / The Original Animated Hercules / Ruff & Reddy