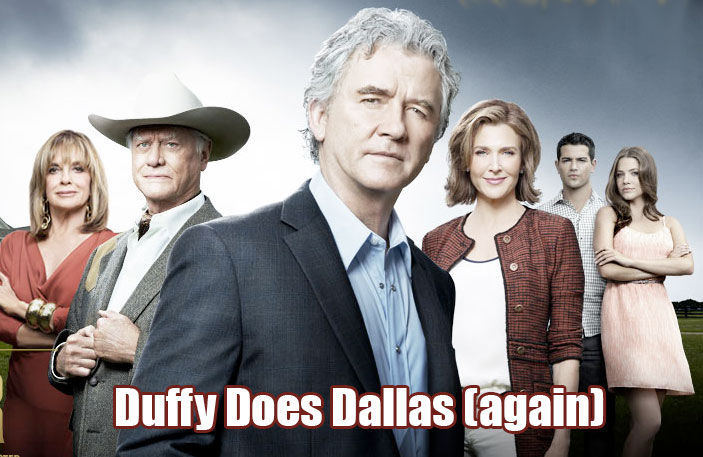 by Jim Longworth


After eight seasons as Bobby Ewing, Patrick Duffy decided to leave DALLAS, so his alter ego was killed off. One year later, though, a miracle happened when Bobby appeared in his wife's shower, letting viewers know that the previous season had all just been a bad dream. Now, nearly 30 years later, another miracle has occurred, but it's no dream. Patrick Duffy and his buddies Larry Hagman (JR) and Linda Gray (Sue Ellen) are reprising their iconic roles in TNT's DALLAS revival.
I spoke with my friend Patrick Duffy about the new series, and what it took for him to sign on.

JL: What sold you on returning to DALLAS?
PD: The script, because for literally 20 years, Larry, Linda and I have gotten nibbles about doing a reunion, and every time we read what was written, it was awful. And then Cynthia Cidre wrote one of the best DALLAS scripts I have ever read, and that includes the first thirteen seasons of DALLAS. As soon as I read the last page, I was on the phone to Larry and Linda, and said "I think we have to do this. It's a must do".

TNT's DALLAS also stars heart throb newcomers Josh Henderson and Jesse Metcalfe as feuding cousins John Ross (JR's son) and Christopher (Bobby's son). And while some members of the original cast will appear from time to time, Duffy, Gray, and Hagman will be an integral part of every episode.

PD: Cynthia and co-executive producer Mike Robin's idea was not just to use us as bait, in other words, not just doing cameos, and have the show be about the new generation. They wanted to continue DALLAS as a series, so we actually look at it as if we just finished season 14, rather than year one of the new DALLAS. So Larry, Linda, and I are equal cast members with everybody else, and the plot involves everyone all the time.

The dynamic of two Ewing generations is a familiar theme at Southfork, and one which Duffy appreciates.

PD: The producers are so determined to honor the original show that they have not changed anything. It's absolutely character driven. In other words, DALLAS is no more about oil than MAD MEN is about advertising. It's about relationships which are set within the framework of a certain type of business, but it is a dysfunctional family, period. That's what we were for 13 years, and that's what we're going to continue to be. And the young actors on the show brilliantly fulfill their roles as the next generation, following in the same dysfunctional footsteps as their predecessors. So it's a brilliant mixing of the older and the newer generation.

Speaking of mixing, the new DALLAS requires Duffy to fill the shoes of two other beloved characters.

PD: My character of Bobby is now really an amalgamation of Jock and Miss Ellie together. Bobby has lived on Southfork for the last 20 years, and he's completely out of all the business aspects except running the ranch, and that's his decision to be that kind of person, but he's still the moral compass.

And that moral compass is just as important now as it was two decades ago. Back then, DALLAS was a perfect fit for the "greed is good" 1980's, a time when the 99% envied and fantasized about the 1%. But today, the 99% have a growing resentment toward the 1%.

JL: Given the class divide today, will DALLAS play as well with audiences as it did in the '80's?

PD: Well I might have a slightly different point of view than you have. I think that the same envy which existed in the early DALLAS years is now amped up a little bit. But if there was true hate for the 1%, there wouldn't be so many television shows on about the 1%. Everything from Donald Trump to the Housewives, and they're always wealthy housewives. So I think the basic human character is unchanged. We have the same dynamic in society today that existed in the early 1980's.

Perhaps, but the question is, can Duffy and company strike gold (oil) twice in two different centuries? In its heyday, DALLAS was the number one show in America, so how does the TNT incarnation stack up?

PD: I have filmed all of the first ten episodes, and I've seen the first seven. In my opinion, this version is as good if not better than the original show, because it's perfect for 2012.

But in bringing DALLAS forward, Duffy's female fans may suffer one disappointment.

JL: Are you going to be taking off your shirt a lot in the new series?
PD: I think Bobby's shirtless days are over. The young stud muffins can walk around without THEIR shirts (laughs).

(DALLAS airs Wednesday nights at 9pm on TNT)

Patrick Duffy of Dallas Interview