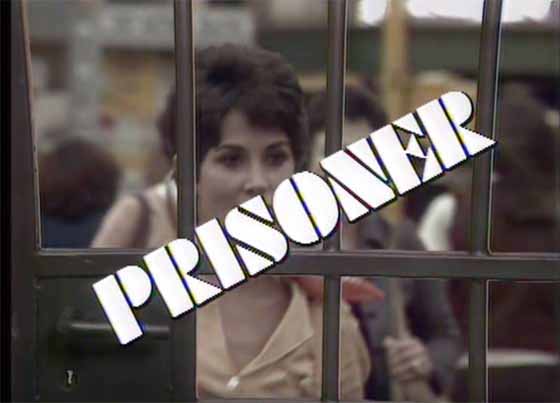 PRISONER: CELL BLOCK H
by Cary O'Dell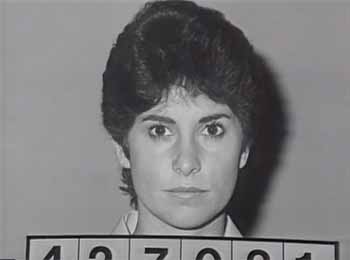 It is not to say that present-day TV is lacking originality--no, it's just that now, seventy-some years into American primetime, very few "new" programs don't, somewhere way back in our broadcasting history, have something somewhat like it, something similar that has been broadcast sometime before. Surely, "Downton Abbey" has as its DNA, PBS's "Upstairs, Downstairs." And surely the new CBS show "Evil" harkens back to "The X-Files," and "Emergence" and "Manifest" both recall "Lost" which itself might have been (on purpose or not) an update of 1969's "The New People" which also aired on ABC.
Even some of what seems to be our most radical new shows have a TV ancestor. For example, the recently concluded Netflix series, the highly-charged and highly-acclaimed "Orange is the New Black," though based on a book from 2010, had a forbearer—namely 1980's "Prisoner: Cell Block H."
"Prisoner" was an Australian production that premiered "down under" in 1979. Produced by prolific Australian TV producer Reg Grundy, the five-nights-a-week soap/series set in the fictional Wentworth, a high-security women's prison, was an enormous hit for the continent's Network 10, one of their national broadcasters.
Australia audiences were fond of nightly serials so, in that regard, the program was not a radical departure for them. But the program's great success was probably was. The series would end up airing in Australia from 1979 to 1986, yielding, by the time it signed off, 692 episodes.
Meanwhile, up in America, such a programming success did not go unnoticed. Further, in America, the enormous (if short-lived) success of "Mary Hartman, Mary Hartman," begun in 1976, seemed to suggest that US audiences were open to daily, primetime (or prime-time adjacent) programs. Hence, this "Prisoner" came to US shores.
First, "Prisoner," as the show was known in Australia, underwent a title LENGHTING. So as not to be confused with Patrick McGoohan's 1967 cult series "The Prisoner" (itself an import from the UK), this "Prisoner" became "Prisoner: Cell Block H."
Imported by longtime US TV syndicator Leonard Firestone, "Cell Block H" was first seen over KTLA-Los Angeles in August of 1979 (and, at that time, was still known as "Prisoner"). It was a huge hit in the LA market. Its debut episodes, shown as a two-hour "movie," was watched by one-fourth of the local TV viewing audience that night, beating out everything else on the air that evening else including the primetime schedules of both CBS and NBC.
Embolden by that success, the newly renamed "Prisoner: Cell Block H," it was decided, should be syndicated to the entire US of A.
By the time it was ready to be rolled out, in January 1980, stations all over the country had signed up for it including stations in Alabama, Illinois, Texas, Washington, DC, Florida, Pittsburgh, New Mexico, New York, California and Utah. But though they had bought it for broadcast, many stations were skittish about some of its content. So most stations, instead of airing it in primetime, put in in late night, far away from child viewers and, even then, preceded the program with a parental warning.
Stateside, critical reaction to the series was not kind. "The St. Louis Post-Dispatch" called it both "slime" and "sleaze." And the TV critic for the "Evening Sun" out of Baltimore, was no more positive calling the program "offensive, exploitive" and adding, "'Cell Block H' might not do any harm at 11:30pm…but it's not going to do anyone any good, either."
In retrospect, while the late-night scheduling and the pre-show warnings seem understandable (any show set in prison—with either male or female inmates—is bound to be strictly for adult eyes) the attacks on the series's content seem largely unwarranted. Like "Orange," "Prisoner" never steered into an exploitation of its subject—a distinct contrast compared to many of the "women in prison" movies that often played grind house movie theaters.
As with "Orange," while "Cell Block" focused on the lives of Wentworth's guards and administrative staff, it mainly concentrated on its prison population. In true serial fashion, the series had a large cast and, always, various plot lines all going at once. As on "Orange," and, supposedly, as in real-life prisons, there were various groups and subgroups ("families") among all of the female inmates.
If there was a lead character, though, it could very well have been the inmate Bea Smith (a.k.a. "Queen Bea"), the prison's uniformly recognized "top dog" who wielded an exceeding influence over all her fellow inmates—and some of the prison staff too! "Queen Bea" held a particular status in the jail as one of the few in the prison who was there for committing actual murder. Smith was played, ferociously, by actress Val Lehmann.
Other characters included Carol Burns as Franky Doyle, a lesbian inmate who quickly got on Bea's bad side; prostitute "Marilyn" Mason (played by Margaret Laurence) who believed in using sex to get what she wanted; prison governor Erica Davidson played by Patsy King and Vera Bennett, played by Fiona Spence, a tough and sometimes brutal officer who acquired from the inmates the unfortunate nickname of "Vinegar Tits."
Almost completely absent from the cast of characters were any men. This was a woman's world. Though occasionally a few male characters would pop up—as a guard or two or as a visiting doctor—they were never that important and were usually depicted as both weaklings and as highly ineffectual.
Though life "on the inside" of Wentworth could be brutal, it was not without its own code. Inmates were seen ostracizing any of their fellow inmates imprisoned for harming or abusing children. And Bea had a special intolerance for convicted drug dealers; her daughter had been an addict and held all dope pushers responsible.
"Cell Block H" was not without compassion either. Though some guards (the so-called "screws") were masochists, others tried to be fair and treat their various charges with humanity—a humanity that was not always recognized or appreciated.
As mentioned, in Australia, "Prisoner" was on the air for almost a decade. The show was so successful it even saw a reboot of the series, also in Australia, in 2012. During the program's original run, it also saw a variety of tie-in products including a series of paperback books. Later, there would be the VHS and DVD releases of episodes and seasons. (Today, numerous episodes are on YouTube.)
Interestingly, it was determined that, among the Aussies, the show's most devoted fans were adolescent girls who, perhaps, identified with the shifting loyalties and "frenemy" situations that often got played out behind these imaginary bars.
But, in the US, despite developing a small, devoted cult, "Cell Block," never really broke out (pardon the pun). After one year, most stations dropped the series, the result of low ratings and (sometimes) public pushback. By 1982, the program was completely off of any remaining US airwaves.
Granted daily serials in the evenings have never really caught on in America and the show's late night timeslots probably did not make it handy viewing either. But there might have been other reasons for the program's demise.
Despite the skill of its cast (who were uniformly good) and the show's highly involving plots (AND THEY WERE), "Cell Block H" was not an easy entertainment. Not surprisingly, the show had a grey and hard look to it. Many—if not most-- of the characters were, at best, "anti-heroes." And, though the violence was never of the gore-level, it could be unsettling, especially when viewed after a long day and right before going to bed.
Certainly, though, "Cell Block" deserves credit for the very different way women were seen being depicted on television at that time and for this glimpse it gave us into the still seldom-seen world of Australian popular television. Credit must be given to the various station managers and programmers around the country who took a chance on this program, something so completely unproven and something destined to be controversial. They were quite forward-thinking. And they were also very, very brave.