Remembering Cloris Leachman
 by Jim Longworth
I had only known Cloris Leachman for less than thirty minutes when she asked me to take off my clothes. More on that in a moment, but suffice to say it was one of those things that sort of sticks in your head, much like everything Cloris did, and she did a lot. Cloris passed away on January 26. She was 94.
Cloris Leachman was born in Des Moines, Iowa in 1926, and grew up during the great depression. She once told me that she got her sense of humor from her Mother. Said Cloris, "She was quite magical and a darling woman, and she told funny stories."
Cloris attended Northwestern on a drama scholarship, where she appeared in plays alongside her pal Charlotte Rae. And while she had a natural talent for acting, it was her natural beauty that opened some early doors. At age 20, Cloris was crowned Miss Chicago, then competed in the Miss America pageant, after which she immediately boarded a train for New York City, where she landed a job as an extra in a film. That lucky break launched her into television, where she racked up a number of cameos in live dramas and anthology series, until landing a starring role in "Lassie". Feeling that the part did little to challenge her as an actress, Cloris left the show after just one season, and stayed busy in episodic television, on such programs as "The Twilight Zone", "The Untouchables", and "Alfred Hitchcock Presents". 
After playing a prostitute in "Butch Cassidy and the Sundance Kid", she was cast by Peter Bogdanovich to play a neglected housewife in "The Last Picture Show". While filming one day, Cloris had a particularly emotional scene to play in which she had to get angry and throw a coffee pot at Timothy Bottoms. She told me of her shock at only being allowed to do one take.
"We ran through the scene, and Peter said 'CUT', and I said ,'Wait a minute, aren't we going to do it again?' He said, 'No, you're going to get an Academy Award for that.'"  And so she did.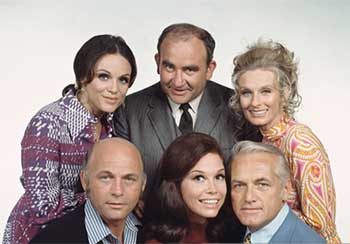 Cloris followed that film with her signature television role as Phyllis Lindstrom, first on "The Mary Tyler Moore Show", and then in her own series, "Phyllis". Leachman won two of her nine EMMYs while appearing on Mary's series.  I spoke with her co-star on "MTM", seven-time EMMY winner Ed Asner.
"She was a sophisticated rebel who broke all the rules, and it was a fun ride being with her while she was breaking them. Cloris was also a real hottie."  
Another member of the MTM gang was Gavin MacLeod, who later went on to star in "The Love Boat". Gavin recalled his affection and respect for Cloris.
"I first saw her when she toured with Kate Hepburn, and I was  enamored by her. Later, we ended up shooting an episode of 'The Road West', in which I had to pretend to slap her. She thought I was really trying to hit her, so after our first rehearsal for "The Mary Tyler Moore Show", we all sat down together for dinner, and Cloris said, 'I'm not going to sit next to Gavin, because he tried to hit me once.' Despite that, we became friends, and on days when her car wasn't working, I would drive her home."  
From 1986 -1988, Cloris took over her friend Charlotte Rae's job as the house mother on "The Facts of Life", a show that was written by Academy Award-winning writer/director Paul Haggis ("Crash"). He shared his thoughts with me about the experience.
"It was my first attempt at being a head writer, and I had always been a fan of hers. Cloris was such a versatile actor, and always found the truth in the characters she portrayed. She was an absolute marvel to watch, as she took my ridiculous dialogue and highly questionable plots, and somehow grounded everything in reality, simply by her talent and belief. I feel blessed to have worked with her."
Not surprisingly, Cloris' talents continued to be in high demand, both in film and on television almost up until the time of her passing.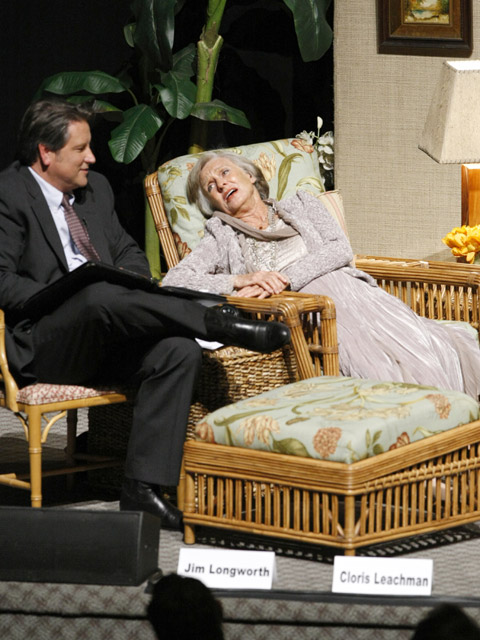 I first met Cloris in May of 2008 when she participated in "A Mother's Day Salute to TV Moms", which I produced and moderated for the Television Academy. Needless to say, Cloris took over the event, and kept everyone in stitches. She talked about the time she posed naked for a health magazine, and then suggested that I disrobe right there on stage in front of 800 people. After things settled down, I asked the panel (which included Marion Ross), if there was a TV Mom they most wanted to be like:
Cloris: I wanted Marion Ross' job.
Jim: You mean you liked Marion in "Happy Days"?
Cloris: No, I just wanted the job. 
Marion, still laughing, then mentioned a film in which Cloris had played a female trucker with huge breasts. Said Marion to Cloris, "You had the lowest bust I ever saw!"
Cloris: Yeah, I put a pack of cigarettes up in my sleeve, and I had been taught to drive this big semi. Anyway, I had this great big chest, and a woman with a baby came up to me on the set, and I said, 'Get that baby away from me because he looks hungry.'
Dressing up like a trucker was no problem for Cloris. Neither was donning witch-like make-up to play a sadistic nurse, or Frankenstein's Frau. She was a beauty queen who only cared about how the performance looked. Perhaps Gavin MacLeod said it best when he told me, "As an actress, Cloris could do anything." And I'll sure miss seeing her do it.