EARLY CABLE TV / 1970s
by Billy Ingram & YOU!
STOP CABLE TV!
My love of television was no doubt fueled by growing up in one of the first communities in the USA to have cable TV. Although Cable originated in the late-1950s, the Triad area of North Carolina was chosen for expansion in the late-1960s. The concept was a no-brainer for a city like New York of San Diego but would people in the fly over states actually pay for something they were essentially getting for free? It was thought at one time that only folks who got snowy reception would want Cable.
An aggressive campaign against cable TV was waged 40 years ago by local TV broadcasters and movie theater owners who felt threatened by the idea of multiple channels and clear reception. There was even an ad that ran with the previews before the movies that warned of the slippery slope that would come with the dreaded wire.
Oh, you don't believe me do you? Here it is: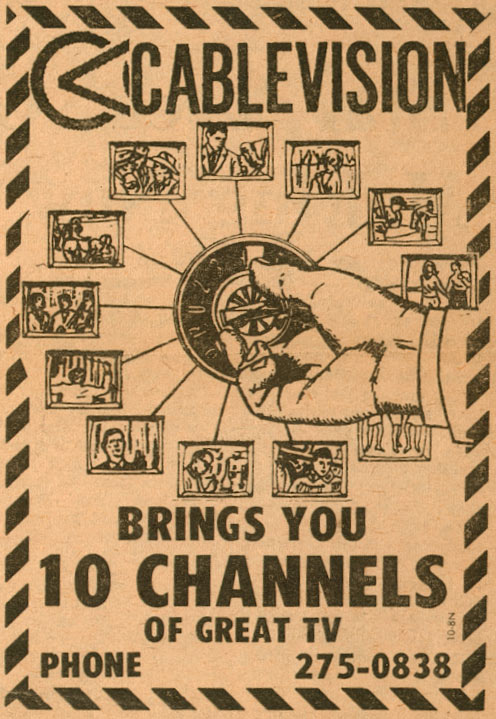 For whatever reason my dad subscribed to Cablevision (as it was called then) and we were treated to Superstations in Washington and Chicago as well as our locals (we had three UHF independents as I recall).
Eventually WTBS replaced WGN. Here's an ad for the service from 1972 - 10 whole channels! We also got HBO when it was first offered in 1973 or so and they seemed to show the same 30 movies over and over, month after month. It took a long time for HBO to shake that image and win back subscribers.
Susan Walker writes about an earlier post on cable TV: "We had it back in 1972 as well in Charlotte! One of the early stations was Channel 20 out of Washington, DC – remember that?"

I sure do, WTTG in Washington, WGN in Chicago and WTBS in Atlanta were known as 'Superstations' back then because they appeared on the cable systems around the country. In fact, I was on Panorama once in 1977, WTTG's noon talk show, with David Brenner, the musical group Gotham, and Al Franken & Tom Davis from Saturday Night Live. A few months later I was riding to a party in Northern California and on the radio was the pre-show for The Grateful Dead's New Year's Eve live concert. Franken & Davis were backstage and Al Franken was totally blitzed.
Please consider a donation
so we can continue this work!

Amazon Prime - unlimited streaming
of your fave TV shows and movies!
Get your FREE 30 Day Trial!
PR4 & PR5 Pages for Advertising
Auto huren makes it possible to compare all car rental companies all over the world!
Compare the top sellers of Instagram followers on Buy instagram followers reviews!
An overwiew of guides and gutscheincode with the best tips and tricks to save money! on Ebookers.