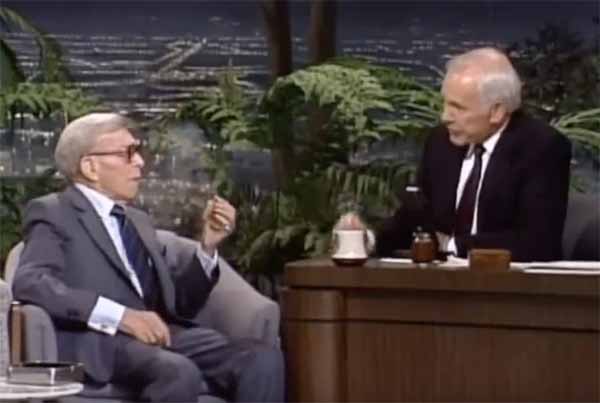 George Burns on the Carson Tonight Show in 1989
"Retirement at sixty-five is ridiculous. When I was sixty-five I still had pimples." - George Burns
George Burns was one half of the Burns & Allen comedy team, along with his wife Gracie Allen. They enjoyed tremendous success on radio, TV and in motion pictures. When Gracie retired in 1958, then died in 1964, George Burns struggled to find his place in show business.
That all changed when Burns stepped into a motion picture role that his friend Jack Benny was going to play before his untimely death. That 1975 film, The Sunshine Boys, earned him the Academy Award for Best Supporting Actor. In 1977, Burns scored another hit film, Oh, God!, one of the biggest box office performers that year, transforming this one time second banana into a genuine superstar.
"How can I die? I'm booked." In this clip, Johnny states that Burns had a performance booked at the London Palladium on his 100th birthday. Six years later he signed a lifetime contract with Caesar's Palace in Las Vegas that included a guarantee of a show on his 100th birthday, on January 20, 1996. When that date came, he was unfortunately but not surprisingly was too weak to deliver the planned performance.
In the interview with Johnny here, George Burns tells some great stories from his days in vaudeville, like working with Al Jolson (one of the greatest and most hated entertainers of all time) and getting laughs at Groucho Marx' expense.
"Happiness? A good cigar, a good meal, a good cigar and a good woman - or a bad woman; it depends on how much happiness you can handle." - George Burns
George Burns on the Carson Tonight Show in 1989
Amazon Prime - unlimited streaming
of your fave TV shows and movies!
Get your FREE 30 Day Trial!
PR4 & PR5 Pages for Advertising