ALIVE & WELL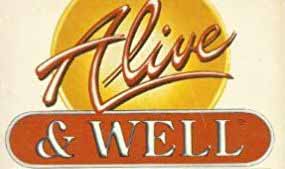 by Cary O'Dell
Hard to believe but even today, in this promiscuous world of video sharing, digital downloading and a dozen streaming services, some TV shows (perhaps ones that were even a "success" and on for several years), are, after they are initially aired, never seen again. Therefore, they exist in memory only and, as they remain "un-see-able" at a time when so much else is so easily available, they come to feel almost like a mirage.
Anyone remember "Alive & Well"?
In the 1980s, it was a daily, weekday program created by Group W and aired, originally, over the USA Network. It was, rather ambitiously, a two-hour daily broadcast aired in the morning and then repeated, in its entirety, by USA that same afternoon. Later, the program would be syndicated (remember, not everyone had cable then) to smaller, broadcast channels that could carry the show in a daily one-hour format.
As the title suggests, by and large, the series was most interested in topics that focused on healthy living but, in time, it would also include such common daytime fare as fashion advice, makeovers, child-rearing, dating, relationships, aging, cooking demonstrations and celebrity interviews though, to be fair, even chats with TV and movie stars usually centered around areas like good nutrition and proper exercise and well-being.
During the course of the show's lifespan, 1981-1986, the program had a rotating mix of co-hosts. In fact, in its debut, the show had 22 (yes, 22) co-hosts, stationed all around the country. "Alive" was produced by Group W, then the purveyors of the syndicated success "PM Magazine," which had had success with various teams of localized hosts in various cities, and the "Alive" producers, no doubt, felt that something like that could be utilized—on a much grander scale—for this new daytime offering, making a national show feel made-to-order for a particular market.
But, soon after the launch, this approach of zig-zagging around the country eventually proved unwieldy and around 1982, the producers winnowed down the hosts to just a group of four and, later, to three. (And later still basically just one.)
The most famous members of this "Alive & Well" host club were:
--Wes Parker, former baseball player turned actor.
--Mike Jerrick, an amenable, journeyman TV host who had previously been on Kansas City's and NYC's version of "PM Magazine." (Jerrick would eventually rack up the longest tenure on the "Alive.")
--Joann Carson, then most famous as the second ex-wife of late-night king Johnny Carson but who had also just obtained a Ph.D. in nutritional physiology.
--Kathy Smith, the pretty and youthful exercise guru and aerobics coach.
--Linda Arkin, a onetime actress, dancer and yoga instructor who, at the time, was married to actor Adam Arkin.
--Cathy Rigby McCoy, the former Olympic gymnast just then transitioning into her adult entertainment career.
--Marion Ross--yes, Mrs. C. from "Happy Days" joined the show late in its life; Ross joined around 1985.
When the show debuted, the original line-up was Parker (the show's sole male), Carson, Arkin and Smith. But Parker seemed to depart quickly to be replaced by Jerrick.
The foursome of Jerrick, Smith, Arkin and Carson were probably the longest enduring group team of hosts. And proved they proved be a likable grouping.
Eventually, Carson left, as did Smith with both of their roles being, more or less, assumed by Cathy Rigby McCoy.
After McCoy flew off, that's when Marion Ross stepped in and co-hosted with Jerrick and Arkin. Finally, following the format of that other daytimer, "Hour Magazine" (which "A&W" strongly resembled in many ways), they show began to welcome a daily celebrity co-host paired with (only) Mike Jerrick, the show's last host standing. Some of the stars who co-hosted alongside Jerrick included Abby Dalton, Maud Adams, and Madge Sinclair, among others.
Over the years, though each host had his or her "specialty," they all took on a variety of tasks and roles. At one time or another, they all did one-on-one interviews (with performers or authors), or they might take part in a cooking segment. Though "Alive & Well" largely steered clear of more hot-topic topics ala "Donahue," et.al., they were not opposed to sometimes staging an on-air debate between guests with opposing viewpoints.
The show also, unlike most daytime TV at that time, was done without a studio audience, though sometimes a group of 30 or so might be brought in and Jerrick or whoever would briefly turn into Donahue and run around the audience taking questions.
Though in the beginning, the show lacked any sort of true "star power" in their celebrity interview segments, eventually the show became established enough to welcome for short chats the likes of Jack Lemmon, Hal Linden, and, once, Lillian Gish. Once co-host Linda Arkin sat down with her then father-in-law, future Oscar winner Alan Arkin, for an on-air heart-to-heart.
Along with their core team, the show also featured a group of topic-specific experts who made frequent appearances. For example, the informative Diane Jouganatos, a real-life, licensed nutritionist, usually appeared two to three times a week, in a cooking segment, whipping up something yummy but surprisingly good for you. Jouganatos later authored a book based on the series, "The Alive & Well Diet" in 1984 and participated in a direct-to-VHS cooking tutorial alongside co-host Jerrick.
One of the most distinctive aspects of the series was that it took place almost entirely outside. Shot in Southern California in picturesque Marina Del Ray, the series was bright and botanical and even had an ocean view. Of course, California weather being what it is, sometimes, on highly rainy days, everything got moved inside where the hosts sat on chairs set up among potted ferns. But, for the most of the time, the show was always sunny and lovely and outdoorsy.
During the show's highpoint (during the Jerrick, Arkin, Smith and Carson era), every episode of "Alive & Well" had a particular order to it. After a quick hello from three of the four hosts (Jerrick, Arkin and Carson), they'd quickly switched it over to an aerobic workout segment of about 10 minutes with co-host Smith leading a small group of fellow exercisers in a short cardio program. (When Smith left the program around 1983, the show launched a well-publicized nationwide search for a new on-air aerobics instructor.)
After the workout, it was time for some co-host crosstalk and then maybe an interview with a new book author or with one of the MD's who made repeated appearances. There was even a sex therapist who sometimes stopped by to answer questions sent in by viewers.
Usually, about ten minutes before the close of each episode, Arkin would take center stage and lead the home audience in a short hatha-yoga demonstration. Then it was back to the Marina for a few quick good-byes. Roll credits.
As co-hosts came and went, the show, of course, changed and evolved.
After the final incarnation of the series (Jerrick + the rotating guest host) ended around 1986, the original core principals went on or went back to what they were doing.
Marion Ross returned to acting ("Brooklyn Bridge," etc.) and wrote her memoirs.
Wes Parker now works for the Dodgers Organization.
Kathy Smith continued to build her fitness empire that, today, includes a plethora of workout videos and books and other items able to be purchased from, among other places, her own website.
Similarly, Linda Arkin (though now divorced from Adam) kept up with the yoga and has issued a variety of yoga-based instructional materials.
Joann Carson largely left broadcasting. She had long been a close friend of the writer Truman Capote and devotedly aided him in the final years of his life. In fact, he was at her house, in 1984 in California, when he passed away. Carson herself passed away in 2015.
Cathy Rigby McCoy's career went on a major upswing when took on the stage role of "Peter Pan," becoming one of the definitive "Pans" to ever play the role. She first played the part on Broadway in 1990.
And Mike Jerrick has enjoyed a long TV career in the hosting chair and has appeared on series on HBO, Sci-Fi Channel, CNBC and later Fox News. Today, he hosts a local chat show in Philadelphia.
And episodes of "Alive & Well," or so we assume, still exist someplace on video on a shelf someplace. As Group W ceased in 1999 when it was bought out by CBS, perhaps the "Alive" masters are alongside others stored by the network. Or maybe the original tapes are at one of W's old owned-and-operated stations.
Is the world clamoring to see them again? Probably not, but the series, when it was done well (which was often), could stand up next to any other daytime offering, providing viewers with an informative and entertaining alternative. "Alive & Well" deserves to be remembered.