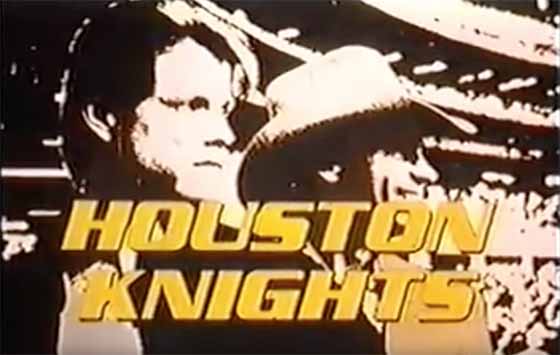 "HOUSTON KNIGHTS"
One of These Cops Is Not Like the Other
by Cary O'Dell
Along with a resurgence of the family sitcom (think "Cosby," "Family Ties," etc.), if there was one genre that 1980s American TV was known for it was the (sometimes tongue-in-cheek) action-adventure hour centered around two mix-matched cops or detectives. "Moonlighting" might be the best and best remembered of this group but it was far from alone. Consider: "Simon & Simon," "Hardcastle & McCormick," "Dempsey & Makepeace," "Jake & the Fatman," "Me & Mom," and a few that didn't even have the "&" sign in their titles like "Riptide," "Remington Steele," "Eye to Eye," and "Partners in Crime," among others. (And I bet you don't remember some of those!)
And there was another. It didn't include "and" and lasted longer than "Eye" but not nearly as long as "Simon & Simon."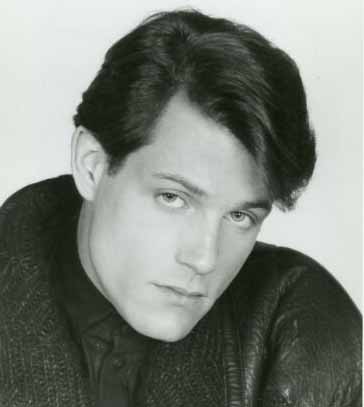 That show was CBS's "Houston Knights," and it put a city vs. country spin on this popular detective trope. The program starred two men named Michael: Michael Pare and Michael Beck.
Both Pare and Beck had made big-time big screen debuts but then saw their feature film options dim, turning then by the end of the '80s to TV.
The Elvis-looking Michael Pare had had the lead roles in the films "Eddie and the Cruisers" (1983) and in Walter Hill's "rock and roll fable" "Streets of Fire" (1984) and while both films have gone on to obtain a cult following neither were much of a critical or commercial success at the time of their initial release.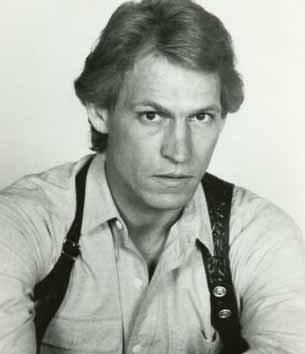 Meanwhile, Michael Beck, after making an early impression in the TV mini-series "Holocaust" (1978) made a big slash in the controversial but critically-liked film "The Warriors" (1979). (Ironically, "Warriors" was also directed by Walter Hill.) Unfortunately, he followed that film up by appearing opposite Olivia Newton-John in the megaflop, camp-tastic "Xanadu" (1980).
In 1987, the two men teamed up with veteran TV writer/creator Michael Butler (who had previous written for "Baretta" and "Ironside" among other programs) and with then-influential Hollywood agent turned TV producer Jay Bernstein for this cop drama.
As the title implies, the series was set in Houston, Texas. Beck (born and raised in Tennessee) starred as Sgt. Levon Lundy, a cowboy-hat wearing member of the Houston PD.
Pare (born in Brooklyn) played Sgt. Joey La Fiamma. A Chicago cop, La Fiamma is, in the "Knights's" first episode, transferred from the Windy City after he takes down a major mob figure and a group of the bad guy's henchmen. A bounty now on is head, though so the Chicago department decides to send him south…way south.
As one might surmise—and what was the norm then and ever since—these suddenly partnered two detectives got along like oil and water. Banter and bickering are the norm until—you guess it—the chips were down and lives were on the line….!
A one-hour pilot was produced and sold to CBS. The Eye network like it. In fact, they liked it so much they asked for it to be lengthened to two-hour movie—all the better one supposes to launch a new series.
The result was a made-for-TV movie that set up the series. Unfortunately, the expansion from one hour to two created a premiere/pilot that was, to many critics, a little padded and confusing because so much of it, plot-wise, had to be retro-fitted. Still, the two-hour premiere did quite well in the ratings and CBS quickly scheduled the show for airing on Wednesday nights.
Along with Pare and Beck, the series also featured Robyn Douglass as the female superior officer, Lt. Jeanne Beaumont, the woman that these boys had to answer to.
Additionally, rounding out the cast was actress Madlyn Rhue. Rhue's career, on the screens big and small, dated back to 1957. By this time, the actress had been diagnosed with and had been suffering from multiple sclerosis for many years. She was now confined to a wheelchair. On "Knights," she played Annie Hartung. Annie was a former officer injured in the line of duty and also wheelchair bound who now worked in the department's forensics lab. Rhue remains, still, one of the relatively few disabled actors to be seen regularly on primetime series TV.
As a mid-season replacement, "Houston Knights" began in March of 1987. It ran nine episodes and concluded its first "run" in late April. The show then returned in September of 1988.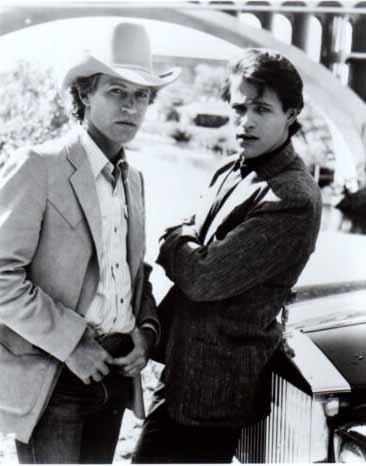 In its first—if short—"season," "Houston" did well in the ratings, finishing a respectable #34 for the entire year. But, when the series returned in the fall, ratings began to erode. Eventually, the show got switched to the increasing graveyard of CBS Saturday nights and, there, the show petered out after 21 more episodes which aired mostly between September of 1987 and February 1988.
The steady decline could be ascribed to several things including its shifting time slots and the new, increased competition from the other networks with their new fall lineups. It's also possible that audiences had also simply reached a saturation point with shows with buddy and oddball police/detective pairings.
Co-star Michael Beck in an interview done during the waning days of the series theorized it was because the tone of the show was forced to change. Originally, envisioned as a more 9 or 10pm program, "Houston Knights" got altered into a more "early evening"-friendly program, which in his estimation, worked against the series.
Critic-wise, "Houston Knights" never really set anyone afire. One newspaper at the time called the show "macho drivel." And even the more positive reviews were sort of tepid in their praise.
Still, it's somewhat surprising that the show was not more successful. The leads were engaging enough. The supporting cast uniformly fine. And there were the prerequisite number of shoot 'em ups and car chases per episode. Not only that but the show also paid some respect to another viewing trend that emerged in the '80s: beefcake. "Magnum" and the prime-time soaps built a girl and gay audience off of buns and biceps and between Pare in his tight white "wife beater" and Beck in his Stetson and jeans there was an ample amount of male "eye candy" on the show. Alas, one guesses, to no avail.
The demise of "Knights" after 26 episodes though did not do much to derail the careers of its stars. Though Douglass (who had, previously, appeared in the film "Breaking Away" in 1979) retired from show business shortly after "Knights" and Rhue, sadly, passed away in 2003, the two Michaels have continued their careers as journeymen actors.
Pare has, over on his IMDB page, as of this writing, has about 20 different projects in some stage of completion and Beck, along with various TV roles, was one of the first to lend his voice and talents to the books-on-tape industry. Among the literary works he has been narrator of have been several John Grisham novels.
The two lengthy subsequent careers of this series's two leads certainly belies any responsibility they had in "Houston Knights's" early ride off into the sunset.