by Cary O'Dell
Not so long ago, researching an article on how often (and often how very strangely) various cable channels alter their identity to fit (or find) changing audiences became, for me, as I wrote it, more than that a look at shifting viewer tastes and often necessary industry reinvention. Instead, it became a trip down video memory lane. In working on it, I had to look back at many vintage "TV Guides" and review the cable grids of many a day gone by. In doing so, I got greeted with a lot of show titles that I once watched, might even have enjoyed, but have since long managed to forget.
It got me thinking…. What happens to our cable programming heritage? Unlike low-rated or short-lived network series which often get picked up and rerun on various cable nets (or even put out on DVD in hopes of building a future cult), once a low-rated or short-lived cable series ends its run, they have little place to go. And cable runs of even "hit" series are notoriously brief, far shorter than for most hit network shows; "Duck Dynasty" can become "Trading Spaces" alarmingly fast. The short shelf-life of many cable shows, therefore, necessitates the debut of other cable TV product making the programming histories of all non-broadcast, non-network channels incredibly long and dense and extremely transient.
So, in the interest of pure nostalgia and "Oh, yeah, that one…," I offer up a far from complete list of some cable series now gone and probably forgotten….?
A&E:
"The Sandra Bernhard Experience": Acerbic comic Sandra Bernhard was packaged into her own late-night talk show by A&E in 2001. Here the singer/actress/stand-up opened with a monologue or moody song (accompanied on the piano by Mitch Kaplan) before sitting down with an eclectic group of guests including the likes of Boy George and "Vogue" editor Andre Leon Talley.
"America's Castles": Documentary series, 1994-1998, which traveled around to and into some of the greatest estates of the US including William Randolph Hearst's legendary San Simeon.
"Inside Track with Graham Nash": Combination interview show and concert series which had Nash and a studio audience talking with a different musical guest (like Michelle Shocked) each week. Along with the Q&A, this 1990-1991 series had the guest artist also perform one or two of their best known songs.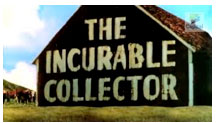 "The Incurable Collector": Circa 2001, John Larroquette, himself the passionate collector of first edition books, hosted this series that profiled the large, obsessive and sometime strange collections of people from around the country. Included were a collector of swizzle sticks, a hat aficionado, a ceramic bunny fan and a man in his 20s who lived his life as if it were still 1945.
Bravo: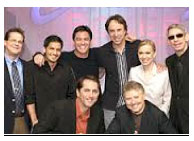 "Celebrity Poker Showdown": Before Bravo became everything "Real Housewives," the network aired this straight forward series, taped in Las Vegas, that had stars playing Texas hold-em for charity. Howie Mandel, Rosie O'Donnell, Seth Myers, Angie Dickinson, Fred Savage, Dean Cain, Richard Belzer, and others appeared during the airing of the show's eight televised tournaments between 2004 and 2006.
"Significant Others": A short-run but amusing sitcom from 2004. Partially (or mostly) improvised, the series followed an assortment of couples in and out of marriage counseling. Fred Goss lead the cast.
Comedy Central:
"Exit 57": Comedy Central's first attempt at an original sketch comedy show was this half-hour starring Stephen Corbett, Amy Sedaris, and Paul Dinello. It aired 1995-1996.
"Let's Bowl": A 2000-2001 high camp approach to the lanes and pins, as two real-life rivals (romantic exes or feuding friends) picked up their balls to settle the score once and for all.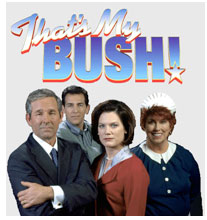 "That's My Bush": Original sitcom that was built around actor Timothy Bottoms's startlingly resemblance to President George W. Bush. The series was created by "South Park" duo Matt Stone and Trey Parker and has the distinction of being the only TV show ever about a sitting US President. The show took a rather dim view of the Commander in Chief. In one episode, W. attempts to impress a few old friends by staging an execution. The program aired in 2001 and also featured the late Marcia Wallace in the case.
"Pulp Comics": Over the years, Comedy Central has worked aggressively to repackage and/or elaborate on straight stand-up comedy performances. This series combined stand-up performances with filmed sketches spun off from a comic's joke. Jim Breuer and Laura Kightlinger were two of the comics featured during this series's 1996-2000 run.
E!/Style:

"Hollywood Off-Ramp": Anthology show in the "Twilight Zone" mold. It was one of the E! network's few attempts at purely fictional programming. Brian Unger was the show's host; the show was on in 2000.
"The Isaac Mizrahi Show": Fashion designer and social gadfly Isaac Mizrahi hosted this nightly talk show from 2001-2003.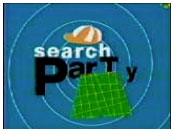 "Search Party": Taped on exotic beaches around the world, 1999-2000's "Search Party" was a combo game of silly athletics and scavenger hunting. Two teams of three competed against each other. Longtime E! personality Art Mann acted as MC/referee while swimsuit clad Scott Lasky and swimsuit clad Carol Grow were the show's two reoccurring team members.
"Guess Who's Coming to Decorate?": Sort of a twist on "Trading Spaces." Here an unknown friend or person from someone's past came in to redecorate a room. In the end, the homeowner had a new bedroom or kitchen and had to guess who did the deed. The program was hosted by Tyler Harcott. The show aired in 2003.
"New York Nick": Reality and how-to show featuring model/singer/sometime actor Nick Scotti. It followed him as he gave household hints, cooking tips and interacted with his Italian family including very loud sister Vivian and their eccentric Aunt Diz. The show ran in 2004.
Family: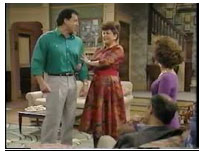 "Maniac Mansion": Loosely based on the video game of the same name, "Maniac Mansion" aired from 1990-1993. The comedy was created by Eugene Levy.
"Big Brother Jake": Fitness guru Jake Steinfeld muscled into sitcoms with this series where he played a former movie stuntman who returned home to help his former foster mother raise a brood of five kids. "Jake" ran from 1991-1994.
"Zorro": Duncan Regehr starred in this update of the masked man of Spanish California. The adventure series ran from 1990-1993.
FX: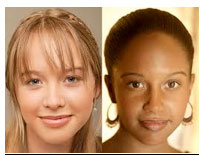 "Black. White.": From 2006. Short-run series that had two families—one white, one black—swapping lives by wearing some stunningly believable make-up jobs throughout their daily lives. The series became known not only for the various issues it addressed but also for the two families's inability to get along with each other throughout filming.
"Son of the Beach": Howard Stern executive produced this original sitcom for the network, a send-up of "Baywatch." The show aired from 2000-2002.
"Todd TV": "Interactive" 2004 reality starring struggling California musician/waiter Todd Santos. For the show, Santos agreed to turn all his decision-making over to the television audience who, via phone calls and other media, would tell him what to do from getting a new job to getting a new roommate to starting therapy. Despite signing up for the process, Mr. Santos often fought against the demands imposed on him by viewers and producers.
"No Relation": Before "Dirty Jobs," Mike Rowe hosted this 1996 game show where a real-life family plus one interloper had to all blend together. Contestants (usually "celebrities") had to figure out the imposter by questioning various relations.
HBO:

"Dream On": Brian Benben starred in this adult-oriented sitcom that had its lead character frequently having his inner thoughts illustrated by stock footage and vintage movie clips. The show aired from 1990-1996.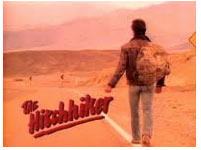 "The Hitchhiker": Horror-themed anthology program that, during its lifespan, starred Page Fletcher and later Nicholas Campell as the titular hero/narrator. "Hitchhiker" began its life on HBO and later completed its tenure on USA where HBO's occasional use of bare breasts were deleted. Various stars guested over the show's run including: Louise Fletcher, Lorenzo Lamas, Erin Gray, Bruce Greenwood, Peter Coyote, and Geraldine Page. The show was on HBO from 1983-1988 and on USA from 1989-1990.
Lifetime:

"Maggie": One of the channel's various attempts to launch an original sitcom. This series from 1998-1999 starred Ann Cusack as the heroine, a 39 year-old woman going through a mid-life crisis. John Getz played her husband and a pre-"Mad Men" John Slattery was Maggie's shrink.
"Beyond Chance": Singer/songwriter Melissa Ethridge hosted this series that explored the experiences of real-life women who had either encountered miracles or the paranormal. It is from 2002.
"The Ruby Wax Show": One of several attempts by US networks to bring the talents of the American-born but British-based comedienne Ruby Wax stateside. Wax and a camera crew either went to unusual places (like Las Vegas's Paris Hotel) or conducted free-wheeling, on location interviews with various celebrities including Carrie Fisher and Pam Anderson, among others. This incarnation of Wax was on in 1999.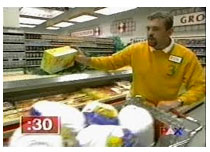 "Supermarket Sweep": Modern day update of the grocery-store set game show. It was hosted by David Ruprecht and aired from 1990-1995 and again from 2000-2003.
"The Main Ingredient with Robin Mattson": Daily cooking show hosted by long-time soap opera actress (and gourmet cook) Robin Mattson. Her show began in 1996.
MTV:
"Austin Stories": MTV's first attempt at an original sitcom was this Austin, Texas, filmed half hour from 1997-1998. The show focused on three young "slackers."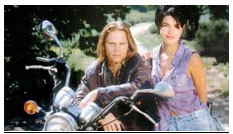 "Buzzkill": "Candid Camera"-style show that filmed unsuspecting people being caught up in elaborate ruses. It ran in 1996.
"Dead at 21": Jack Noseworthy (yes, Noseworthy) starred in this original action-drama series from MTV. In it, Noseworthy played 20-year old Ed Bellamy who had been the unwilling subject of a medical experiment as a child when his brain had been implanted with microchips. The chips made him a genius but also designated his death at age 21. Jack was now on a quest to prevent his own death and outrun members of the organization who had experimented on him in the first place. "Dead" aired in 1994.
"Apartment 2F": Awkward series, from 1997, created by and starring the comedy Sklar Brothers (Randy and Jason) which attempted to mix stand-up comedy performances with more standard situation comedy.
"Lip Service": Before he was in "Jerry Maguire," Jay Mohr hosted this 1993 game show where contestants had to lip synch well to win. Mohr was later replaced by John Ales.
"Turn It Up": Quiz show that tested the musical knowledge of young contestants. The show was hosted by Jordan Brady and aired in 1990.
"I Want a Famous Face": Reality series (2004-2005) that followed young people as they underwent various cosmetic surgeries to look more like their favorite TV, movie or music star.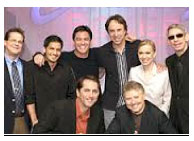 "The State": Sketch comedy series (1993-1995) from the NYU-born comedy troupe of the same name. Infamous for the poor reviews the series earned at its premiere, various stars of the State have since gone on to enduring careers including Michael Ian Black, Thomas Lennon, and Kerri Kennedy Silver. After the end of this series, some of the group members would reunite to star in the series "Viva Variety" and, more successfully, "Reno 911" for Comedy Central.
Nick/TVLand: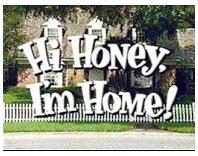 "Hi Honey, I'm Home!": Nickelodeon's (Nick at Nite's) first original series was this high concept sitcom, an affectionate send up of classic domestic sitcoms like "Donna Reed" and "Father Knows Best." In the 1991-1992 series, a TV family from the 1950s suddenly gets relocated to "modern day" and have to adjust to working women, minorities and life not in black and white. Later, episodes of the series aired over ABC.
Showtime: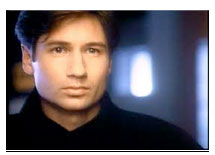 "Red Shoe Diaries": Zalman King (he of "Two Moon Junction" and "Wild Orchid" fame) created and produced this 1992-1999 erotic anthology series. Over the course of its run, Matt LeBlanc, Margaret Cho, Beverly Johnson and Maryam D'Abo all made appearances. David Duchovny was the show reoccurring narrator.
"Brothers": Showtime's first original sitcom. "Brothers" ran from 1984 to 1989 and, true to its title, focused on the lives of the three Waters siblings. The series starred Robert Walden, Paul Regina and Brandon Maggart. The show is notable today for being one of TV's first programs featuring a reoccurring gay character. Brother Cliff (Regina) announced his homosexuality in the show's first episode.
TBS:

"The Mansion": Mark L. Wahlberg hosted this 2004 reality series, a mash-up of "Survivor" and "This Old House." A group of contestants worked weekly to refurbish a grand mansion. In the end, one was awarded the house via viewer votes.
"New Leave It to Beaver": Also known as "Still the Beaver," this series was a resurrection of the classic TV sitcom of the 1950s with most of the original cast, including Barbara Billingsley, Tony Dow and Jerry Mathers as the Beaver, recreating their original roles. As is often the case, the sequel was not nearly as successful as the original. The original series aired 234 episodes; there were 105 for the "new" series which ran 1983-1988.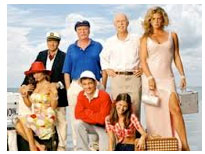 "The Real Gilligan's Island": This 2004-2005 reality-show remake of the classic sitcom had two teams—cast to type as a Gilligan, a Mary Ann, a Professor and a Movie Star (Rachel Hunter and Nicole Eggert in the first season)—competing to actually stay on the island, make it to the end, and win a prize. Weekly challenges were inspired by episodes of the original series. Two seasons of the series aired.
TLC:

"Myth America": Historian and author of the book "I Love Paul Revere, Whether He Rode or Not" Richard Shenkman hosted this series which debunked many of the historical fallacies that we either always assumed or which we learned, erroneously, in school. The program was on 1996-1997.

"Great Books": Begun in 1993, Donald Sutherland narrated this long-running series that examined the writing and legacy of great literary works. Now the network airs "Here Comes Honey Boo Boo."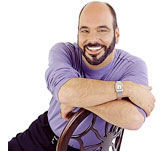 "Interior Motives": Christopher Lowell hosted this daily decorating series and worked to convince would-be room remodelers that "Where there is fear, there's no creativity!" Lowell's show ran from 1997 to 1999. In 2000, the show was renamed "The Christopher Lowell Show."
TNN/Spike:
"Fandango": Country legend Bill Anderson hosted this 1983-1989 daily game show where three contestants were quizzed on their country music knowledge. During the show's "big money" round, the winner of the previous round had to try to predict an answer from a country music star based upon a pre-recorded video interview.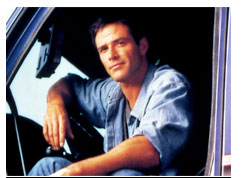 "18 Wheels of Justice": Former Diet Coke commercial stud Lucky Varnous starred in this action hour from 2000-2001. He played a former federal agent who now drove a big rig around the country attempting to hide from hired killers. Along the way, he inevitably got involved in the lives and troubles of others. He and his rig always helped them out.
"Country Kitchen": Begun in 1985, former Mrs. Brady Florence Henderson hosted this daily half-hour cooking show that had her in the kitchen with well-known country stars. After the cooking was done, sometimes they united for a song or two.
USA:

"Airwolf": Originally begun on CBS, this helicopter action series got a new leading man (Barry Van Dyke replaced Jan Michael Vincent) and a new network (USA) in its forth season. The USA incarnation aired in 1987.
"Dead Zone": Former Brat Packer Anthony Michael Hall starred in this TV version of the Stephen King-based movie. This show ran from 2002-2007.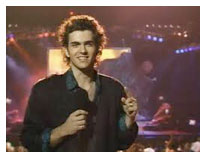 "Happy Hour": The Zappa Brothers (Ahmet and Dweezil) hosted this weird 1999
hybrid of variety show and quiz show that also featured celebrity guests like Adam West. "Happy Hour" was around less time than Ahmet's later robot show, "Robotica," on the TLC.
"Gossip, Gossip, Gossip": Basically as spin-off of the daytime, syndicated "The Joan Rivers Shows." Joan welcomed a cross-section of gossip journalists for the latest celebrity dish on this once a week series. The show aired in the early 1990s.
"By Design": From the late 80's came this short-lived daytime TV series focusing on issues of interior design.
"Strip Poker": Exactly what it sounds like. A team of two sexy girls took on a team of two hunky guys. Each losing hand resulted in someone having to strip. USA, not surprisingly, aired the show late at night in 2001.
"Pacific Blue": Cops on bikes. Former "Roxanne" star Rick Rossovich starred in the show's first two seasons as the police lieutenant in charge of Santa Monica's two-wheeled patrol. Later, Mario Lopez was added to the series. It aired from 1996 to 2000.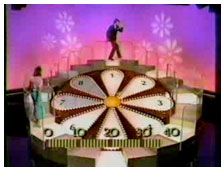 "Loves Me, Loves Me Not": Ross Shafer originally hosted this 1986-1987 love-themed daily quiz show that is most memorable for its large daisy-shaped set on top of which two contestants of the opposite sex "chased" each other around.
VH1: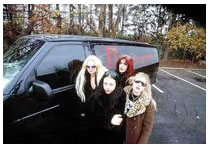 "Bands on the Run": From 2001. Four unknown, unsigned rock bands crossed the country in customized vans competing against each other in various battle-of-the-bands contests, in "merch" sales and other competitions. Each group was hoping to be the last band standing and, in the end, garner a record contract.
"Kept": Jerry Hall was in charge in this 2005 reality series that had a group of American men competing in various challenges to see who could become Ms. Hall's prized boy toy. (No, really.)
"The Wendy Williams Experience": A precursor of sorts to the Queen of All Media's current daytime talk show, the "Experience" brought the then radio diva to the airwaves to interview celebrities and gossip. Occasionally, she went on the Red Carpet. The show was on in 1996.
"Four on the Floor": A 1995 music-focused take on "Politically Incorrect" had three rock critics and writers plus one guest a week (for example, Emmylou Harris) discussing and debating various trends and new releases in the world of pop, rock, rap and country.
---
Hit Shows of the Seventies: Hitchhiker's Guide to the Galaxy / Gene Roddenberry in the 1970s / 1977-1978 Superhero & Science Fiction TV Shows / Funniest SNL Skit Ever! / Prisoner: Cell Block H / Why John Amos Left Good Times / Reviving Match Game / How Betty White's 'Happy Hommaker' Came About / Remembering Cindy-Williams / Creating The Rockford Files / TV Dads Talk Sex & Fatherhood / TV Shows We Watched 50 Years Ago / How Maude Came About / Rare Audio of Bette Davis' Broadway Bound Flop 'Miss Moffat' / Orson Welles' Last Interview / Remembering Ed Asner / Bruce Vilanch on Writing for Donny & Marie / Writing For Fernwood 2 Night / Kris Kristofferson vs Barbra Streisand on A Star Is Born? Kinda... / Remembering Gavin MacLeod / Cher Reviews Her Iconic Outfits Since 1965 / Best Columbo Episodes / Star Maidens Sci-Fi Series / Interview with Cindy Williams (Lavern & Shirley) / One of the Most Controversial Episodes of All In The Family / Outside Chance / The Night Johnny Carson Broke Down / Gavin MacLeod on His MTM Castmates / Norman Mailer & Muhammad Ali / Charles Nelson Reilly Flops on Broadway / Chuck Norris vs Eva Gabor / Dear Detective / Dirty Sally / The Protectors / Henry Fonda's 4 Favorite Films / Chevy Chase Talks Hollywood Cocaine Parties / 1977 Season Show Openings / Love Boat's Oscar Winning Guest Stars / Henry Fonda's 4 Favorite Films / Tom Snyder Interviews Star Trek Cast & Harlan Ellison / The Corner Bar / Tim Conway's 'The Dentist' Sketch / Henry Winkler on His Happy Days Audition / Patrick Duffy of Dallas Interview / Time Express / Wonder Woman Leaves Paradise Island / 1972-73 TV Season / George Burns on the Carson Tonight Show in 1989 / Best Season of Dallas Ever? / Cloris Leachman Remembered / Ken Berry Interview / Why Barney Miller Ended / Vivian Vance Almost Joined the Cast of Rhoda / Marilu Henner Talks About Andy Kaufman / Cher on Mike Douglas 1979 / TV Show Book Tie-Ins / 1972 Jackie Robinson Interview / Dr. Strange 1978 TV Movie / Kathy Garver Interview / Space: 1999 / Paint Along with Nancy Kominsky / Mary Kay Place Albums of the 1970s / The Supremes - Mary Wilson vs Diana Ross / When Bruce Dern Killed John Wayne / 1974 Tom Snyder Our Gang Special / Remembering Ken Berry / Bruce / Caitllyn Jenner? / Billy Crash Craddock Interview / Melissa McCarthy Almost Quit Acting Days Before Landing Gilmore Girls / Bar Rescue's Wildest Customers! / How The Golden Girls and Elvis Got Tarantino's Reservoir Dogs Made / Charlie Brown Voice Actor Released From Prison / New Year's Eve on TV / Sir Laurence Olivier on the 'Genius' of Marlon Brando / 1967 Futurists Predict The 21st Century / Remembering Diahann Carroll / 50 Funniest Niles Crane Insults / TV HITS - By the Numbers / How Tom Hanks Played Mr. Rogers / Colin Farrell as The Penguin? / Alex Baldwin On His TV and Film Roles / Ray Charles' BIG Problem With TV / Malcolm Gladwell on TV Crime Dramas / Why Dolly Parton Would Not Let Elvis Record 'I Will Always Love You' / Top Ten Sitcoms of the 1970s / Danny McBride Rebooting Hogan's Heroes? / Fashion on TV / Alive & Well / James Cameron Made No Money for Titanic / Whatever Happened To Miss Cleo? / Lucy Blows Off Burt Reynolds / Dave Navarro Meets His Mother's Killer / The Real Mindhunters Killers / John Goodman Breaks Down His Iconic Roles / Growing Up In The Playboy Mansion / Ed McMahon Drunk on the Air! / Lucy Interviewed by Barbara Walters / Valerie Harper Cancer / Jeff Bridges Breaks Down His Iconic Roles / Dog Fight! The KCNC Scandal / Buckley vs Hefner / Laurence Olivier vs Marilyn Monroe / Dallas vs Eight is Enough / 1974 MAD Magazine TV Special - Never Aired! / Iconic M*A*S*H Restaurant Coming To Kroger? / Matt Damon, Bill Murray, and Graham Norton - Big Laughs! / When Lucy Got Fired / Partridge Family and Brady Bunch at Kings Island theme park 1972-73 / Awkward Talk Show Moments / Allan Blye Interview / Jack Benny's Last Tonight Show 1974 / Patricia Heaton's Audition for Everybody Loves Raymond / Luke Perry's Last Role / Johnny Cash's Last Interview / Judy Garland's Last Film / Who Was Bob Gordon? / Richard Dreyfuss vs Bill Murray / Jeff Ross vs Everybody / Tennessee Williams 1972 Interview / Ed Asner Interview / Norm Macdonald vs OJ Simpson / Tony Kornheiser Interview / Freddy's Nightmares TV Series / Awful 1990s TV Shows / The Funniest Comebacks in Talk Show History / Was Sonny Bono Murdered? / Robin Williams' Mrs. Doubtfire Screen Tests / Robert Downey Jr Asks for Forgiveness for Mel Gibson / Russell Brand / Hank Williams: The Show He Never Gave / Judy Garland vs Liz Taylor / Emmy Award Multiple Winners / Nathaniel Taylor aka Rollo Lawson / Mary Kay Place Albums of the 1970s / That Girl & TV's Single Working Women / Can You Identify These Stars? / Betty White vs Joan Rivers / Paul Lynde's Greatest Hollywood Squares Zingers / Sonny Comedy Revue / Star Trek Animated / Dark Shadows / Hal Linden Interview / Dark Shadows Movies / Dark Shadows Novels / The Night Stalker / One of the Funniest Carol Burnett Show Skits Ever / Fred 'The Hammer' Williamson / Johnny Carson interviews Lucille Ball / Dawn Wells / Betty White : An Appreciation / Bette Davis' 2 Best Interviews 1971 / Barbara Eden Interview / Gavin McLeod / Spider-Man 77 / The Next Step Beyond / Barbara Eden Interview / The Music Dark Shadows / 1970 TV Shows / Mike Connors Remembered / Mike Wallace, Virginia Graham & Jim Longworth / Dick Clark / Woody Allen Hosts Tonight Show 1971 / Carson Tonight Show / Alan Alda Interview / Jackie Gleason Show / 1973 TV Shows / Thriller / Post Modern Sitcoms / Elvis in Greensboro / Remembering Dick Van Patten / TV Dating Shows / The Jacksons TV Show / Fall Previews of the 70s / Lance Link, Secret Chimp / Star Wars Holiday Special / Alias Smith and Jones / 1977 Year in Review / Top Ten 1970-76 / The Rockford Files / All in the Family / Sam Hall (Dark Shadows) Interview / Actor Ed Nelson / Death of Archie / Battlestar Galactica / Wonder Woman / Network Jingles / Class of '74 / Happy Days / Good Times / Mr. Bill / Dinah! / Maude / Doris Day Show / Pamelyn Ferdin Interview / The Bicentennial Minute / Jingles & Catch Phrases of the 1970s / Early Cable TV 1970s / TV commercials for Women / TV Moms / Red Skelton / George Lindsay / Country Music TV Shows of the 1960s & 1970s / Betty White Show / / Tom Bosley / Rodney Dangerfield / How Sanford & Son Ended / Sanford & Son Spin-Off Grady / Great Memoirs / Virginia Graham Show / The "N" Word on TV / 10 Classic Comedy Routines You Have To Laugh At Before You Die / Hollywood Squares / 1970's Teen Idols & The Hudson Brothers / TV Stars with 3 Hit Shows / The Rookies / Unsold Pilots / Jackie Cooper / The Good Guys / Match Game / Make Room For Granddaddy / Mannix & Gail Fisher / Bette Midler in the 1970s / Bonus 1970's Stuff: Silent Star Marion Mack / Biff Burger / 1970s Fast Food Chains / Latin Casino / Beverly Hills Supper Club Fire / 1970's Daytime Talk Shows / The Fess Parker Show / Brady Bunch Sex Dungeon? / Love, Loss & What I Watched