LAS VEGAS LEGENDS
Steve Lawrence
& Eydie Gorme
---
"Before we got married, I had tremendous ambition. Once we got married and I started having children, then I just thought that that was my real life. Steve was definitely more ambitious than I."

- Eydie Gorme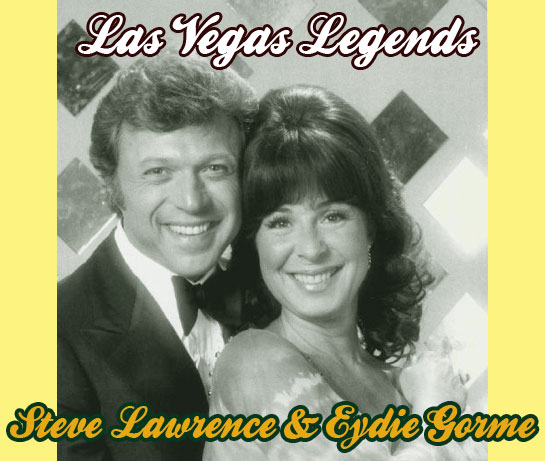 "I had a lot of what they call turntable hits.
A lot of them." - Eydie Gorme

Both together and separately Steve Lawrence and Eydie Gorme were two of the most dynamic and elegant entertainers ever to grace the stage. That rare duo where each could perform solo without the act breaking up like Sonny & Cher (Sonny only had one minor hit without Cher - Steve had many, as did Eydie).
Like Wayne Newton and Frank Sinatra they became synonymous with the desert town they loved. Steve and Eydie weren't just wedded to Las Vegas professionally they were actually married there in 1957.
Eydie Gorme got her big break in 1953 when she auditioned with "The Steve Allen Show: "They asked me how many songs I knew, and I said 2,000," she recalls. "They took one look at me and weren't so sure. They were looking for a blonde, someone who looked like Marilyn Monroe. And I was, well, me. With my bangs. They said they would give me two weeks. And every two weeks they extended it. For four years."
"Green Eyes" was one of their signature tunes, an opportunity to show how equally adept at ballads and with the fast numbers. The New York Times wrote: They are the king and queen of the nightclub world, a remarkably durable team whose ballads and Broadway songs, whose glitzy style and Vegas patter is hardly competition for the Guns 'n' Roses crowd (although Eydie says that rock groups, most recently U2, regularly turn up backstage to ask, "How do we grab the audience without the fancy lighting and smoke?").
Their 1975 television special, "Our Love Is Here to Stay," won two Emmy Awards, while "Steve and Eydie Sing Irving Berlin," three years later won seven more. Here's the duo later in life singing with Frank Sinatra:
Steve & Eydie were inducted in the Gaming Hall of Fame; they were known to enjoy the Poker tables in Vegas and Lake Tahoe and were avid gamers. Their style reflected the elegance of the early days of Sin City, Ms. Gorme's gowns were designed by Bob Mackie and others.
In 2007 they recorded "Black Hole Sun" to great critical acclaim, proving they did have rock 'n' roll chops after all.
Eydie Gorme died in 2013.
"A lot of people our age try to make the switch and do rock but if we came out in jeans and sneakers it would look ridiculous. We're stuck with who we are."
- Eydie Gorme, 1992
"Steve has the most
unbelievable range for a man that I've ever heard."
- Eydie Gorme

---
Steve Lawrence
& Eydie Gorme

YOUR GO-GO HOST: Billy Ingram

Punk - a look at the gay and Punk / post-Punk landscape in Los Angeles in 1980.

"Man, I really like Vegas." - Elvis