Hollywood Squares
by Billy Ingram

The Hollywood Squares on NBC brought genial host Peter Marshall and 9 stars to America each morning throughout the 1970s, leaving the air as the decade ended in 1980.
Center Square Paul Lynde was joined over the years by regulars Charley Weaver, Rose Marie, Wally Cox, George Gobel and John Davidson - guest-stars on the big Tic-Tac-Toe board included literally hundreds of TV and movie stars (the great and near-great).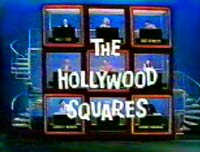 In 1974, Paul Lynde was voted the funniest man in America in a nationwide opinion poll. It was largely for his snappy answers as the center square on The Hollywood Squares.
Everyone believed that Lynde came up with these pithy comments off the cuff - in fact most of those quips were scripted. All the old people in the seventies loved Paul Lynde, but I doubt if anyone could have told you why.
Here are some of the most risque answers from The Hollywood Squares:
A 1977 morning episode with original commercials:
Here's the opening to a 1972 nighttime Hollywood Squares: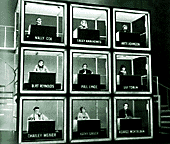 There was a prime-time version of the program that served as the mid-season replacement for 'Accidental Family' on Friday nights after 'Star Trek' in January, 1968. The primetime version was dropped in the fall of 1968, but returned the next summer for a few weeks.
There was even a children's version of the show called Storybook Squares that aired from January to August, 1969 on Saturday mornings, with kids competing for fabulous toys and the stars dressed as storybook characters.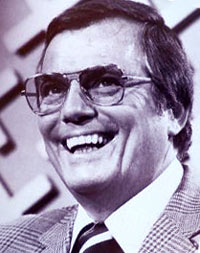 All but a dozen episodes of the entire daytime network run of Hollywood Squares were burned by the producers. They didn't think there would ever be a market for them. A short time later, the Game Show Network contacted them about rerunning the shows!
Fortunately, a long run of the 1970's syndicated nighttime version was unearthed and GSN began rerunning those in 1999.
Here's a rare audio clip - seven minutes of a 1970 daytime telecast. The quality is terrible, but that's all there is!
---
For some reason, when I think of summer I think of The Hollywood Squares. I guess that's when I had the opportunity to watch it growing up. Here are some uncensored outtakes from the star-studded morning show.
Part two of that 1972 nighttime show: