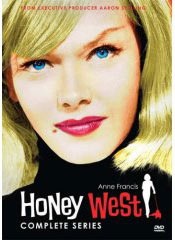 'TVparty is hands down the best site on the Web for classic TV.'
- Discovery Channel


by Cary O'Dell
I'm not sure what the first TV show-book tie-in was. Surely they date as early as the medium of TV itself. Actually, before. Before TV, radio programs like "Gang Busters" and "The Guiding Light" sanctioned paperback and hardback spin-offs as a way to bring in extra money while also promoting their original aural product. Hence, with radio's head start, when television entered the picture, the idea of original novels based upon America's favorite series were a foregone conclusion. They would happen!
And ever since then the printing presses haven't stopped rolling. Whether aimed towards child, teen or adult readers, novels based upon current series like "Fringe," "Castle" and "Bones" still populate the racks at bookstores, grocery stores and airports. At their worst, they are quickly made, poorly written and rather exploitative, taking advantage of our fandom and affection for a series. At their best, though, they are wonderful extensions of the warm, fuzzy and familiar feelings that many TV programs give us, a way of continuing our relationships with these characters even after that week's closing credits.
And while few of these books will ever hit the best-seller list and none will ever claim the Pulitzer (I would assume), they are nevertheless great fun to look back upon.
Read on….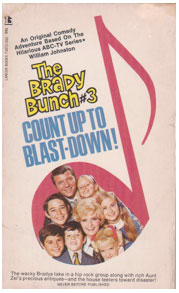 THE BRADY BUNCH #3: COUNT UP TO BLAST-DOWN by William Johnston (1970)
Having already dabbled in music and later in their own variety show, of course the Brady Brood was going to come to the world of the TV tie-in book. Things do get wacky for the beloved Bunch in this book which has the Brady's crazy Aunt Zel and then a singing quartet called The Numbers Racket dropping by! While things get as crazy as this book's title suggests, they also get very groovy!
STAR TREK (Adapted by James Blish) (1967)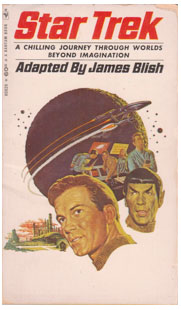 Every incarnation of "Star Trek" has inspired many a beloved novel. The early "Star Trek" tie-ins—of which this seems to be the first—however were adaptations of series episodes scripts. This collection includes "Charlie's Law" (a.k.a. "Charlie X"); "Dagger of the Mind"; "The Unreal McCoy" (a.k.a. "The Man Trap"); "Balance of Terror"; "Naked Time"; "Miri"; and Conscience of the King." Respected sci-fi author James Blish would helm the first 10 or so "Star Trek" script-to-paperback adaptations as well as compose the first "Star Trek"-inspired novel, "Spock Must Die!," which was published in 1970.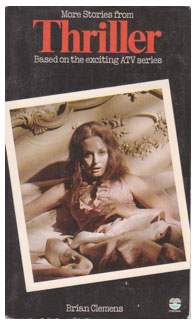 MORE STORIES FROM "THRILLER" by Brian Clemens (1975)
British writer Brian Clemens is one of TV's most prolific scribes, having written the original pilot for the legendary series "The Avengers" as well as serving as that series's script editor and associate producer. He would also have a hand in the UK series "The Persuaders," "The Protectors" and "The New Avengers" along with various US series. In the 1970s, he wrote and produced a series of psychological TV thrillers called "Thriller."
This book tie-in contains prose treatments of five "Thriller" episodes: "One Careful Owner" (i.e. "One Deadly Owner"); "The Next Scream You Hear"; "Death to Sister Mary"; "Country Wedding" (i.e. "A Place to Die") and "K is for Killing."
Interestingly, the photo depicted on the cover, of actress Dawn Nyree Porter from the "Thriller" installment "Ring Once for Death" (US title: "Death In Small Doses"), is NOT included in this collection.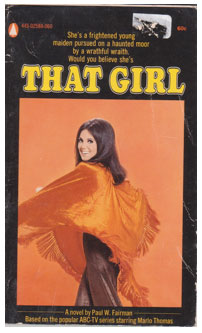 THAT GIRL by Paul W. Fairman (1971)
Marlo Thomas's feminist sitcom from the late 1960's got the novel treatment in this 1971 book from Popular Library. I don't know how many laughs arrive in this work which has Ann Marie traveling off to Maine for a role in a stage version of "Wuthering Heights" though. Donald stays behind in New York while Ann discovers that her "role" in the play is far too true-to-life: there's no theater and her leading man's name really is Healthcliff! Is this, literally, the role of her life?!
LUCY AND THE MADCAP MYSTERY by Cole Fannin (1963)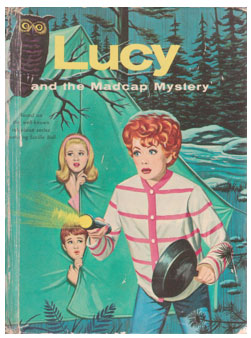 Lucille Ball's special brand of lunacy first came to the reading public via various comic books that were produced during her "I Love Lucy" heyday. Her later series were similarly spun off as well. This book features the redhead and the rest of the cast from the first incarnation of "The Lucy Show": friend Vivian Bagley, Lucy's son Jerry, daughter Chris and Vivian's son Sherman. Part of the book's plot is based on the 1962 "Lucy Show" episode "Lucy Misplaces $2,000."

This is one of several hardcover, kid-oriented TV-ties published around this time by Whitman publishers. The book's cute illustrations are by Mel Keefer and Al Andersen.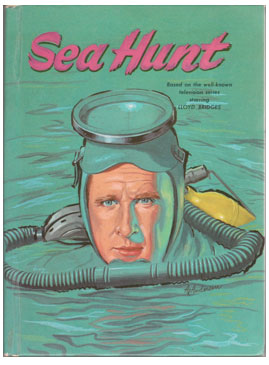 SEA HUNT by Cole Fannin (1960)
Like the Lucy book above, this Lloyd Bridges-"Sea Hunt" tie-in is by Whitman. It is slightly oversized in stature, with larger print and ample illustrations. Like "Lucy," it was written by Cole Fannin. Fannin would also write books based on "Rin Tin Tin," "The Rifleman," and "Leave It to Beaver."
THE ADDAMS FAMILY by Jack Sharkey (1965)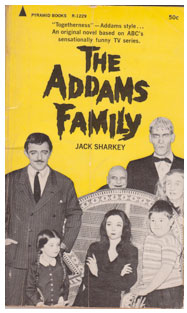 This collection of stories follows TV's most macabre family and even supplies something of a prequel to the series, informing readers how the family came to buy their famous home and even come to meet Thing, left there it seems by a previous owner. Another story has Uncle Fester getting into the US Army.
NEXT: PART TWO:
More TV Shows to Books like M*A*S*H, Ironside, Batman, Leave it to Beaver, & more!
---
Hit Shows of the Seventies: Hitchhiker's Guide to the Galaxy / Gene Roddenberry in the 1970s / 1977-1978 Superhero & Science Fiction TV Shows / Patrick Duffy of Dallas Interview / Best Season of Dallas Ever? / Ken Berry Interview / TV Show Book Tie-Ins / Kathy Garver Interview / Mary Kay Place Albums of the 1970s / Bruce / Caitllyn Jenner? / Bill Cosby - WTF?!? / Emmy Award Multiple Winners / Mary Kay Place Albums of the 1970s / That Girl & TV's Single Working Women / Star Trek Animated / Dark Shadows / Dark Shadows Movies / Dark Shadows Novels / Fred 'The Hammer' Williamson / Dawn Wells / Betty White : An Appreciation / Gavin McLeod / The Next Step Beyond / The Music Dark Shadows / 1970 TV Shows / Mike Wallace, Virginia Graham & Jim Longworth / Dick Clark / Carson Tonight Show / 1973 TV Shows / Thriller / Post Modern Sitcoms / Remembering Dick Van Patten / TV Dating Shows / The Jacksons TV Show / Fall Previews of the 70s / Lance Link, Secret Chimp / Star Wars Holiday Special / Alias Smith and Jones / 1977 Year in Review / Top Ten 1970-76 / The Rockford Files / All in the Family / Sam Hall (Dark Shadows) Interview / Actor Ed Nelson / Death of Archie / Battlestar Galactica / Wonder Woman / Network Jingles / Class of '74 / Happy Days / Good Times / Mr. Bill / Dinah! / Maude / Doris Day Show / Pamelyn Ferdin Interview / The Bicentennial Minute / Jingles & Catch Phrases of the 1970s / Early Cable TV 1970s / TV commercials for Women / TV Moms / Red Skelton / George Lindsay / Country Music TV Shows of the 1960s & 1970s / Betty White Show / Shirley Jones Interview / Tom Bosley / Rodney Dangerfield / How Sanford & Son Ended / Sanford & Son Spin-Off Grady / Great Memoirs / Virginia Graham Show / The "N" Word on TV / 10 Classic Comedy Routines You Have To Laugh At Before You Die / Hollywood Squares / 1970's Teen Idols & The Hudson Brothers / TV Stars with 3 Hit Shows / The Rookies / Unsold Pilots / Jackie Cooper / The Good Guys / Match Game / Make Room For Granddaddy / Mannix & Gail Fisher / Bette Midler in the 1970s / Bonus 1970's Stuff: Silent Star Marion Mack / Biff Burger / 1970s Fast Food Chains / Latin Casino / Beverly Hills Supper Club Fire / 1970's Daytime Talk Shows / The Fess Parker Show / Love, Loss & What I Watched
TV BOOK TIE-INS
Auto huren makes it possible to compare all car rental companies all over the world!
Compare the top sellers of Instagram followers on Buy instagram followers reviews!
An overwiew of guides and gutscheincode with the best tips and tricks to save money! on Ebookers.
Amazon Prime - unlimited streaming
of your fave TV shows and movies!
Get your FREE 30 Day Trial!
PR4 & PR5 Pages for Advertising