by Cary O'Dell
I'm not sure what the first TV show-book tie-in was. Surely they date as early as the medium of TV itself. Actually, before. Before TV, radio programs like "Gang Busters" and "The Guiding Light" sanctioned paperback and hardback spin-offs as a way to bring in extra money while also promoting their original aural product. Hence, with radio's head start, when television entered the picture, the idea of original novels based upon America's favorite series were a foregone conclusion. They would happen!
And ever since then the printing presses haven't stopped rolling. Whether aimed towards child, teen or adult readers, novels based upon current series like "Fringe," "Castle" and "Bones" still populate the racks at bookstores, grocery stores and airports. At their worst, they are quickly made, poorly written and rather exploitative, taking advantage of our fandom and affection for a series. At their best, though, they are wonderful extensions of the warm, fuzzy and familiar feelings that many TV programs give us, a way of continuing our relationships with these characters even after that week's closing credits.
And while few of these books will ever hit the best-seller list and none will ever claim the Pulitzer (I would assume), they are nevertheless great fun to look back upon.
Read on….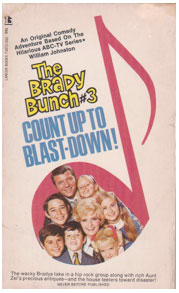 THE BRADY BUNCH #3: COUNT UP TO BLAST-DOWN by William Johnston (1970)
Having already dabbled in music and later in their own variety show, of course the Brady Brood was going to come to the world of the TV tie-in book. Things do get wacky for the beloved Bunch in this book which has the Brady's crazy Aunt Zel and then a singing quartet called The Numbers Racket dropping by! While things get as crazy as this book's title suggests, they also get very groovy!
STAR TREK (Adapted by James Blish) (1967)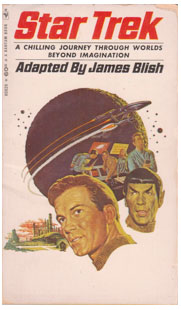 Every incarnation of "Star Trek" has inspired many a beloved novel. The early "Star Trek" tie-ins—of which this seems to be the first—however were adaptations of series episodes scripts. This collection includes "Charlie's Law" (a.k.a. "Charlie X"); "Dagger of the Mind"; "The Unreal McCoy" (a.k.a. "The Man Trap"); "Balance of Terror"; "Naked Time"; "Miri"; and Conscience of the King." Respected sci-fi author James Blish would helm the first 10 or so "Star Trek" script-to-paperback adaptations as well as compose the first "Star Trek"-inspired novel, "Spock Must Die!," which was published in 1970.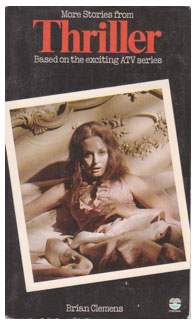 MORE STORIES FROM "THRILLER" by Brian Clemens (1975)
British writer Brian Clemens is one of TV's most prolific scribes, having written the original pilot for the legendary series "The Avengers" as well as serving as that series's script editor and associate producer. He would also have a hand in the UK series "The Persuaders," "The Protectors" and "The New Avengers" along with various US series. In the 1970s, he wrote and produced a series of psychological TV thrillers called "Thriller."
This book tie-in contains prose treatments of five "Thriller" episodes: "One Careful Owner" (i.e. "One Deadly Owner"); "The Next Scream You Hear"; "Death to Sister Mary"; "Country Wedding" (i.e. "A Place to Die") and "K is for Killing."
Interestingly, the photo depicted on the cover, of actress Dawn Nyree Porter from the "Thriller" installment "Ring Once for Death" (US title: "Death In Small Doses"), is NOT included in this collection.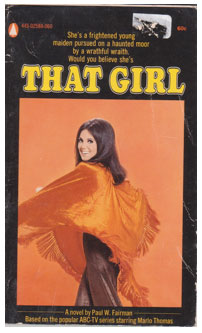 THAT GIRL by Paul W. Fairman (1971)
Marlo Thomas's feminist sitcom from the late 1960's got the novel treatment in this 1971 book from Popular Library. I don't know how many laughs arrive in this work which has Ann Marie traveling off to Maine for a role in a stage version of "Wuthering Heights" though. Donald stays behind in New York while Ann discovers that her "role" in the play is far too true-to-life: there's no theater and her leading man's name really is Healthcliff! Is this, literally, the role of her life?!
LUCY AND THE MADCAP MYSTERY by Cole Fannin (1963)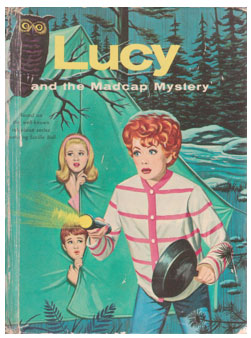 Lucille Ball's special brand of lunacy first came to the reading public via various comic books that were produced during her "I Love Lucy" heyday. Her later series were similarly spun off as well. This book features the redhead and the rest of the cast from the first incarnation of "The Lucy Show": friend Vivian Bagley, Lucy's son Jerry, daughter Chris and Vivian's son Sherman. Part of the book's plot is based on the 1962 "Lucy Show" episode "Lucy Misplaces $2,000."

This is one of several hardcover, kid-oriented TV-ties published around this time by Whitman publishers. The book's cute illustrations are by Mel Keefer and Al Andersen.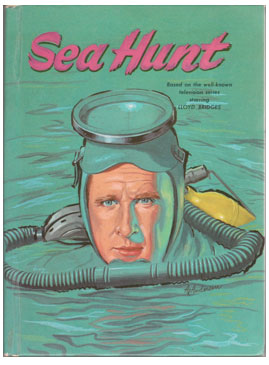 SEA HUNT by Cole Fannin (1960)
Like the Lucy book above, this Lloyd Bridges-"Sea Hunt" tie-in is by Whitman. It is slightly oversized in stature, with larger print and ample illustrations. Like "Lucy," it was written by Cole Fannin. Fannin would also write books based on "Rin Tin Tin," "The Rifleman," and "Leave It to Beaver."
THE ADDAMS FAMILY by Jack Sharkey (1965)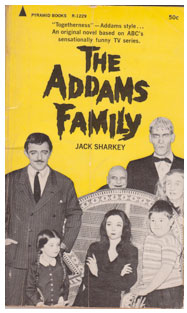 This collection of stories follows TV's most macabre family and even supplies something of a prequel to the series, informing readers how the family came to buy their famous home and even come to meet Thing, left there it seems by a previous owner. Another story has Uncle Fester getting into the US Army.
NEXT: PART TWO:
More TV Shows to Books like M*A*S*H, Ironside, Batman, Leave it to Beaver, & more!
---
Hit Shows of the Seventies: Hitchhiker's Guide to the Galaxy / Gene Roddenberry in the 1970s / 1977-1978 Superhero & Science Fiction TV Shows / Funniest SNL Skit Ever! / Remembering Suzanne Somers / Prisoner: Cell Block H / Why John Amos Left Good Times / Reviving Match Game / How Betty White's 'Happy Hommaker' Came About / Remembering Cindy-Williams / Creating The Rockford Files / TV Dads Talk Sex & Fatherhood / TV Shows We Watched 50 Years Ago / How Maude Came About / Rare Audio of Bette Davis' Broadway Bound Flop 'Miss Moffat' / Orson Welles' Last Interview / Remembering Ed Asner / Bruce Vilanch on Writing for Donny & Marie / Writing For Fernwood 2 Night / Kris Kristofferson vs Barbra Streisand on A Star Is Born? Kinda... / Remembering Gavin MacLeod / Cher Reviews Her Iconic Outfits Since 1965 / Best Columbo Episodes / Star Maidens Sci-Fi Series / Sonny Bono's Last Show 1974 / Interview with Cindy Williams (Lavern & Shirley) / One of the Most Controversial Episodes of All In The Family / Outside Chance / The Night Johnny Carson Broke Down / Gavin MacLeod on His MTM Castmates / Norman Mailer & Muhammad Ali / Charles Nelson Reilly Flops on Broadway / Chuck Norris vs Eva Gabor / Dear Detective / Dirty Sally / Peggy Lee & Anthony Newley's Weird Pre-Show Rituals / The Protectors / Chevy Chase Talks Hollywood Cocaine Parties / 1977 Season Show Openings / Love Boat's Oscar Winning Guest Stars / Henry Fonda's 4 Favorite Films / Tom Snyder Interviews Star Trek Cast & Harlan Ellison / The Corner Bar / Tim Conway's 'The Dentist' Sketch / Roy Radin Revue: Drunken Ronnie Spector / Henry Winkler on His Happy Days Audition / Patrick Duffy of Dallas Interview / Time Express / Wonder Woman Leaves Paradise Island / 1972-73 TV Season / George Burns on the Carson Tonight Show in 1989 / Best Season of Dallas Ever? / Cloris Leachman Remembered / Ken Berry Interview / Why Barney Miller Ended / Vivian Vance Almost Joined the Cast of Rhoda / Marilu Henner Talks About Andy Kaufman / Cher on Mike Douglas 1979 / TV Show Book Tie-Ins / 1972 Jackie Robinson Interview / Dr. Strange 1978 TV Movie / Kathy Garver Interview / Space: 1999 / Paint Along with Nancy Kominsky / Mary Kay Place Albums of the 1970s / The Supremes - Mary Wilson vs Diana Ross / When Bruce Dern Killed John Wayne / 1974 Tom Snyder Our Gang Special / Remembering Ken Berry / Bruce / Caitllyn Jenner? / Billy Crash Craddock Interview / Melissa McCarthy Almost Quit Acting Days Before Landing Gilmore Girls / Bar Rescue's Wildest Customers! / Alex Baldwin On His TV and Film Roles / Ray Charles' BIG Problem With TV / Top Ten Sitcoms of the 1970s / James Cameron Made No Money for Titanic / Ed McMahon Drunk on the Air! / Lucy Interviewed by Barbara Walters / Valerie Harper Cancer / Jeff Bridges Breaks Down His Iconic Roles / Dallas vs Eight is Enough / 1974 MAD Magazine TV Special - Never Aired! / When Lucy Got Fired / Partridge Family and Brady Bunch at Kings Island theme park 1972-73 / Awkward Talk Show Moments / Allan Blye Interview / Jack Benny's Last Tonight Show 1974 / Patricia Heaton's Audition for Everybody Loves Raymond / Ed Asner Interview / Norm Macdonald vs OJ Simpson / Tony Kornheiser Interview / Freddy's Nightmares TV Series / Emmy Award Multiple Winners / Nathaniel Taylor aka Rollo Lawson / Mary Kay Place Albums of the 1970s / That Girl & TV's Single Working Women / Can You Identify These Stars? / Betty White vs Joan Rivers / Paul Lynde's Greatest Hollywood Squares Zingers / Sonny Comedy Revue / Star Trek Animated / Dark Shadows / Hal Linden Interview / Dark Shadows Movies / Dark Shadows Novels / The Night Stalker / One of the Funniest Carol Burnett Show Skits Ever / Fred 'The Hammer' Williamson / Johnny Carson interviews Lucille Ball / Dawn Wells / Betty White : An Appreciation / Bette Davis' 2 Best Interviews 1971 / Barbara Eden Interview / Gavin McLeod / Spider-Man 77 / The Next Step Beyond / The Music Dark Shadows / 1970 TV Shows / Mike Connors Remembered / Mike Wallace, Virginia Graham & Jim Longworth / Dick Clark / Woody Allen Hosts Tonight Show 1971 / Carson Tonight Show / Alan Alda Interview / Jackie Gleason Show / 1973 TV Shows / Thriller / Post Modern Sitcoms / Elvis in Greensboro / Remembering Dick Van Patten / TV Dating Shows / The Jacksons TV Show / Fall Previews of the 70s / Lance Link, Secret Chimp / Star Wars Holiday Special / Alias Smith and Jones / 1977 Year in Review / Top Ten 1970-76 / The Rockford Files / All in the Family / Sam Hall (Dark Shadows) Interview / Actor Ed Nelson / Death of Archie / Battlestar Galactica / Wonder Woman / Network Jingles / Class of '74 / Happy Days / Good Times / Mr. Bill / Dinah! / Maude / Doris Day Show / Pamelyn Ferdin Interview / The Bicentennial Minute / Jingles & Catch Phrases of the 1970s / Early Cable TV 1970s / TV commercials for Women / TV Moms / Red Skelton / George Lindsay / Country Music TV Shows of the 1960s & 1970s / Betty White Show / Shirley Jones Interview / Tom Bosley / Rodney Dangerfield / How Sanford & Son Ended / Sanford & Son Spin-Off Grady / Great Memoirs / Virginia Graham Show / The "N" Word on TV / 10 Classic Comedy Routines You Have To Laugh At Before You Die / Hollywood Squares / 1970's Teen Idols & The Hudson Brothers / TV Stars with 3 Hit Shows / The Rookies / Unsold Pilots / Jackie Cooper / The Good Guys / Match Game / Make Room For Granddaddy / Mannix & Gail Fisher / Bette Midler in the 1970s / Bonus 1970's Stuff: Silent Star Marion Mack / Biff Burger / 1970s Fast Food Chains / Latin Casino / Beverly Hills Supper Club Fire / 1970's Daytime Talk Shows / The Fess Parker Show / Brady Bunch Sex Dungeon? / Love, Loss & What I Watched