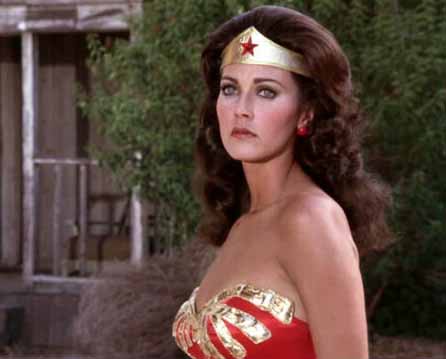 Linda Carter's Wonder Woman Leaves Paradise Island
(with Bullets & Bracelets)
Choice scenes from the pilot TV-movie The New Original Wonder Woman on ABC that show Queen Hippolyta (Cloris Leachman) putting her daughter to the test to see if she has what it takes to leave Paradise Island. Leachman is hilarious in her campiness, as if she was a character on Batman (1966-68) and seems to be heightening the sexual innuendo with her over the top performance.
Fannie Flagg is another scene stealer, seen as an Amazonian doctor.
This was the second Wonder Woman pilot, the first in 1974 starred Cathy Lee Crosby, only in that version Wonder Woman is wearing a red white and blue pants suit. I remember watching it in disbelief, the entire production was poorly executed, having little to do with the four color DC heroine.
With Linda Carter in the role, in that familiar costume from the comics, everything finally clicked. The 1975 telefilm wisely places Diana Prince in the Nazi era in which the character originated.
After Steve Trevor (Lyle Waggoner) crash-lands on Paradise Island, a hidden place inhabited only by women, the Amazonians learn of the Nazi threat. Diana Prince is chosen to accompany the pilot back to the USA to battle the Hitler's Third Reich.
These scenes show the trials that transformed Diana Prince into a Wonder Woman.

WONDER WOMAN
First episode date: November 7, 1975
Final episode date: September 11, 1979