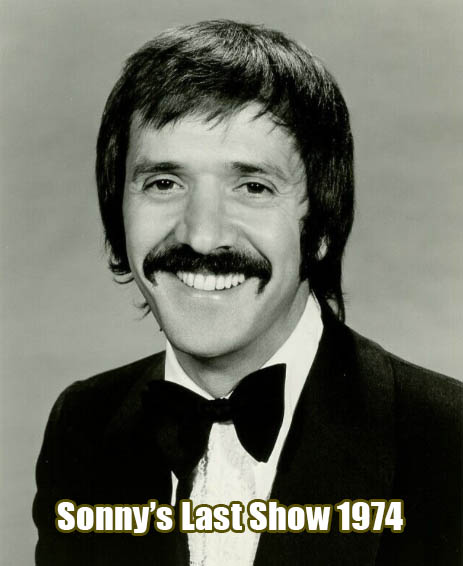 Sonny's Last Show 1974
by Billy Ingram
Here is audio of the last episode of the Sonny Comedy Revue that aired Sunday, Dec 22, 1974, I taped it with a cassette recorder placed next to the TV set.
It's not the entire episode, the final skit was a dreadfully long and unfunny French Foreign Legion bit. There were no guest stars that week, only cast members Teri Garr, Billy Van, Freeman King, and Murray Langston who had been the weekly players on The Sonny & Cher Comedy Hour.
Following the breakup of the pop duo and TV sensation, Cher was quickly snatched up by CBS for a variety hour scheduled to debut mid-season in January of 1975 so Sonny migrated to ABC to get his deal, debuting in the fall of 1974 following on the heels of The Sonny & Cher Comedy Hour that left the air in March of 1974, still pulling down top ten ratings after 4 seasons over 3 years.
Besides the supporting cast, Sonny Bono brought with him the producers, writers, sets, costume designer (not Bob Mackie who previously designed all of Cher's costumes only), and familiar skits from the previous production, like 'Sonny's Pizza' and 'The Prisoner' with Cher's role as Sonny's cheating wife now played by a very funny Teri Garr. That was basically the only thing this 13-week long series got right. Teri Garr's infectious, ditzy performances was the highlight of this production.
While there were funny moments, on the whole this variety hour was a pale imitation of Bono's previous, very entertaining series. The Sonny Comedy Revue scored pretty decent ratings for the opener but quickly sank to the bottom of the Nielsen ratings where it remained week after week no matter who the guest stars were, and there weren't many big names appearing.
In 1976, Sonny & Cher reunited on TV for two additional seasons on CBS.
More Episodes of The Sonny Comedy Revue
The Sonny and Cher Comedy Hour - The Whole Story!
Sonny & Cher Comedy Hour
Sonny Comedy Revue
the Cher show
Sonny & Cher Show