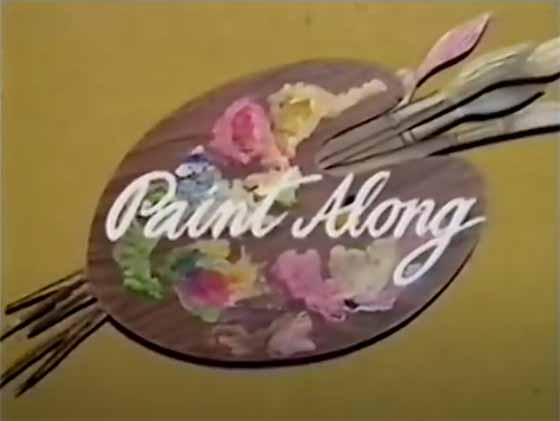 'Create the Feeling': The TV Artistry of Nancy Kominsky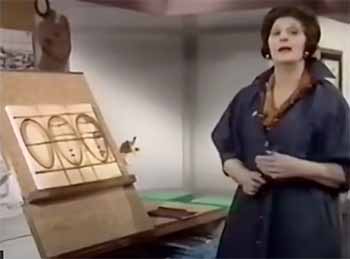 PBS painter Bob Ross—he of the "fluffy trees" and even fluffier hair—is probably more famous now than he was even during his original on-air heyday which lasted from 1983 to 1994. Somewhat unbelievably, Ross, who passed away at age 53, has been gone for over 25 years now and yet you seem to still see him everywhere. Such is the power of the rerun and of his gentle teaching style and soothing landscapes.
But as important, influential and enduring as Ross is, he wasn't public TV's first prolific painter and instructor. And though she might not have been the very first (a title that is hard to determine), Ross was certainly predated by another kindly (and equally big-haired) artist, namely Nancy Kominsky. Her TV series was "Paint Along with Nancy Kominksy" and it consisted of 26 half-hour programs aired over public television beginning in 1977.
Though she first obtained her fame in England, Kominsky was born in Philadelphia in 1915 and given the name Emanuella Agneta Circelli. According to a 1974 UK newspaper article, Kominsky's childhood was not an easy one. Her father lost everything at the start of the Great Depression and then abandoned the family. It plunged Kominsky's large family (she was the eldest of five) into poverty. What few extra cents she could gather up from time to time, she recalled spending to buy blank paper to draw on.
"Nancy" Circelli became Nancy Kominsky after she married her first husband. She and her husband had two children, a boy and a girl, and went to reside in Burbank, CA. But her first married was plagued by the ill-health of her husband. Money was tight here, too. Kominsky's only training was in art so, on the suggestion of some friends, Kominsky began giving painting lessons to small groups of students in order to make ends meet. Once she began giving classes, she found that her students were eager to see their own progress, so Kominsky began devising easy-to-follow techniques that allowed her pupils to quickly improve and advance.
Sadly, Kominsky would be widowed by the time she was 50. After the loss of her husband, she was ready for something brand new. Though she had only once before traveled outside the US, and spoke not a word of Italian, intrigued by their great art, in 1966, Kominsky decided to move to Rome. She said about her major life change, "Everyone thought I was mad. My students were heartbroken. My children were hysterical."
Once in Rome, and nowing what had worked for her in the past, she began teaching art classes again. Her first student was the wife of a diplomat. Later, the popularity of her classes caught on. She leased a large room in the local YMCA and, despite various doubters, soon had over 50 students regularly attending. She labeled her group the "Sunday Painters of Rome."
Not long after this was the start of Kominsky's extraordinary second act. Though happily teaching and living in Rome, Kominsky, by chance, attended, with a couple of friends, an International TV Festival in Cannes and had a random meeting with British TV exec Peter Orton. Soon, Kominsky had a new job—on the "telly."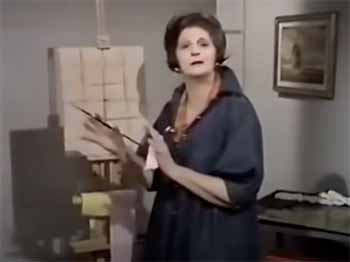 "Paint Along with Nancy Kominsky" debuted in Britain in 1974. Originally assisted by the grey-suited Alan Taylor, Kominsky would go on to tape 52 episodes of her show which originally aired oversees between 1974 and 1978. Her quick painting style and equally quick wit soon earned the colorful Kominsky a large fanbase throughout the British Isles. The press nicknamed her the "Galloping Gaugin" and she was said to be a favorite of everyone from school kids to second-shift dock workers!
Though some more high-minded art snobs criticized Kominsky and her methods, the artist/TV presenter herself was under no illusions. She said, "I don't profess to turn out professional painters, though, incidentally, I have. But I have hundreds of people painting all over the world. I'm not interested in turning out Rembrandts and Degases. The whole idea is that we should enjoy life and become constructive at the same time."
After her European success, America came calling via PBS. America's "Paint Along with Nancy" debuted in 1977; 26 episodes were produced and would often be repeated by public TV stations well into the 1980s.
I remember watching Kominsky when I was a kid…and being completely enthralled! At the time, enjoying a childhood consisting of a lot of colored paper and glue sticks, it was exciting to see a painting come to fruition in just half an hour!
Her approach was interesting, too. Kominsky didn't use a brush in her paintings; she used a palette knife, believing that being brush-less was easier for the new, novice painter. Recently—Thank you, YouTube!—I got to re-watch an episode. And, re-watching a Kominsky again, I was charmed once more.
Why does it excited us so to see something again from our childhood? Maybe it activates some sort of comfort center deep in the recesses of our brain. For me, it was strangely calming, reassuring, to see again various aspects of her half-hour I only vaguely recalled: the thin umber wash that she prepped her canvas with, the quickly painted brown-line grid that she painted first to set up her composition (and which would later be painted over), and then the distinct sound of her palette knife scrapping against canvas.
As a kid, though, I'm not sure I truly appreciated the good advice she gave via her program—reminding her students not to hurry or try to "keep up" with her; she'd been doing this for 40 years, they were just starting. I'm not sure I appreciated her humor either. In one episode, as she completed a picture of some red apples hanging on a branch, she said, "When you are done, if someone compliments you on your painting of Christmas ornaments, just thank them." And I know her brief mentions of art history were lost on me; in various episodes, she references the Impressionists and name checks Rembrandt and, in another, Picasso.
Like Bob Ross, Kominsky stirred clear of difficult pictures of portraiture, preferring landscapes, though she would, from time to time, she'd take on a still life—pictures of flowers or fruit or food. During her show's original air, various books, companions to the programs, were published and even art kits that included a starter set of oils and the necessary other artist's tools were produced and marketed.
Kominsky's US incarnation did not last beyond those 26 episodes; her UK series concluded in 1978. After that, the lady took a rest.
She remarried in 1983. She and her new husband, Patrick Wodehouse, settled in Wimbledon, England. Kominsky published a memoir in 2010. She passed away in 2011 at the age of 95.
Long before her passing, Kominsky had already decided on her legacy. In a 1974 interview she said, "I have a nice talent, but that's all. I don't think that when I go to my reward I will make any tremendous ripple in the art world. But I've taken the little talent I had and made it work…. I believe that my function as an artist is that I will give the ordinary man not only the joy of creating but also of an appreciation of his environment and of all the art in the world.
And when they take it from me, it doesn't come out of me. It comes out of them."