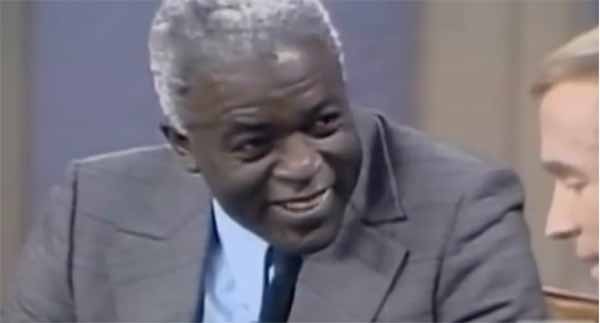 Jackie Robinson Interviewed in 1972
This interview with Dick Cavett was conducted in 1972, the year Baseball Hall of Famer Jackie Robinson passed away. (Jackie Robinson would have turned 100 in 2019.)
When the Brooklyn Dodgers positioned Robinson at first base for the first time on April 15, 1947 it broke the color line, the first black baseball player to play in the American Major League. He was named Rookie of the Year that first year, then led the Dodgers to six league championships and one World Series victory.
"Plenty of times I wanted to haul off when somebody insulted me for the color of my skin," Robinson remarked. "But I had to hold to myself. I knew I was kind of an experiment. The whole thing was bigger than me."
He ignored the taunts from fans and opposing players alike, Robinson stayed focused on being the best ball player possible, "Above anything else, I hate to lose."
Jackie Robinson contributed significantly to the civil rights movement in the sixties as he noted, "A life is not important except in the impact it has on other lives."
Robinson was inducted into the Baseball Hall of Fame in 1962, the first black person accepted. In 1997, Major League Baseball retired Jackie Robinson's uniform number, #42, across all major league franchises, the first professional athlete of any type to be so honored.
Post-Modern Sitcoms / Actors That Wrote Books / Melissa McCarthy Almost Quit Acting Days Before Landing Gilmore Girls / Bar Rescue's Wildest Customers! / TV HITS - By the Numbers / Alex Baldwin On His TV and Film Roles / Ray Charles' BIG Problem With TV / Top Ten Sitcoms of the 1970s / James Cameron Made No Money for Titanic / Growing Up In The Playboy Mansion / Ed McMahon Drunk on the Air! / Lucy Interviewed by Barbara Walters / Valerie Harper Cancer / Jeff Bridges Breaks Down His Iconic Roles / Dallas vs Eight is Enough / 1974 MAD Magazine TV Special - Never Aired! / Iconic M*A*S*H Restaurant Coming To Kroger? / When Lucy Got Fired / Partridge Family and Brady Bunch at Kings Island theme park 1972-73 / Awkward Talk Show Moments / Allan Blye Interview / Jack Benny's Last Tonight Show 1974 / Patricia Heaton's Audition for Everybody Loves Raymond / Luke Perry's Last Role / Johnny Cash's Last Interview / Judy Garland's Last Film / Who Was Bob Gordon? / Richard Dreyfuss vs Bill Murray / Jeff Ross vs Everybody / Tennessee Williams 1972 Interview / Ed Asner Interview / Norm Macdonald vs OJ Simpson / Tony Kornheiser Interview / Freddy's Nightmares TV Series / Awful 1990s TV Shows / The Funniest Comebacks in Talk Show History / Was Sonny Bono Murdered? / Robin Williams' Mrs. Doubtfire Screen Tests / Robert Downey Jr Asks for Forgiveness for Mel Gibson / Hank Williams: The Show He Never Gave / Judy Garland vs Liz Taylor / Emmy Award Multiple Winners / Nathaniel Taylor aka Rollo Lawson / Anthony Zuiker: Mr. CSI / Jimmy & Cher / Diana Muldaur: A Viewer's History / Uncle Andy's Funhouse / Bea Arthur vs Betty White / Skidoo: Worst All-Star Comedy Ever? / Every Marvel Cartoon Opening Theme From 1966 - Present / When Stars Play Themselves / My Pen Pal is in the Pen, Pal / Small Roles Big Performances / Barbara Hall / Stars Before They Were Famous / Stars Before They Were Famous 2 / Stars Before They Were Famous 3 / A Better Classic TV Network / Bill Paxton / Who Was the Black Daliah? / How Frasier Was Created / Music Videos / Chitty Chitty Bang Bang - Behind the Scenes / Shirley Jones Interview / What We Lost When We Lost VHS / When Hit TV Shows Return / Commercials Starring Sopranos Cast Members / Shows Nobody Remembers But Me 4 / Shows Nobody Remembers But Me 1 / Bryan Cranston Interview / FREE streaming movie service you didn't know you have / The Great Cable TV Migration / Sportscaster Woody Durham / Movie Posters and the documentary 24x36 /Chris Robinson /Dallas Reboot /David Letterman /Auditioning For Game Shows in the 80s /Ghosts of Cable TV past / Honey Boo Boo - WTF?!? / Steven Bochco Tribute / Ian Abercrombie / Joe Franklin / John Nettles / Gotham / Family Fued: Gilligan's Island vs Lost In Space / Jon Cryer / Jon Stewart / Lana Wood / David Letterman / Matt Bomer / Molly Ringwald / Morgan Brittany / Music Rights for TV Shows / Neilsen Ratings / Norman Lloyd / Not Your Dad's TV / TV Series Reunions / Rich Little / Special Bulletin with George Clooney / Howard Stern VS Jamie Foxx / Top Ten Action Movies / 2013 Emmy Awards / 2010 Celebrity Deaths
Jackie Robinson Interview Just Before His Death
"Life is not a spectator sport. If you're going to spend your whole life in the grandstand just watching what goes on, in my opinion you're wasting your life." - Jackie Robinson