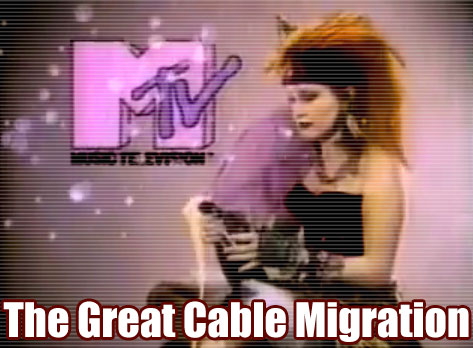 by Cary O'Dell

For an industry only about 30 years old, cable television has nevertheless seen its share of transitions. Most importantly, it has gained respectability. Thanks to the artistry of much of HBO's and Showtime's original programming and the gravitas of CNN (once cynically nicknamed the "Chicken Noodle Network"), cable is no longer TV's laughing stock.
Just as notably, cable TV is no longer simply a refuge for network reruns. For years, almost every channel not devoted to news or music videos survived, not on original programming, but by re-airing every old sitcom and drama they could get their hands on. For well over a decade, it was nothing short of a miracle that there were enough copies of "Lucy," "Star Trek" and "Twilight Zone" to go around and keep FX, Comedy Central, Sci-Fi and Lifetime afloat.
Of course, on their way to their current state, innumerable sea changes and reinventions have taken place. For many so-called "networks," their current identity bears almost no resemblance to their original identity and intent. Still, it's fun to look back and remember what was and how it all began.
To my mind, USA has always been the network in search of an identity. Though wrestling has been a long-time successful staple for the network, USA's early days were almost exclusively off-network reruns of everything from "Murder, She Wrote" to "Alfred Hitchcock Presents," "Bewitched," "Get Christie Love!" and "Gidget." What original programming the channel did do was limited to its Friday and Saturday night mixed-bagged broadcast of "Night Flight" which featured rock star interviews, concert footage and bad B-movies.
For a time, the network aired the daily "Radio 1990," a show that mixed music industry news with music videos, back when videos were hot and cheap airtime filler. Earlier in the day, USA had a well-done daily talk show titled "Alive and Well." It focused mainly on health issues and was hosted by a four-person panel that included exercise guru Kathy Smith and a pre-Fox Mike Jerrick. The net also aired the fashion-focused "YOU! Magazine for Women," the talk show "Are You Anybody?," and a daily talk show hosted by Sonya Friedman. On the weekends, they aired the arts program "Ovation."
Later, USA courted teens and tweens with "Dance Party USA" and courted adults with re-airings of the Playboy Channel original series "Eden" (but with the nudity cut out). Dick Cavett briefly helmed his own weekly talk show and the network experimented for a time with originally produced suspense films—like "The Haunting of Sarah Hardy" with Sela Ward and Morgan Fairchild--and one or two high-end productions like a 1995 version of "My Antonia." USA had one of its longest-running successes with the sexy detective series "Silk Stalkings." More light-hearted fare is now the norm for the network having aired or recently aired programs like "Monk" and "Psych."
Nearly as checkered as USA's history has been Lifetime's. Actually, Lifetime began as two different networks, the Health Channel and the Daytime Network. Their eventual merger beget Lifetime that, in the beginning, focused on health and well-being. Eventually, the channel morphed into "Television for Women." And ever since, they have been attempting to answer the age-old question: What do women want? Over the years, Lifetime has tried many things. One interesting undertaking involved a nightly line-up of live talk shows. The evening kicked off with "Hot Properties" (originally hosted by Fred Newman and Tovah Feldshuh, eventually replaced by Richard Belzer) then segued into a health-focused hour hosted by Regis Philbin, then a call-in talk show hosted by Stanley Siegel and, finally, the jewel in Lifetime's primetime crown: Dr. Ruth. The petite sex therapist hosted "Good Sex with Dr. Ruth" beginning in 1984.
Lifetime's daytime hours once included the talk show "Attitudes" which got an unexpected boost when it started being parodied on "Saturday Night Live." On weekends, the channel programmed a series called "Esquire: About Men, For Women" that was hosted by a pre-"Today" Matt Lauer and featured actress Ali MacGraw as one of its one-on-one interviewers. Later the channel launched a daytime talk show in the "Donahue" mode hosted by Jane Wallace. For a time, the channel turned the very end of the week over to "Doctor's Sunday," a series of shows which consisted of very dry and clinical shows aimed squarely at real-life MDs. Attempts at original fictional programming have included the anthology "Hidden Room," the detective drama "Veronica Claire" and the "dramedy" "The Days and Nights of Molly Dodd" (picked up after NBC's cancellation of it). Before the channel's recent success with "Army Wives" and (ugh) "Dance Moms," Lifetime had probably its longest running success with its "Intimate Portraits" series, documentaries on the lives of important, influential women.
Nightly talk shows with a heavy emphasis on "interactivity" via viewer call-ins were also once the calling card for CNBC. Circa 1995, the channel's evening hours included nightly talk shows hosted by the likes of Mary Matalin, Jane Wallace, the late Tom Snyder, Phil Donahue and Charles Grodin. Geraldo Rivera hosted his "Rivera Live" for many years, gaining its greatest audience during the O.J. Simpson trial. The evening wound up with a seriously-minded nightly show about sexuality titled "Real Sex" with Bob Berkowitz. Today, CNBC is a little more money focused with their doc series "Greed" and shows starring Suze Orman and Jim Cramer.
Before finding success with such series as "Sons of Anarchy" and "American Horror Story," and before that "Nip/Tuck" and "The Shield," FX was certainly rerun-driven. A subsidiary of 20th Century-Fox, the net mined their home studios vaults for almost all its content including repeats of "MASH" and "The X-Files." Despite a few original programs—most successfully "Breakfast Time" co-hosted by Tom Bergeron—the net survived almost solely on off-network repeats of "Married…With Children" and other former primetime hits.
In the beginning, of course, MTV was all about music videos with clips of Dire Straits, Duran Duran and the like which only occasionally got interrupted by the channel's first generation of "VJ's" and, obviously, by commercials. With time, and needing to retain audiences for longer periods of time than just four-minutes, the network expanded into traditional programming. Game show (and simultaneous game show send-up) "Remote Control" was an early effort followed not long after with MTV News (which some called an oxymoron); "The Week in Rock"; "MTV's Half-Hour Comedy Hour"; "The Big Picture" with Chris Connelly; "House of Style" with Cindy Crawford; as well as "Just Say Julie!," a comedy show built around videos and red-headed comedienne Julie Brown; "Unplugged," originally hosted by singer/songwriter Jules Shear; "You Wrote It, You Watch It" with Jon Stewart and the animation efforts "Beavis and Butthead" and its spin-off "Daria." In 1992, MTV launched "The Real World." "World" was originally conceived as a teen soap intended to rival FOX's then hit "90210." But, finding it too expensive to hire actors, writers and build sets, etc., the channel instead decided to simply cast and follow real people around. Twenty-plus years later, "Real World" and its spin-offs are still going strong.
Conceived as MTV's older, more mature cousin, VH1 (originally hyphenated, VH-1) was music-video laden too, just a little more mellow and middle of the road. Sometimes the channel's attempt to skew older got a little weird: videos by of Dean Martin got aired alongside clips of Celine Dion and Michael Bolton. Today, with the exception of its weekly, viewer-voted countdown, music videos are also missing from its line-up which has also gone the reality route: "Mob Wives," "Hollywood Exes," "Dating Naked," and other reality fare now fill VH1. But before the net moved away from music entirely, they programmed an eclectic mix of shows including a nightly talk show hosted by drag queen supreme RuPaul; "Rock and Roll Jeopardy!" hosted by a pre-"Survivor" Jeff Probst and "Pop-Up Video" which, for a time, brought videos back to their airwaves.
Like A&E, NBC off-shoot Bravo was once meant to be an oasis for cultural and arts programming. Now, of course, it's the home of everything "Real Housewives." The net originally had little original programming and filled its hours with classic, independent and acclaimed foreign films. Early in its life span the channel was known for re-airings of the British "South Bank Show." Bravo obtained its first notoriety and critical acclaim when it launched "Inside the Actor's Studio" in 1994; the program remains on Bravo to this day. Greater audiences arrived when the network launched "Queer Eye for the Straight Guy" in 2003. "Queer Eye's" success prefigured the net's current gay-friendly programming. The net enjoyed further success with "Project Runway" beginning in 2004, followed soon after with its still-running "Top Chef."
These days, E! should probably rename itself K!, as in Kardashian, for their non-stop coverage of that expansive reality brood. But until that happens (let's hope a matter of weeks) E! remains E! though it was once known as Movietime. Launched in 1987, the channel changed its name in 1990 and refocused itself into being like an all-day long "Entertainment Tonight." Early programs included a show that did nothing but show movie trailers titled "Coming Attractions," as well as "Talk Soup," originally hosted by Greg Kinnear, and "Cut to the Chase" hosted by Art Mann. Later, E! got a lot of our mileage out of "The Gossip Show" hosted by MTV alum Downtown Julie Brown; its weekly series "The E! True Hollywood Story"; and the more tabloid-focused "Mysteries and Scandals" hosted by A.J. Benza. A televised version of "Howard Stern's" radio show also aired nightly. On the weekends, the network aired such fashion imports as Canada's "FTV," which no doubt helped pave the way for E!'s one-time spin-off channel, The Style Network.
Like CNN, an identity crisis has never been felt by Comedy Central. They've always been focused on making you laugh. Like Lifetime, Comedy Central is the hybrid of two other channels, Time Warner's The Comedy Channel and Viacom's Ha!; they merged in 1991. Along with sitcom reruns, movies and many stand-up specials, Comedy Central at one time or another, offered up "Short Attention Span Theater," "Women Aloud," a daily comedy talk show hosted by Mo Gaffney, the long-lasting "Mystery Science Theater" (arguably the originator of snark) and "Politically Incorrect" with Bill Maher." Later, the network added a remake of the game show "Make Me Laugh," the cartoon series "Dr. Katz" and finally the ambitious "The Daily Show," originally hosted by Craig Kilbourn. The channel has also been the Stateside home to some of the best in British comedy including the UK's "Whose Line Is It Anyway?" and the wonderful debauchery of "Absolutely Fabulous."
Nickelodeon was and is the channel devoted to kids, tweens and teens. They have a quality, if at times slime-tastic, history. Along with a boatload of cartoons, the channel also aired "The Adventures of Pete & Pete," "You Can't Do That on Television" and later live-action shows like the innovative "Roundhouse." The network got its biggest boost however when it debuted "Double Dare" in 1986. In an interesting and ultimately productive move, attempting to appeal to kids and adults in the evening hour, the channel began to program network reruns from the TV's glorious black and white past. Aired in blocks and promoted with their tongue well in their cheek, Nick's nighttime programming did so well it eventually led to its own spin-off channel, TVLand.
TVLand still has TV reruns as its main bread and butter but has matured a bit if only in the era they now tap into for their repeats. Once the home of "Donna Reed," "Father Knows Best," and "My Three Sons," today the network gets by on more recent repeats like "Roseanne." TVLand is also today having success with their original comedies, i.e feel-good fare like "Hot in Cleveland." Meanwhile, TV reruns as identity have also become the stock and trade of such newly launched cablenets as MeTV and COZI TV.
Now best known as the home of "Duck Dynasty," there was a time when A&E actually stood for Arts & Entertainment and was known for high-brow entertainment often imported from England. It was over A&E that most American audiences first got to see "Lovejoy" as well as such home-grown fare as "An Evening at the Improv" and such wonderful series as "Breakfast with the Arts" and "Live by Request." A&E was also the long-time site of such off-network reruns as "Columbo" and "The Avengers" with Diana Rigg and Patrick Macnee. They gained their first super ratings success with their enduring series "Biography." The personality-driven "Biography" documentaries were so popular, they eventually spawned a network of their own. (Now off the air.)
American Movie Classics, or AMC as it's also known, should have a pretty straightforward personality. And for years they aired nothing but the most preeminent classic films from Hollywood's Golden Age, many of them introduced by the erudite Nick Clooney or by Bob Dorian. The channel augmented their hours with Richard Brown's accomplished and well-regarded "Reflections on the Silver Screen" program where the NYU prof sat down for one-on-one interviews with the likes of Anthony Perkins, Katherine Hepburn and Lauren Bacall.
The network incurred its first break from tradition in 1998 when the channel began allowing some commercial interruptions into its programming. Additionally, the channel seemed to define the term "classic" more and more loosely with each passing year, often airing films like "Can't Stop the Music" with the Village People and other less-than-stellar big screen projects.
AMC began going into an entirely new direction beginning in 1996 when they began airing the original dramatic program "Remember WENN." Set at a radio station in the early 1940s, "WENN" aired for two years. After "WENN" left the air and their next original, "The Lot," proved to be a non-starter, the network regrouped…and deemphasized its movie classic-orientation. It then became the the home to a variety of original programs from the excellent ("Mad Men," "Breaking Bad") to the absurd (the taxidermy-focused "Imortalized").