'TVparty is hands down the best site on the Web for classic TV.'
- Discovery Channel
Classic TV
shows on DVD

Cary O'Dell's 4 part look back at some of the best music videos of that genre's golden age!
Music videos exploded in the 1980s with the success of MTV. Today artists create videos in order to become You Tube sensations. But part of the charm music videos had in the 1980s into the mid-1990s was the sense of quirkiness, anything goes. By all means explore for yourself the golden age of music video on You Tube.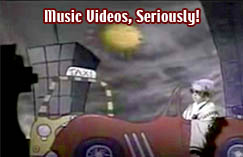 Part 1: "MMM MMM MMM MMM" by Crash Test Dummies (1993)
To some music aficionados only "We Built This City" by some latter-day incarnation (read: remnants) of Jefferson Starship (known as just "Starship" by then, all broke down and stitched back together), is more annoying or a better example of an inexplicable pop success than this one-time hit by the Canadian band Crash Test Dummies. Certainly the song's non-sense chorus and almost-painful ear-worm tendencies works against it as something that is easily defended.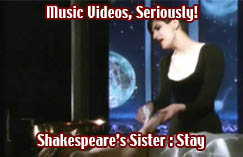 Part 2: "Stay" by Shakespeare's Sister (1991)
The female duo known as Shakespeare's Sister consisted of American Marcella Detroit and the British Siobhan Fahey (the latter, once Mrs. Dave Stewart and also once of Bananarama). This particular incarnation of Sister released two albums and achieved at least one massive hit-- "Stay." "Stay," from the group's album "Hormonally Yours," would spend eight weeks at the number one spot in the UK and went to number four in the US.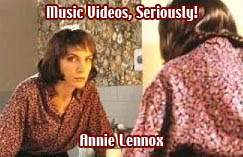 Part 3: "Beethoven" by Eurythmics (1987)
Since the moment Annie Lennox burst onto the world music scene with her and partner Dave Stewart with their massive debut single, "Sweet Dreams" (1983), we have known that Lennox has had the grand charisma to almost evenly match her grand vocal talent. Since then, in her long career, both as part of Eurhythmics and as a solo artist, Lennox has inhabited a stunning assortment of identities and presented a fascinating number of style reinventions (which she showcased in total in her 1992 "Little Bird" video), and which, for whatever reason, she has never been as celebrated for as compatriot Madonna has.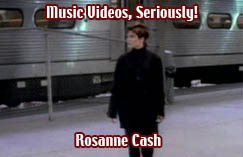 Part 4: "Second to No One" by Rosanne Cash (1985)
One of the first country artists to see the artistic element of the music video and the possibilities of marrying her music to the moving image was Rosanne Cash. She said about the form in 1989, "I like videos and I like making videos. I don't necessarily think that a video is the ultimate interpretation of a song, and it may not even be where your imagination might have gone, but it's what we're feeling and thinking at that moment, and so it has a right to be."
Music Videos, Seriously