The New Dallas
by Billy Ingram
I've been watching the first season of the TNT's reboot of Dallas on DVD. It's really not bad, I especially like the music which lends the show some needed tooth. I liked the updated theme song and opening graphics, perfectly in tune with the past.They're filming scenes again at Southfork and the ranch is a key element in the storyline. The 'interior' set has changed radically, with the den in the dining room and vice versa, not recognizable at all.
Dallas was one of my guilty pleasures and it's nice to see these durable characters back in play, not at all betraying the original intent. The new cast members are servicable and I may come to like them... but they are pretty thinly drawn, at least to start with.
I did find one thing curious in one of the first episodes. Pam Ewing was described as having just 'disappeared' one day when, you may recall, she was killed in a feiry car accident. Or was that new Pam in the nineties (played by an actress that ALMOST looked like Victoria Principal) supposed to have been the real thing? I forget... I think it would be a good idea to leave the door open for the character to return, however implausible surviving a head on collision / explosion with a tanker truck might be. I never liked Pam anyway, too whiny.
(One person I always enjoyed was Sly, JR's secretary. I wonder if they'll bring her back? She never had that much to do in general but did play a larger role in one of JR's better tricks against Cliff Barnes.)
Now that JR is out of the picture they'll need a new conniving character and there just aren't many left that fit the bill. Cliff Barnes just isn't that menacing, especially as a geriatric. Lucy is played by an actress who isn't up to a larger part, although her character would be the logical go-to, both duplicitous and daffy. Ray Kebbs, seen briefly early on in the new version with Lucy, was never the devious type nor was his wife Donna, played by an actress I liked very much, Susan Howard.
The anchors of the original show - Jim Davis, Barbara BelGeddes, Howard Keel, George Kennedy - are all dead or too old. What we're left with are the secondary players. I'm not sure the production can survive the loss of Larry Hagman... but if the writers give Linda Gray the right storylines they could stay a winner. Her character was one of the more interesting, what with all the drinking and rejection issues she had.
Sadly, Larry Hagman died early on in the filming of Dallas so that meant the end of the series.
---
Re-live the best of JR Ewing from the original series run:



TNT's Dallas / The First Season
TV on DVD/ /Holiday Specials on DVD
TV Commercials on DVD
TV Shows on BLU-RAY
---
The Cast of Dallas:
Larry Hagman ... J.R. Ewing (12 episodes)
Patrick Duffy ... Bobby Ewing
Linda Gray ... Sue Ellen Ewing
Josh Henderson ... John Ross Ewing
Jesse Metcalfe ... Christopher Ewing
Julie Gonzalo ... Rebecca Sutter
Brenda Strong ... Ann Ewing
Jordana Brewster ... Elena Ramos
---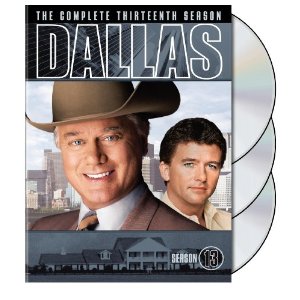 By the thirteenth and last season of DALLAS even Miss Ellie and Sue Ellen were gone, but sister Lucy had returned to join JR and Bobby from the original cast.