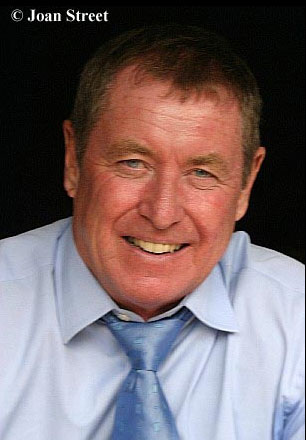 John Nettles: Gentleman
Crime Stopper
by Jim Longworth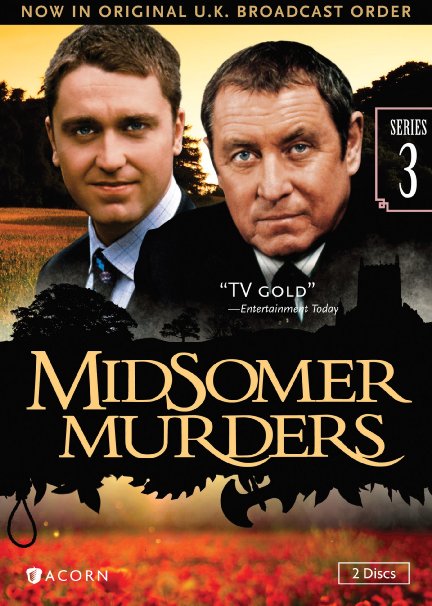 Once upon a time, Queen Elizabeth was spotted carrying a basket full of DVDs into Windsor Castle. No doubt the discs were crucially important to the Empire. Perhaps they showed footage from a spy satellite, or video of a secret terrorist camp. Instead the DVDs reportedly contained episodes of the television series "Midsomer Murders". And there's the time German Chancellor Angela Merkel flew to England to meet with Prime Minister David Cameron on an urgent matter. According to insiders, the two leaders spent much of their time together watching episodes of - you guessed it - "Midsomer Murders". So what's the big attraction? Why is "Midsomer Murders" popular in over 200 countries? And why does it appeal to people from all walks of life? The answer is: John Nettles.

John Vivian Drummond Nettles was born on October 11, 1943 in St. Austell, Cornwall, which he described to me as, "a small rustic county in England where there was no professional theatre, no music, no nothing." Fortunately John was mentored by a teacher who tapped him to perform in a school production of "Macbeth". Said John, "At the time I remember thinking that being in a school play was a kind of foreplay. You got the girl if you played on the stage (laughs)."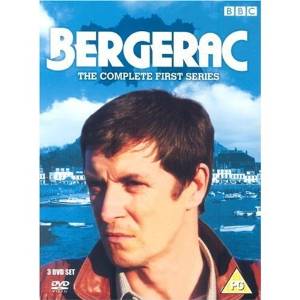 In addition to studying girls, Nettles went on to study history at the University of Southampton. After graduation he performed at the Royal Court Theatre and appeared in a number of British TV shows. Then, in 1981 he landed the role of Jim Bergerac, in a detective series by the same name. "Bergerac" was an overnight success, and Nettles became an overnight sex symbol, who The Guardian described as "Half man, half walnut, and full sex god." "Bergerac" ended its run after ten years, at which time John returned to the stage and performed for five seasons with the Royal Shakespeare Company. In his spare time Nettles also authored a number of books. Then came an offer from producer Brian True-May to play aging Detective Chief Inspector Tom Barnaby in "Midsomer Murders", a television series based on a book by Caroline Graham.

Over the course of thirteen seasons, John's face became instantly recognizable to millions of fans worldwide, but he was always willing to share the spotlight, especially with up and coming actors, many who have since become stars in their own right, including Orlando Bloom ("Pirates of the Caribbean"), Henry Cavill ("Superman"), Emily Mortimer ("The Newsroom"), and Toby Jones ("The Hunger Games"). Of course, most of his guest stars didn't live through an entire show. That's because Barnaby had to investigate nearly 300 suspicious deaths from such bizarre causes as drowning in wine, poisoning from a tropical frog, and being burned alive in a straw effigy.

JL: Why is "Midsomer Murders" so popular?

JN: Because it was charming. I mean, there were lots of murders, but it wasn't gritty, it was escapism. It was also a classical form of the English Who Done It. I like to think of "Midsomer Murders" as being Agatha Christie on speed. If she had shot up a bit, she would have produced "Midsomer Murders" (laughs)."

In fact the murder rate in Barnaby's village was so high, that it prompted John's former logic professor to comment, "Nettles, by process of elimination, YOU must be the murderer because there's no one else left." Even John's most influential fan took notice of the genteel violence, as evidenced by her comment to him following a ceremony in which she awarded Nettles the Order of the British Empire.

JN: The Queen is a big fan, but she did say she wouldn't like to live in Midsomer. One of her equaries then chimed in and said, "No Mum, because you'd be dead", which I thought was as near to Lese-majeste' as you can get (laughs)...I had to apologize to the Queen for the number of her subjects we'd done to death in the most horrible way. But I was very pleased that our reigning Monarch liked the show, and indeed, lots of people had a guilty pleasure watching it.

It is important to note, though, that the fictional DCI Barnaby apprehended hundreds of murderers without ever firing a gun.

JL: Is that what attracted you to the role?

JN: I wanted him to be an English gentleman - one who never raises his voice and embodies all the virtues of Englishness, which means not carrying a gun.

JL: You're also a historian, so do you think America could effectively adopt the UK approach to fighting crime?

JN: The nature of our society and the nature of American society are fundamentally different. The tendency in America is to be more violent, less law-abiding, less obedient. In England we have a habit of consensual government, and also of consensual civil behavior. That means the tendency is to obey the law rather than to break it, and our criminals are not so apt to turn to guns, so it's difficult to talk about such a thing in America.

JL: Well if folks in England are so civil, then how come Prince Andrew nearly ran over my wife at a cross walk when she was visiting London?

JN: That's the royal family. They don't obey anything (laughs).

Nettles hung up his badge in 2011, but "Midsomer Murders" has continued on with another DCI Barnaby (Neil Dudgeon as Tom's cousin), and is now in its eighteenth season. Today, John and his wife Cathryn devote much of their time to equine rescue.

JL: Would you ever consider returning to "Midsomer Murders" as a guest star?

JN: No, not now. The world of Midsomer has changed and it's Neil's territory now. I wouldn't want to go back, except perhaps as a body (laughs).

Thankfully all 81 episodes of "Midsomer Murders" starring John Nettles are finally available on home video in their original broadcast order. So, like the Queen, you can now sneak into your castle with a basket full of DVDs and watch a sex god at work.

Jim Longworth is a columnist for YESWeekly.com, and author of the "TV Creators" series of books. He also serves as judge for the primetime EMMYs, and hosts a weekly TV show for Sinclair stations.

John Nettles