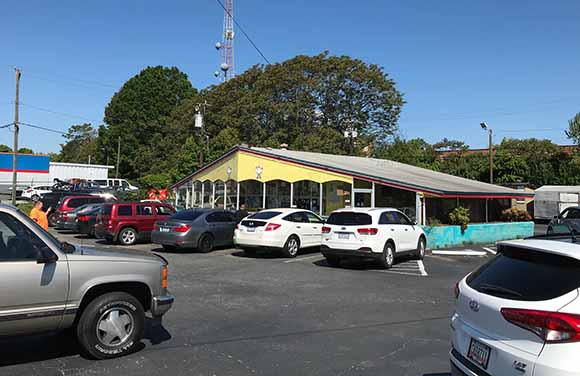 Greensboro's Beef [formerly Biff] Burger has closed.
By Billy Ingram
UPDATE: Now there are none! The Florida location closed right around the same time as the Greensboro place.
On Monday morning, April 26, 2021, the parking lot was jammed up and jelly tight with cars spilling out onto Gate City Boulevard and the joint wasn't even open yet. Word spread quickly over social media that Beef Burger, a Greensboro institution for half a century, was closing for good and that Monday would be the final service. Mourners poured through the doors to express their shock and sorrow.
No more sign on the door reading: "If you're drunk eat somewhere else"? No Beef Burger? Say it ain't so. And the employees at Beef Burger that Monday said, "It ain't so!" I know because I walked up there to confirm they were open (see pics).
The non-event garnered mucho TV air time as word went out that it was perhaps a hoax - or a brilliant marketing strategy (my take).
But by the very next Friday, Beef Burger was closed with a sign that read: "Closed. No Buns."
But Beef Burger did not reopen, Thursday was the diner's last day. With the owner Mr. Ralph Havius in hospice [reportedly], word went out over social media that Ralph's brother came and got the cash then shut off the electricity. (I'm not in any way even hinting there was something nefarious about that.)
There was/is no sign up about Beef Burger closing for good but, with no refrigeration, there's clearly no plan to continue in business.
That was the end of one of the last two Biff Burgers in the country, leaving only the franchise in St. Petersburg, Florida. The Greensboro building will have to be raised because Beef Burger was grandfathered in, in terms of health codes and the like.
As late as April 17th, Beef Burger's Facebook page was hyping their big 60th Anniversary Sale on May 1st. It has not been updated since (as of May 5th) and it's likely the employees didn't know the place was closing until the day it ended.
UPDATE: On the Beef Burger Facebook page this message was posted on 5/6: It is with a heavy heart that I wanted to let everyone know that Patricia Ellison/Fletcher passed away yesterday morning. As you all should know she was Ralph's right hand for many many years. Just keep us all in your prayers. No arrangements have been made as of right now but I will update after we make them.
UPDATE: From the Beef Burger Facebook forum:
Saturday, May 1, 2021: The information in this post below my comments is being shared from a group member who doesn't want to be identified. It seems to be an accurate, brief description of where things with Beef Burger stand at present. I know everyone is sad about this.
My brother, Tim, started this group several years ago to preserve the fond memories we have of the place. For probably 25 years, our house (the last on the left on Lexington Ave. before you got to West Lee Street) was the closest home to the restaurant, and we lost count of the number of times we ran across Lee St. to get burgers, a drink, a shake, or something else from Ralph's always expanding menu. Even after we moved away, we found our way back there several times each year. It will be missed.
[A long time employee] reports that "Ralph signed "everything" over to his brother earlier this week and the brother closed Beef Burger. Evidently the two are not close as Ralph told the brother not to close Beef Burger until next week, after the 60th anniversary. That's why it was supposed to close Monday, the brother was going to allow it to remain open longer but then changed his mind. Ralph is reportedly very upset. He is out of the hospital and is either in a nursing home facility or hospice... Ralph's brother wants nothing to do with the restaurant as he owns a large farm and doesn't have time for Beef Burger. So unless someone steps up and buys Beef Burger from the brother, it's over."
[This person doesn't believe the brother could be convinced to reopen the restaurant.] "He put Ralph into the hospital against his will and has put him in hospice when Ralph wanted to go home. [This person continues...] I think he needs to be in a professional environment- if he is in as bad shape as I have heard, he doesn't need to be alone... I just wanted to let you know what I have heard. I can't verify it 100%, but it makes sense..."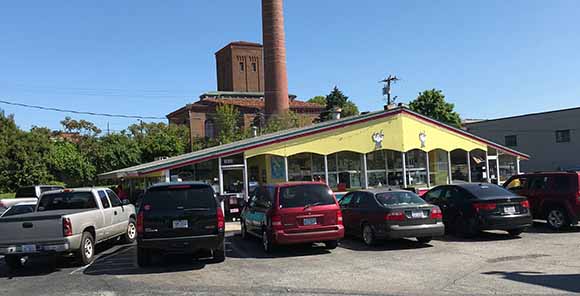 Read More About Biff Burger Here!
Read More About 1970s Fast Food Joints Here!