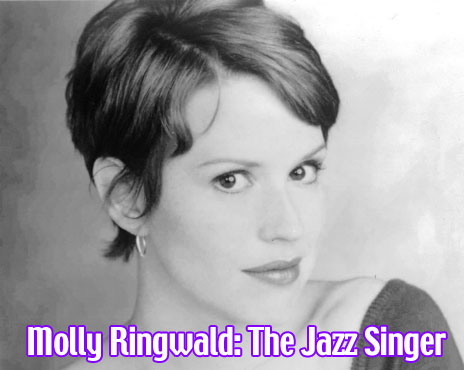 by Jim Longworth
Back in 1979 when she launched into a song on an episode of "The Facts of Life", 11 year old Molly Ringwald gave us a glimpse into what would become a multi faceted career. Charlotte Rae, who played Molly's house mother on "Facts", told me she isn't surprised at how her young charge turned out. "She was a good little actress, very talented, and a dear sweet little girl. I think it's awesome. What a big career she's had."

"Big" is sort of an understatement. Ringwald cut her first album at age three, was the lead vocalist on two Disney albums at age twelve, and was on the cover of TIME Magazine by the time she turned eighteen. She has appeared in over twenty TV series, and starred in over twenty films, including "Tempest", for which she earned a Golden Globe nomination. Molly has also authored several books, writes a weekly advice column, and has a new CD coming out. And next week, she embarks upon a concert tour, the first stop for which is UNCG, where the proceeds from her jazz stylings will go to benefit Greensboro Urban Ministries.

"I think it's wonderful that she's doing the concert with all the money going to charity," said Charlotte Rae.

Putting Ringwald, UNCG, and Urban Ministries together was the brainchild of Steve Haines, director of the Miles Davis Jazz Studies program at UNCG. Haines told me his goal is to sell out Aycock Auditorium and raise $25,000 for the charity.

No doubt some concert goers will show up just to get a glimpse of the former teen heart throb they remember from "Sixteen Candles", "The Breakfast Club", and "Pretty in Pink", the latter of which also starred James Spader ("The Blacklist"), Annie Potts ("Ghostbusters"), and Jon Cryer ("Two and a Half Men").


Annie Potts told me, "Molly's an amazing talent all the way around, and a wonderfully sweet person. I was struck by her maturity, and her gift at such a young age. She was wildly pulled together and focused. Just a great girl."

Added Jon Cryer, "She is also a great singer".

I spoke with Molly by phone last week, and we talked about her music, her children, and her career.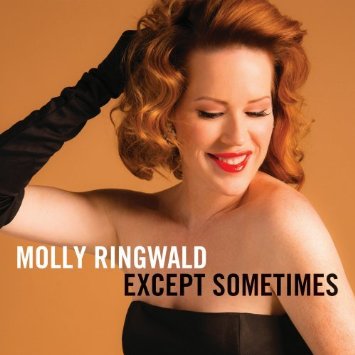 JL You have a really smooth singing style. Did you have to work hard to attain that voice, or did it just come naturally?

MR I've always been a singer, since I was very little. It was what I did before I did anything else. So it's sort of like riding a bike, you never really lose it. But the thing I worked the most on is I really wanted this album to have a very intimate sound.
So that's what I worked on most, just pulling my voice back.

JL What singer had the most influence on how this album sounds?

MR I would say Ella Fitzgerald, Billie Holiday, Sarah Vaughn, Carmen McRae, Julie London, and Anita O'Day. I listen to a lot of different singers, but I really think it's important to sound like myself.

JL Which gives you the most pleasure, singing, writing, or acting?

MR I really don't know if I can choose. It kind of goes back and forth, you know? I feel like singing is the most joyful thing I do, particularly when I'm on stage with all my musicians. It's really enjoyable. Of course, the touring aspect of it, and being away from my family, and getting up early in the morning and going through security at the airport, all that I'm not crazy about. But the actual act of singing and listening to my musicians play is truly joyful. I also really enjoy acting in a great piece, and I love having written something that I really like, so I love all these things. I don't know if I can really pick a favorite. It's like picking your favorite child.

Speaking of children, America's former teen sweetheart is now 47 years old, and the mother of three. And as if she doesn't have her hands full parenting and touring, she also agreed to pen a weekly column for The Guardian, titled "Ask Molly".

MR It's been a real window into what people think about, and what they're concerned about, and what drives people. I thought it would be useful to my writing, and to my acting in terms of character, but it's been a lot of work though.

JL Suppose you received a letter from a successful actress and singer who wanted to know if she should encourage her three kids to go into show business?

MR I get where you're going with this, and the answer is "No". I don't want my kids to go into show business, at least while they're young. I imagine it's something at least one of them will pursue, and I will support them in that journey when they're older, but right now they're just going to stay in school and do stuff that's non professional.

JL But why don't you want your children to follow in your footsteps now. I mean, you had great success in show business at an early age.

MR Well, I think it's just a hard business, and I feel like if you have talent, then that talent is going to be there when you're older. I think it makes you a more interesting artist if you just take your time. I don't want my kids to go the Disney starlet route. I was very lucky to keep my head on straight and stay focused on other interests, but I don't want to put my kids into something where statistically they might end up messed up from it. I want them to take their time and try a lot of different things before they decide they want to do that one thing.

On Friday, April 24, Molly will do one of the many things she does so well - singing in front of a live audience.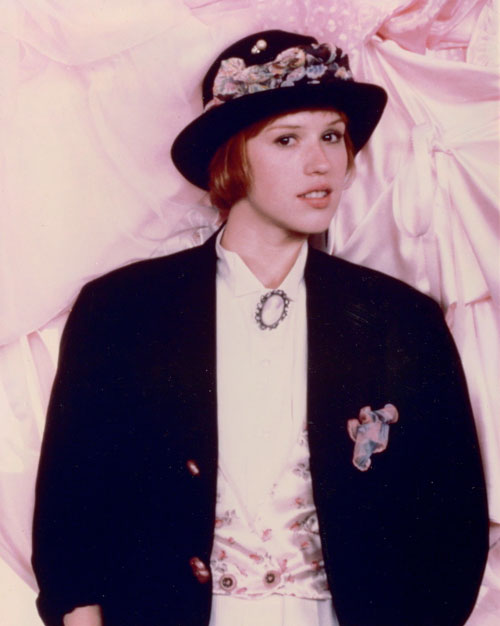 JL My wife and I went to a Tom Jones concert a few years ago, and women of all ages were still throwing undergarments at him on stage. I can't help but think about your underwear fiasco in "Sixteen Candles". Is it likely we'll see men throw unmentionables at you during your concert?

MR I don't think I've ever had underwear thrown at me (laughs). It's not exactly my demographic (laughs).

Jim Longworth is a columnist for YESWeekly.com, and author of the "TV Creators" series of books. He also serves as judge for the primetime EMMYs, and hosts a weekly TV show for Sinclair stations.

Molly Ringwald Interview