'TVparty is hands down the best site on the Web for classic TV.'
- Discovery Channel
ShoutFactoryStore
Classic TV
shows on DVD

by Cary O'Dell
Not long ago Billy was kind enough to post my look at actors turned authors. Lots of fun feedback ensued, as did many suggestions and mentions of other TV stars, past and present, who have also taken on a literary life. So, please enjoy 10 more…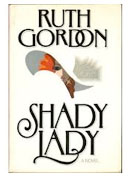 "Shady Lady" by Ruth Gordon (1982)
The one-of-a-kind Ruth Gordon always mixed acting roles with her writing career. Her oeuvre would go on to include screenplays, plays and a couple of memoirs. She was no slouch in the acting department either, winning an Oscar for her role in "Rosemary's Baby" and an Emmy for a guest spot on "Taxi" years later. She would also write one novel. Her "Shady Lady" is glitzy, fun read about a willful, fun-loving little lass Winona Lloyd who travels to New York to become a Zeigfeld girl.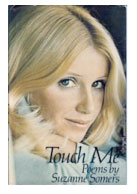 "Touch Me" by Suzanne Somers (1973)
Even before she became a house-hold name on TV's "Three's Company," actress Suzanne Somers was appearing on talk shows reading and talking about her original poetry. After she achieved fame as Chrissy Snow, the book was reissued with an updated and more glamorous portrait of its author on the cover. (Pictured here is the book's original front.) Since then, Somers has starred in the series "Step by Step" and authored a plethora of books on diet and health issues.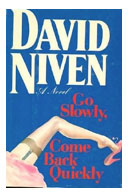 "Go Slowly, Come Back" Quickly by David Niven (1981)
An Oscar winner and an early TV host (on "Four Star Playhouse,' 1952-1956), David Niven was also a great man of letters. During his lifetime, he published two highly praised memoirs and two novels. "Go Slowly, Come Back Quickly" was his first work of fiction. This book tells the story of Stani Skolimowski who progresses from football star to RAF officer to photographer in wartime England.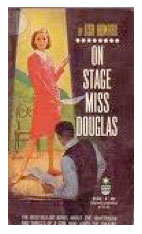 "On Stage Miss Douglas" by Lisa Howard (1960)
Though not well known today, Lisa Howard was one of TV's earliest female news reporters. After beginning her career as an actress on the New York stage and in live TV, Howard segued into broadcast journalism eventually securing a job with the Mutual Radio Network in the late 1950s. By 1960, she was working for ABC-TV News. Her career highlights included one-on-one interviews with Khrushchev and Fidel Castro. Sometime in between, Howard also found the time to write this novel, the story of a star struck girl named Ellen and her nascent career on the stage.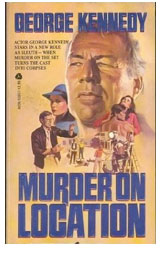 "Murder on Location" by George Kennedy (1983)
Along with winning an Oscar for "Cool Hand Luke" and starring in the popular "Airport" films, George Kennedy has consistently been seen on television including the series "Sarge" (1971-1972) and "The Blue Knight" (1975-1976). In this mystery novel, Kennedy's first book, Kennedy himself appears as a character alongside such famous names as Mariette Hartley, Yul Brynner, Dean Martin and Glenn Ford. They are the star-studded cast of the $30 million epic "The Godless," shot on location in Mexico. They also almost all become victims when it turns out someone doesn't want this movie finished! Ultimately it is us to Kennedy and his (fictional) cohort, Mike Corby, a former NYPD member turned tech advisor, to solve the crime.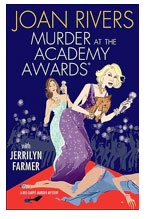 "Murder at the Academy Awards" by Joan Rivers (2009)
Joan Rivers never stops! Along with her career as a stand-up comic, talk show host, actress, jewelry designer and fashion critic, Rivers is also the author of several books including this mystery novel. Written with the aid of Jerrilyn Farmer, Joan Rivers is a central character in this story of a starlet who drops dead on the red carpet. (Was it something Joan said?) Equal parts whodunit and Hollywood send-up, Rivers obviously knows the world she is writing about. Joan's daughter, Melissa Rivers, also figures in the book's storyline.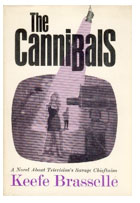 "The CanniBalS" by Keefe Brasselle (1968)
One of the most infamous books ever written about television was this novel by one-time actor and TV producer Keefe Brasselle. Brasselle began his career as a handsome attraction in various Hollywood films. He also played the lead in the film "The Eddie Cantor Story" in 1953.
A long-standing friendship with CBS-TV programming chief James Aubrey later brought Brasselle to television in both his own series ("The Keefe Brasselle Show," 1963) and in the role of producer of such programs as "The Cara Williams Show" and "The Baileys of Balboa." None of the programs were a success and Brasselle's quick accession from actor to TV producing powerhouse got many tongues wagging at the time. His relationship with the network and with Aubrey ended quickly when Aubrey lost his job with CBS in 1965. Three yeas later, Brasselle turned novelist with this thinly-veiled look inside the TV industry with the capitalization of the letters C,B, and S in the title's typography indicating exactly who Brasselle was really writing about.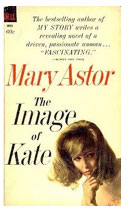 "The Image of Kate" by Mary Astor (1966)
Though best known for her film work, including "The Maltese Falcon" and her Oscar-winning turn in the film "The Great Lie," Mary Astor's career would continue well into the '50s and '60s in film and on TV with roles on "Alfred Hitchcock Presents," "Dr. Kildare," "Rawhide" and "Thriller" with Boris Karloff. Astor was also the author of several novels. This one, "The Image of Kate," was published in 1966 and tells the soapy story of a woman whose glamorous life is constantly undermined, sometimes recklessly so, by the guilt she feels regarding her mother's death.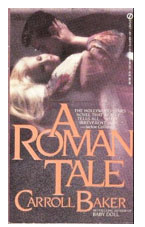 "A Roman Tale" by Carroll Baker (1987)
After publishing her well-regarded memoir, "Baby Doll," in 1983, Baker found the writing life enjoyable and rewarding. She followed up that book with 1986's "To Africa, with Love," a true-life, first person account of her adventures—in love and movie making--on the Dark Continent. In 1987, she wrote this possible roman a clef about a former Hollywood actress and her escapades in the wild world of Italian filmmaking. (Note this book's cover model's startlingly resemblance to the actress/author.)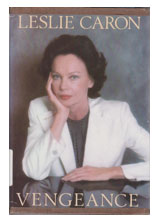 "Vengeance" by Leslie Caron (1978)
She won an Emmy a few years ago for a powerful turn on "Law & Order: SVU," but to most people, Leslie Caron will always be "Gigi." In 1978, Caron also added author to her resume with this collection of short stories. There are 12 tales here. In one story, "Curtain Call," a young ballerina comes into herself; in "Boogey Man," a marriage is awash in alcohol; and, in the title story, an illegitimate girl vows revenge against her father. In 2010, Caron returned to the page and composed her autobiography, "Thank Heaven."

And one more….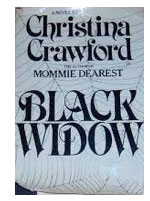 "Black Widow" by Christina Crawford (1982)
Four years after her expose of her mother Joan Crawford, "Mommie Dearest," forever altered the way we remember the great screen legend, Christina Crawford (who worked as a soap opera actress in her youth) fashioned this second book. Though fictional, it's not hard to envision Joan Crawford potentially playing the role of this novel's main character, Vivian Simpson. Simpson is the "black widow" of the title, a former prostitute turned gold-digger who, early in the book, loses her rich husband when he dies mysteriously in an accident. According to the book's inside flaps, "[Theirs is] a world where lying, deceit and treachery are a way of life; a system of antiquated laws by which children are still considered the property of their parents."
And still others actor-writers: Helen Hayes, Meg Tilly, Steve Martin, Peter Ustinov, Marlon Brando, Janet Leigh, Molly Ringwald, Craig Ferguson, Gene Hackman, Hugh Laurie, George Nader, Nichelle Nichols, Ingrid Pitt, Peter Mark Richardson, Buddy Ebsen, Jim McKrell and many who have composed children's books including Julie Andrews, Jamie Lee Curtis, Bette Midler, Jay Leno and—of course--Madonna!
---
Hit Shows of the Seventies: Hitchhiker's Guide to the Galaxy / Gene Roddenberry in the 1970s / 1977-1978 Superhero & Science Fiction TV Shows / Patrick Duffy of Dallas Interview / Best Season of Dallas Ever? / Ken Berry Interview / TV Show Book Tie-Ins / Kathy Garver Interview / Mary Kay Place Albums of the 1970s / Bruce / Caitllyn Jenner? / Bill Cosby - WTF?!? / Mary Kay Place Albums of the 1970s / That Girl & TV's Single Working Women / Star Trek Animated / Dark Shadows / Dark Shadows Movies / Dark Shadows Novels / Fred 'The Hammer' Williamson / Dawn Wells / Betty White : An Appreciation / Gavin McLeod / The Next Step Beyond / The Music Dark Shadows / 1970 TV Shows / Mike Wallace, Virginia Graham & Jim Longworth / Dick Clark / Carson Tonight Show / 1973 TV Shows / Thriller / TV Dating Shows / The Jacksons TV Show / Fall Previews of the 70s / Lance Link, Secret Chimp / Star Wars Holiday Special / Alias Smith and Jones / 1977 Year in Review / Top Ten 1970-76 / The Rockford Files / All in the Family / Sam Hall (Dark Shadows) Interview / Actor Ed Nelson / Death of Archie / Battlestar Galactica / Wonder Woman / Network Jingles / Class of '74 / Happy Days / Good Times / Mr. Bill / Dinah! / Maude / Doris Day Show / Pamelyn Ferdin Interview / The Bicentennial Minute / Jingles & Catch Phrases of the 1970s / Early Cable TV 1970s / TV commercials for Women / TV Moms / Red Skelton / George Lindsay / Country Music TV Shows of the 1960s & 1970s / Betty White Show / / Tom Bosley / Rodney Dangerfield / How Sanford & Son Ended / Sanford & Son Spin-Off Grady / Great Memoirs / Virginia Graham Show / The "N" Word on TV / 10 Classic Comedy Routines You Have To Laugh At Before You Die / Hollywood Squares / 1970's Teen Idols & The Hudson Brothers / TV Stars with 3 Hit Shows / The Rookies / Unsold Pilots / Jackie Cooper / The Good Guys / Match Game / Make Room For Granddaddy / Mannix & Gail Fisher / Bette Midler in the 1970s / Bonus 1970's Stuff: Silent Star Marion Mack / Biff Burger / 1970s Fast Food Chains / Latin Casino / Beverly Hills Supper Club Fire / 1970's Daytime Talk Shows / The Fess Parker Show / Love, Loss & What I Watched
ACTORS THAT WROTE BOOKS
Amazon Prime - unlimited streaming
of your fave TV shows and movies!
Get your FREE 30 Day Trial!