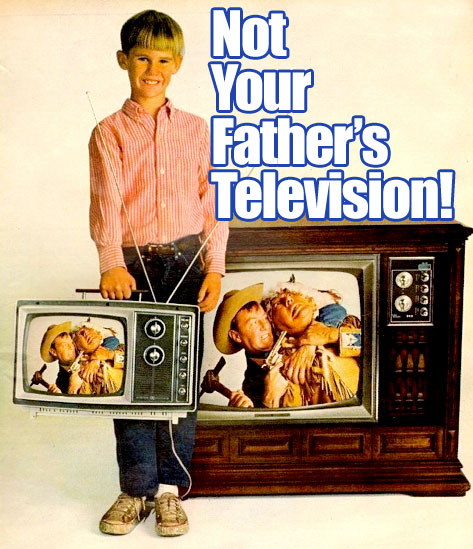 HOW THE TV YOU WATCH NOW IS DIFFERENT FROM HOW IT USED TO BE
by Cary O'Dell
Yes, some things are still the same. In comparing the TV of long ago (like, you know, the '70s!) to today indeed we still have cop shows, family-oriented sitcoms and "60 Minutes." But much has also changed about what we watch every night from the comfort of our couches.
A perusal of vintage "TV Guides," back when they were digest-sized and had color pages only at the very front and the very back, is like a tripping into a time machine, quickly calling to mind the big things, and the little things, that have slowly reinvented what we watch on TV.
So here are some of the medium's most notable changes, from a viewer's point of view….
SOMETHING CALLED "SIGN-OFF": There was a time--oh not so long ago!--when TV stations actually closed up shop in the evenings, stopping their signal with something they called "sign off." Often, in the evening, perhaps after the late news or the late, late show, they aired a video of the American flag and played an instrumental, patriotic tune to close out their broadcast day. Then everything went to black. Or turned to a test pattern, a set of color bars or maybe just electronic "snow." Unless you wanted to stay up and read a book, that signaled that it was time to go to bed. Now, however, like just about everything else in the world, television is 24 hours.
For years, NBC has been the insomniac's best friend with their weekday late night offerings that go from "The Tonight Show" through Seth Myers to, finally, Carson Daly. Back in the 1980s, the Peacock also had its news "Overnight" program that went from 1:30 to 2:30 each morning. Though at one time, MTV could actually be depended on for music videos in the late, late hours and Game Show Network reaired very vintage panel shows like "What's My Line?," today most overnight programs are infomercials (another relatively new TV innovation). In any event, at least now, in the middle of the night, you aren't completely alone.
SO MANY CHANNELS: At the risk of dating myself, I remember a time, growing up, when you only got—if you were lucky—13 TV channels. And you adjusted them via a circular dial on the front of your big box Zenith. I still remember the TV line-up from my youth in central Illinois: Channel 2 was station 44, an independent out of Chicago; Chanel 3 was an ABC affiliate out of Peoria, IL; Channel 4 was a CBS affiliate from the Quad Cities; Channels 5 and 6 were both NBC stations; Channel 7 was all text, a few constantly repeating paragraphs related to local events, weather, time and temperature; 8 was ABC again; 9 was "super station" WGN; 10 was WFLD from Chicago (a great station for reruns of "Batman" and "The Brady Bunch"); 11 and 12 were PBS and 13 was our other CBS outlet.
It sounds like a lot but it's next to nothing compared to the dozens and dozens of channels I get today…and I only have basic! (Of course, there's still nothing to watch, but I digress….)
The advent (i.e. explosion) of cable channels has not only severely perverted our understanding of "early" television—"Yes, Virginia, there was a time when people only had a handful of channels"--it has also forever changed broadcast programming and economics as well. Used to be networks could be a little more patient with failing series.
A case in point: the 1966-67 series "The Girl from UNCLE" was one of the lowest rated series of that season. But, at the time, NBC could afford to stay with it and broadcast a full season of 29 episodes. Today, "Girl" would be gone much, much faster, probably a matter of weeks. Increasingly, the networks (and cable outlets) are showing a willingness to yank shows after just one or two poor showings as last season's "Do No Harm" on NBC and ABC's "Zero Hour" proved.
The greater patience that the networks had with "failing" series years ago also changes how well-watched (and remembered) those programs of bygone eras were. With fewer channel options and longer lifespans of shows, even lower-rated programs could be seen by millions of viewers before they disappeared for good. The lament of "Oh, that show only lasted year" therefore means something much different today than it did in previous decades and no doubt goes to explain why some single-season programs like "The Prisoner" or "Honey West" are so much better remembered that some of TV's more recent one-year wonders.
The advent of additional channels has also played havoc with ratings and the definition of what makes a "hit" a "hit." In 1998, during the final season of "Seinfeld," "Time" magazine crunched Jerry's numbers and determined that primetime's then biggest hit (averaging about 20 million viewers a week) would have barely made the top 30 some 30 years before when viewing choices were fewer and most households had only one TV. In fact, "Seinfeld" was getting about the same numbers as such middling shows as "Rat Patrol" were getting in 1966!
Of course, 1998 was well over a decade ago and in today's ratings climate 20 million viewers is today practically unheard of unless you're the Oscars or the Super Bowl. Today, 10 million viewers is enough to get you in the top 10!
I think—and fear—that with the continuing proliferation of even more cable channels and other viewing options, we will no doubt eventually reach a break even point at which time no program or channel or network will be able to consistently stay in the black due to ever dwindling audience sizes. Economically speaking, the sky may indeed be falling. Well, at least we've got plenty to watch until it does.
NEWS BREAKS: Sometimes, in the olden days, between sitcoms or dramas, in PRIMETIME, a real-life newscaster reporting from a real-life TV newsroom would come on the air and give viewers a quick rundown of the day's biggest events. These little snippets were called "news breaks" and every network had them. Often they were hosted by bona fide broadcast journalists like Roger Mudd, Connie Chung, Marlene Sanders and Dan Rather. But, like rotary telephones and typewriters, these things just don't exist anymore.
The networks will still break in to primetime programming for important breaking events (an impromptu presidential speech, the picking of a new pope, etc.) but keeping the masses informed today has taken a backseat to keeping them entertained and, today, network shows just flow from one right into another, the better to ward of the urge to switch channels.
Ironically, news in primetime has dried up due to the supposed constant availability of it on cable on channels like CNN. But, most cable news nets now devote their primetime hours to talk shows and documentaries. If you want to know what's going in the world, better just look at your iPad.
What "news breaks" (of sorts) do exist now are usually local in origin and more promotional than informational in nature. Often they are even a bit exploitative with local anchors imploring you to watch with such sensational teases as "Why your commute could the three times longer in the morning!" or "What's in your home that might be killing you right now! Watch at 11!"
WHERE DID THE OTHER GENRES GO?: Competitive reality television ("Survivor," "The Amazing Race," etc.) is such a frequent sight on primetime today that it's hard to remember a time when they weren't everywhere. But, believe it or not kids, there was a time before "The Bachelor."
But if the genre known loosely as "reality" is new, its emergence has only arrived at the expense of some other types of TV. For example, the Western, the variety show, the anthology. All of these, once so dominant, are now gone.
Granted, shows like "American Idol" and "The Voice" keep the spirit of the variety show alive but have tweaked it for modern tastes by introducing a competitive element as well as viewer interactivity. And programs like "The Love Boat," "Fantasy Island" and "Hotel" did their best back in the day to keep the spirit of the anthology alive simply by creating the consistency of a place and setting up a continuing cast of ongoing characters to surround the weekly changing stories and performers. Meanwhile, attempts to revive the Western have been successful only in a qualified sense, on cable, to middling ratings. And traditional primetime talk has also been banished with NBC's attempt to put Jay Leno in primetime a few years ago certainly doing nothing to bring it back.
Other relics: music shows. Once helmed by the likes of Perry Como and Dinah Shore, these programs have vanished and been replaced—at best, sorta--with series like "Austin City Limits." And made-for-TV movies, by and large, are absent from the networks now too. Once an acclaimed genre that brought to the screen such works as "Brian's Song" and "The Day After", films for TV can only now be found on HBO, Hallmark, Lifetime and a few other cable stations. Thankfully, often these films are quite well done if you don't count the yearly spat of interchangeable, sentimental holiday films that come at us every December. Sad to say, though, with the networks now taking a pass on almost all original one-offs, one wonders if a mini-series as powerful and as important as "Roots" or "The Thorn Birds" would ever see the light of day today.
Another genre currently missing from TV is evident only upon a careful look. The "Donahue"-type daytime talk show, which allowed audience members to ask questions of guests on political and social topics are now quite out of vogue. Though shows that look like "Donahue," including everything from "Maury" to "Jerry Springer," are still all over the airwaves, audience interaction (in terms of political discourse and actually asking questions) is minimal to non-existence and topics pertinent to anyone except those on stage (where DNA and lie detector tests as well as twisted love affairs take precedence) are few and far between. If "Dr. Phil" was one of the last hold-outs in regard to dealing with subject matter that actually matters to someone, he is quickly moving towards greater exploitative fare thanks to a current preoccupation with long-simmering family feuds, custody battles and internet revenge stories.
Of course, anything can happen. Quiz shows—from "The $64,000 Question" to "Twenty-One"—were once huge, long-lasting hits. Then they died out like the dinosaurs. But that was before ABC took a chance on Regis Philbin and "Who Wants to Be a Millionaire?" Its success led to a host of imitators and at least one true mega hit, "Deal or No Deal." But both these shows's popularity eventually waned due to oversaturation. And, once again, today, quiz shows are largely gone from primetime. For the time being at least, they are best left to cable or syndication.
Additionally, the primetime soap might be making a comeback. The relaunch of "Dallas" has done well and numerous other shows, even if they don't call themselves a "soap," certainly have soap tendencies. After all, how else would you categorize "Downton Abbey"?
ACTUAL PROGRAMMING ON FRIDAY AND SATURDAY NIGHTS: In the early 1970s, Saturday night was powerhouse night of programming, especially for CBS with its weekly run of appointment television which included "Mary Tyler Moore," "Bob Newhart," "All in the Family" and "The Carol Burnett Show." By the late 1970s and early 1980s, dominance shifted to ABC who had a powerful one-two punch with the anthology-like "Love Boat" and "Fantasy Island." In the late 1980s and early '90s, NBC owned the night thanks to those ladies from Miami, "The Golden Girls." A little later, "Dr. Quinn" and (yes) Chuck Norris as "Walker, Texas Ranger" helped keep Saturdays afloat back on CBS.
Then something went wonky. Saturday night viewership dried up. Today, it's such a wasteland that the four big networks don't hardly bother to program Saturday night at all. They fill their schedule up with reruns of show that aired earlier in the week or with the running of theatrical movies that have already been on cable and seen in other outlets umpteenth times. Except for CBS's stalwart "48 Hours: Real Life Mysteries," there's seldom anything original airing on the last night of the week. Even attempts to find niche audiences—for example, NBC programmed a block of sci-fi show on Saturday evenings in the late 1990s—has not been enough to stem the tide.
The arrival of home video supposedly caused some of the shift. When VHS rentals began, via Blockbuster or various Mom and Pop Shops around the country, Saturday evening became the most popular night to bring home the latest releases. And Saturday night TV has never recovered.
Increasingly, Friday night as well (once the night of such giants hits as "Dallas," "Miami Vice" and ABC's successful comedy block) has begun to sag as well. The remarkable success of ABC's "Shark Tank" however has shown that there is still some life, and more than a few viewers, available at the end of the work week. We will of course have to stay tuned to see if Friday can be revived or if it too will become a desert.
FIRST-RUN SYNDICATED DRAMAS AND COMEDIES: The end of "Baywatch" may have signaled more than just the end of David Hasselhoff's acting career. Even back in the 1950s, the big three networks of ABC, CBS and NBC were not the only games in town. Active from nearly the beginning of TV were highly successful series that bypassed the major networks for airing on independent stations. Throughout the years these shows ranged from shows like "Annie Oakley" and "The Adventures of Superman" to "Charles in Charge", "Small Wonder," "Mama's Family," and "Hercules" and "Xena." But, now, the days of "Baywatch" and the various, latter day "Star Trek" incarnations have all come to an end. And though talk shows and game shows can still be found in syndication among stations coast-to-coast, nothing dramatic or comedic in form is—from what I can find—in production or currently running. What has doomed them? Changing tastes? Or are these shows instead finding a home instead on various cable outlets? Maybe it's decreased revenue against high production costs? The answer isn't clear. But what is for certain is that for this tide to turn it might take a franchise as iconic as "Star Trek" to make it happen…if it ever happens again at all.