Jackie Cooper
by Kevin Butler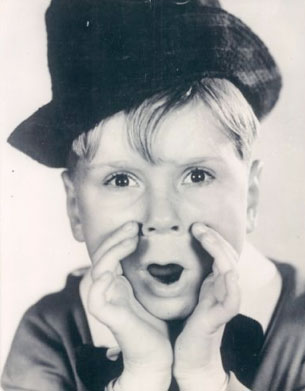 Born John Cooper, Jr. in Los Angeles on September 15, 1921 he was the son of vaudeville musicians. His father was a former vaudeville pianist and songwriter who left show biz to run a music store but he walked out on his wife and son when Jackie was still an infant. For a time Jackie was told that his father had died but, many years later, he found out to his outrage that his former dad was getting $100 a week from his mother. That was a tremendous amount of money in the 1930s, money that came from the salary he earned as a movie actor.
When his mother became destitute she left her son in the care of his grandmother. When the pair began developing financial problems Cooper and his grandma went to the movie studios to try and find work as extras in films. It was during a visit to Hal Roach's studio in Culver City, Cal. in 1931 that the veteran movie producer was impressed with the boy's natural charm and personality.
Cooper auditioned for Mr. Roach and he became a member of The Our Gang / Little Rascals film comedies appearing in the series from 1929 to 1931.
He would leave Roach and Our Gang to work at MGM appearing in such films as "Skippy", "Treasure Island" and "The Champ".
Despite his working at a prestigious movie studio Cooper hated the experience, he didn't get a proper education due to his receiving the inferior schooling from studio tutors, he also felt that he lacked any real talent as an actor. And he hated working with one obnoxious character actor Wallace Beery.
Beery hated kids and he disliked the idea of Cooper upstaging him. Beery had no kindness or affection for a child and as soon as he finished a scene with Jackie he pushed him away. Cooper did everything that he could to request not having to work with Mr. Beery again but the studio execs and the directors forced him; he had no choice but to perform with him.
He was also prohibited from skating or playing sports as a means of preventing any physical injuries and he was seriously traumatized by one incident that he recalled in his memoirs "Please Don't Shoot My Dog!" When he had trouble crying for an important scene in a movie for his uncle movie director Norman Taurog. Taurog had an assistant take Cooper's dog backstage and he had another assistant shoot blanks into the air giving the impression that the poor animal had been killed. Unfortunately the ploy backfired as Cooper became so upset that he cried uncontrollably. It took some convincing that the dog had not been killed and he was able to play the scene properly.
When he turned 14 Louis B. Mayer saw that Cooper's bland performances were no longer an asset to the studio and dropped his contract.
For a time the teenage actor worked in some forgettable B movies for other studios. He also served in the US Navy during WWII as a drummer, performing with former bandleader Claude Thornehill.
After his stint in the military Cooper returned to the States where he had hoped that he could get better roles in films but was again forced to appear in lousy B pictures.
Seeing that his career was going nowhere Jackie Cooper left Hollywood and moved to NYC in 1948 where he had to learn his craft. He made his Broadway debut in the play "Magnolia Alley" and he got great reviews from the critics. He also took on the role of Ensign Frank Pulver in the road company of "Mr .Roberts" and he reprised the role in the British production.
Cooper also performed in live TV dramas for "Kraft TV Theater", "Philco TV Playhouse" and "The US Steel Hour".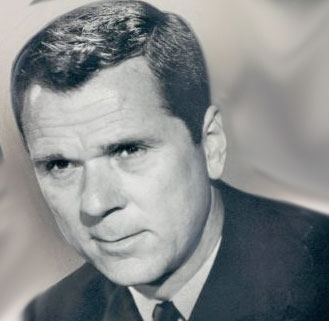 Eventually, he returned to Southern California where he began performing on many TV series playing character parts and he starred on his own shows "The People's Choice" as civil servant Socrates Sock Miller and"Hennesey" where he played a US Naval Dentist.
Cooper also found the time to become a race car driver and served as a studio exec for Screen Gems where he helped to develop TV series such as "Gidget" and "The Flying Nun" (with actress Sally Field) and "I Dream Of Jeannie" (with actress and singer Barbara Eden). He also tried to create a TV version of"The Little Rascals" but nothing came of the project.
After his stint with Screen Gems Cooper made very few TV appearances. He played a bumbling ex-bank robber on an installment of the TV movie western series "Hec Ramsey" with Dick Boone and Harry Morgan and he was the emcee of the summer series "Dean Martin's Comedy World".
He also made a guest appearance on the first episode of the 1974 syndicated version of "Masquerade Party" (a TV game show where celebrity panelists Lee Meriwether, Nipsey Russell and Bill Bixby had to reveal the identities of well known performers and personalities hiding under bizarre make up and costumes. Cooper appeared on the show dressed as a pirate. And he starred on the TV crime drama "Mobile One" as a news producer.
He left TV acting for a new career as a director, he helmed such series as "M*A*S*H" and the pilot episode of "The White Shadow" starring Ken Howard.
Cooper also directed the CBS TV Movie drama "Leave Em' Laughing" based upon the true story of former circus clown turned kid's birthday party clown Jack ("Tom") Thumb who was trying to raise a large family of orphan kids with his wife while coming to terms with his impending death from lung cancer. The film reunited Cooper with his fellow child performer from MGM Mickey Rooney. The film also starred Anne Jackson, William Windom and Red Buttons.
Cooper did return to acting in the movies during the late 1970's he was asked to replace character actor Keenan Wynn in the role of Daily Planet Editor Perry White for the first "Superman" movie. He flew out to The Sheppardton Studios in England and gave a memorable performance as the tough, no nonsense editor. Cooper's performance in the first "Superman" film was so well received that he appeared in the three sequels. Jackie Cooper more or less retired from the movies and TV after that.
His last TV appearances were on an installment of the Show Biz news magazine "Entertainment Tonight" which looked back at the lives and careers of "The Little Rascals". He also appeared with former Little Rascal Spanky McFarland at the Oscars as the pair gave their former boss, Mr. Hal Roach his Oscar for a lifetime of achievement in producing, directing and creating classic film comedies.
And he was interviewed for two TV documentaries, one that talked about the problems of being a former kid actor. The documentary was produced by Melissa Gilbert and Tony Dow.
Jackie Cooper's very last TV appearance was on the tribute to Superman "Look! Up In The Sky! The Amazing Story Of Superman" which was narrated by Kevin Space (at the time Space was appearing in the film "Superman Returns" playing the caped superhero's arch foe Lex Luthor).
Jackie Cooper also found the time to write his memoirs and spend time with his family.