HOW (and Why)
SANFORD & SON ENDED
SANFORD ARMS / / by Billy Ingram
Sanford & Son was a ratings powerhouse driving NBC's phenomenal success in primetime during the mid-1970s. Back in 1977 Redd Foxx left one of the hottest shows in television - NBC's Sanford & Son - to star in his own one hour variety series on another network, ABC.
Redd's variety show only lasted thirteen weeks in spite of being one of the funniest and freshest shows on the air at the time. Over at NBC they decided, naturally, to keep the Sanford & Son franchise going sans Foxx.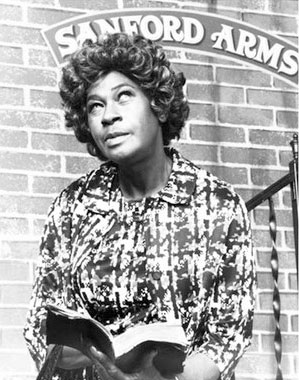 They had set up the premise during the penultimate season of Sanford & Son when Fred opened a boarding house in Julio's house next door, calling it the Sanford Arms. Janet Culp (The Beverly Hillbillies) could be seen occasionally that season as a stuffy tenant.
Sanford Arms became the name for the new series two years later. Demond Wilson (Lamont) reportedly wanted too much money to return so he was out. Instead the focus was on a widower (Theodore Wilson) with two kids who move into Fred's decrepit old place in order to run the hotel / boarding house next door. His cute, preppy girlfriend lived nearby so she dropped in a lot like Grady used to.
All of this made Sanford Arms the exact opposite of Sanford & Son, a bland, family-friendly sitcom steeped in 1970's traditional.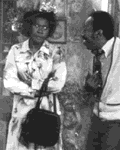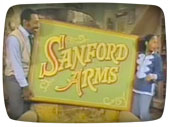 Aunt Ester, Grady and Bubba were back to lend an air of familiarity - which is weird because Don 'Bubba' Bexley, a comic who came up in the chitlin' circuit with Redd Foxx, wasn't used much on Sanford & Son after the first season, mostly Grady took his place as Fred's chief flunky.
Sanford Arms bombed big time and was cancelled after four episodes wjile eight were filmed. (The only good part of the clip above comes after minute 7.)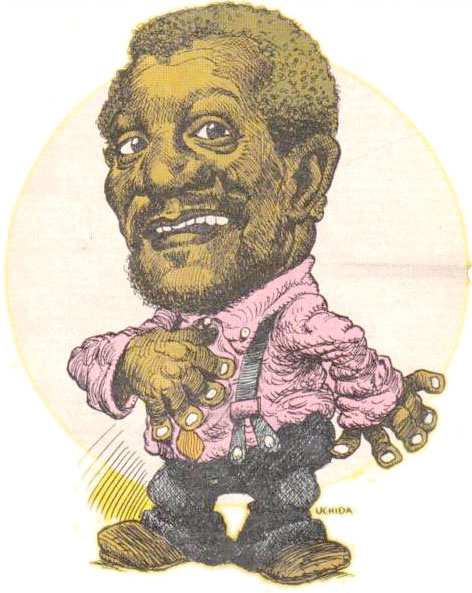 NBC and Redd Foxx kissed and made up and attempted to resurrect Sanford & Son in March of 1980 - both parties were desperate for the kind of massive success they had together just a few years earlier; NBC's ratings were in the same toilet as Redd's career.
Demond Wilson wouldn't play ball so the network, in their infinite wisdom, teamed Fred with a white redneck instead. Inexplicably, Fred Sanford also aquired a rich girlfriend. Other than Rollo and officers Smitty and Hoppy, the supporting cast from the original series - including Aunt Ester - were nowhere to be seen.
The first episode of Sanford did attract the big numbers the network was hoping for but the revised format and unfunny jokes were a big turn off. NBC yanked the show in the fall but wasn't ready to give up - after all, the initial ratings proved the public still wanted to like the show.
The peacock network switched things up when the show returned as a mid-season replacement in 1981. For one thing Sanford was moved to Friday nights where Sanford & Son dominated the ratings just five years earlier. Aunt Ester, Grady, and Hoppy & Smitty all made guest appearances. The scripts were overall funnier but the show was dropped after just four outings, returning in the summer of 1981 to burn off episodes already shot.
It's funny, NBC was the first network to ban the 'N' word back in the radio days and the first to bring it back by allowing its use several times on Sanford & Son. If I'm not mistaken, below (airing January 4, 1974) was the first time the 'N' word was used on the series. I remember almost falling off my chair when it first aired. The word was rarely ever used on TV, maybe in a drama where the rascist user would be punished by the end of the story.
Scenes like this are clipped from the syndication prints - okay for 1974 but not for 2022.
---
Was there anything funnier than Redd's battles with 'Aunt Ester' aka LaWanda Page? Not for me. The funniest episode at all for me was the one where Fred introduces his bride to be to his family. Recognize the fellow playing Reverend Trimble? It's Alvin Childress who played Amos on Amos 'n' Andy - he had something of a comeback in the 1970s playing small roles in movies and on sitcoms like Good Times and The Jeffersons.
LaWanda Page was a nightclub comic with a decidedly blue act, here's a bit from one of her raunchy 'party' albums - this is not safe for work!!!
See also: Sanford & Son Spin-Off Grady
See also: Redd Foxx Comedy Hour
See also: Death of Redd Foxx