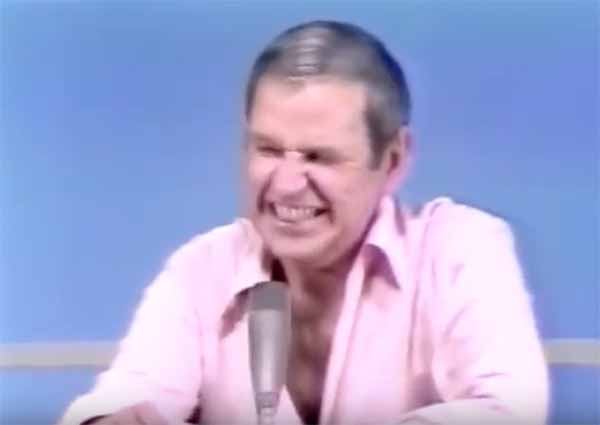 Paul Lynde's Greatest
Hollywood Squares Zingers
Paul Lynde didn't start out being the center square on Hollywood Squares but after inhabiting that spot for the first time in 1968 he owned it, ensuring that contestants would call on him at least once in nearly every round.
He always had the wittiest zingers when asked the most innocuous questions, although most of the joke answers were written for him, he was never given the actual correct answer.
Lynde wasn't the only funny celebrity on this daytime and nighttime game show. Rose Marie, Charlie Weaver, Wally Cox, and Buddy Hackett were also hilarious on the program.
With his over the top acting style, Paul Lynde (1926-1982) was well known for his role as Uncle Arthur on Bewitched, making his debut appearance on the first-season episode "Driving Is the Only Way to Fly." Oddly enough, 1970s audiences had no idea this big queen was gay. It just wasn't something that occurred to most people back then.
"Comedy is exaggerated realism," Lynde was quoted as saying. "It can be stretched to the almost ludicrous, but it must always be believable."
Mel Brooks once described Lynde as a character who could illicit laughs by reading, "a phone book, tornado alert, or seed catalogue." In 1976, Lynde received an 'Entertainer of the Year' Emmy award.
Paul Lynde appeared on Hollywood Squares from 1966 until 1981 when he was dropped for being too difficult and disruptive (very often drunk) on the set. He was a regular guest star on the weekly variety hour Donny & Marie on ABC from 1976 until 1978 when he was fired for an alcohol-related arrest in Utah, where the show was filmed.
"If I'm not working," the comedian confessed. "I don't know what to do."
Besides TV, Paul Lynde had success on Broadway and in motion pictures playing Harry MacAfee, the frazzled father in Bye Bye Birdie. He had two failed primetime television sitcoms on ABC in the seventies, The Paul Lynde Show and The New Temperature's Rising.
Although it had its moments, The Paul Lynde Show was a bad vehicle for the comic, he just wasn't right to play a typical suburban dad. It was basically Uncle Arthur with a wife and daughter and no magic, just a son in law and job he despised.
Lynde also turned up as a popular cartoon voice artist for Hanna-Barbera in the 1970s - he was Sylvester Sneekly / The Hooded Claw in The Perils of Penelope Pitstop, Templeton the gluttonous rat in Charlotte's Web, Mildew Wolf from It's the Wolf (a segment on Saturday morning's Cattanooga Cats), and neighbor Claude Pertwee on Where's Huddles?, a syndicated animated sitcom meant to be another Flintstones.
But Hollywood Squares is where he shined the brightest with quips like these:
Peter Marshall: In the Bible, who was found in a basket among the bulrushes?
Paul Lynde: Colonel Sanders.
Peter Marshall: Now listen carefully, Paul… during the time of the hula hoop, the yo-yo, and Davy Crockett hats, who was in the White House?
Paul Lynde: I'll say the yo-yo!
Peter Marshall: In a survey of teenage mothers, most of them said they were listening to this when they got pregnant. What is it?
Paul Lynde: A pack of lies.
Peter Marshall: Paul, any good sailor knows that when a man falls off a ship you yell 'Man overboard!' What should you shout if a woman falls overboard?
Paul Lynde: Full speed ahead!