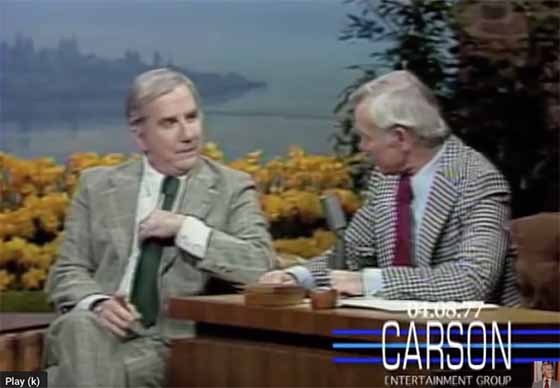 Ed McMahon Drunk on the Air?
Ed McMahon was the ultimate second banana who was known for enjoying more than a nip of booze, he was the butt of drunk jokes in the same way Dean Martin was. Both were heavy drinkers although Dean's public narrative was that he didn't really drink all that much, patently untrue by the way.
In this clip from 1977, Ed McMahon appears to be tipsy while bantering with Johnny Carson on the Tonight show. As soon as Johnny realizes Ed's condition, he turns it into a very funny bit.
Sadly, Ed McMahon's end of life was not a good one.
In 2008, The Hollywood Reporter stated, "Late TV legend Johnny Carson's former Tonight Show sidekick Ed McMahon's financial problems are down to his boozing, according to his longtime manager. The comedian is facing foreclosure on his multimillion-dollar Beverly Hills mansion after he fell behind with his mortgage repayments." That home was taken from him.
When you consider how much money McMahon made in Las Vegas, almost 30 years on Tonight, hosting Star Search for 12 seasons, and the dozens of TV and radio commercials (Budweiser and Publisher's Clearing House being the biggest) it's shocking that he could have possibly run out of cash! McMahon's first two marriages ended in divorce, so that was a major factor.
Apparently, before McMahon finally got sober in 1998, he neglected his financial matters while living in an alcoholic stupor. According to his former manager, "He wasn't paying attention and probably got some bad advice." Ed McMahon died in 2009 after five months hospitalization.
"Ed has been a rock for 30 years, sitting over here next to me. . . . We have been friends for 34 years. A lot of people who work together on television don't necessarily like each other. This hasn't been true. . . . We're good friends; you can't fake that on television." - Johnny Carson