by Cary O'Dell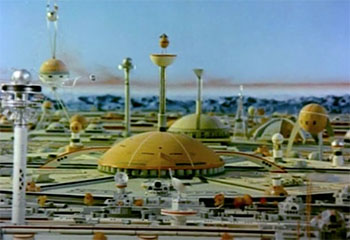 Even for the most hardcore TV science fiction watcher, there's nothing quite like "Star Maidens."
For the uninitiated, "Star Maidens" was a 13-part, German-British co-production originally aired over the UK's ITV network in 1976. Later, it (barely) came to the US airing in TV markets in Pennsylvania, New Jersey, Missouri, Arizona, Michigan and Ohio in 1977.
It must be seen to be believed.
After the off-network success of "Star Trek," TV sci-fi seemed like a frontier worth exploring again. "Space: 1999" broke out in 1976 and "Star Maidens" arrived on hot on its heels.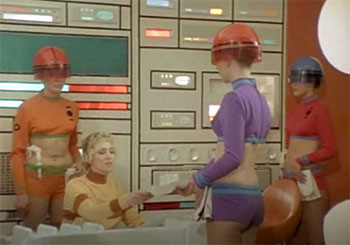 "Maidens" is set on a female-dominated planet named Medusa. On Medusa, is it not that men don't exist, it's just that they don't matter. On Medusa, the men are enslaved and women hold all the economic and political power.
In sci-fi parlance, planets or cultures where the traditional gender power structure is fully reversed is nothing new—they can be found in the old movie serials and up through episodes of "Star Trek" and "Buck Rogers" and all over Saturday morning sci-fi cartoons. But, as John Kenneth Muir has pointed out in his erudite sci-fi blog, too often these gender-switch plots simply ape the norm: women now oppress the men the way men have, historically, oppressed the women with no thought as to what an actual long-running, long-standing matriarchy might be like.
"Maidens" though, since they have more than one episode to explore the concept, does do a slightly better job of constructing a female-run society and what exactly that might look like. For example, we are told that the Medusans abhor violence. They do not kill their enemies (men) but, instead, banish them, often to the desolate surface of their planet. And their weapon of choice is the "paragon," a gun that isn't really a gun as it does not kill but simply immobilizes.
This is not to say, however, that certain gender trappings don't exist: the Medusan women seem rather preoccupied with physical adornment, spouting embellished make-up and the most elaborate of hairdos. Additionally—for some reason--the phalanx of female guards for the planet sport, as a uniform, hot pants, bare midriffs and white go-go boots. (Plunging necklines, however, are usually reserved for the male slaves.)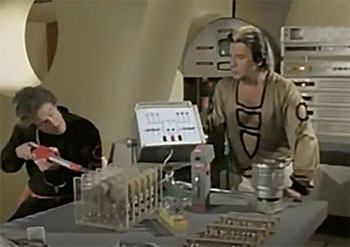 "Star Maidens" begins when two male slaves—one named Shem (Gareth Thomas) and the other with the biblically-weighted name Adam (Pierre Brice)--manage to escape from Medusa (via a high-jacked "space yacht") and high tail it to a little planet called…Earth.
After the former slaves crash land in what appears to be the European countryside, Shem and Adam try to fit in and understand the life of earth beings. But they do they eat grass like the nearby cows do? And are they to recoil or bow down at the sight of any woman like they had on their home planet?
More or less welcoming them to Earth are a group of English scientists who followed their ship as it hurled toward the planet and who seem remarkably unimpressed by this sudden, solid proof of extraterrestrial life. They find the men and seem anxious to make friends.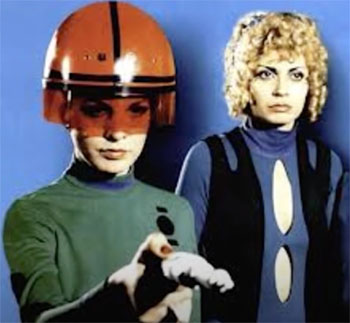 But!...But, back up in space, no sooner have the two men become Earth-bound than Adam's owner/mistress, Fulvia (Judy Geeson), decides to bring them back! She enlists the help of Medusa's hardcore head of security, Octavia (Christiane Kruger). (Yes, these are the names.) The two Medusians then board their own ship and take off after the escapees.
On Earth, the guys go on the run and, after the women land, the Medusians demand that the local (male) authorities help them reclaim their "property."
Throughout these early episodes (and the rest of the series, in fact) there are various comic elements as Adam and Shem try to navigate their newfound freedom and Fulvia and Octavia (especially Octavia) grow tired of not being obeyed by all the male Earth/British blokes!
Meanwhile, two Earth scientists (Liz, played by Lisa Harrow, and Rudi Schmidt, played by Christian Quadflieg) infiltrate Fulvia and Octavia's space ship…with disastrous results. They are soon spirited back to Medusa where Liz is expected to be indoctrinated into the Medusian way of life and Rudi is demoted to servant!
Two concurrent storylines then unfold on "Maidens": one with Adam and Shem on Earth, trying to escape capture and, the other, on Medusa, with Liz and Rudi attempting to escape Medusa and return to Earth.
Yes, that old story.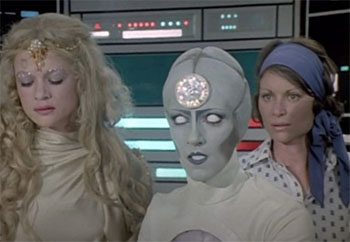 In regard to "Star Maidens," if the fanciful names and wild storyline doesn't get you, then the out-there aesthetic of the series will. Along with the elaborate coifs and costumes, the "look" of Medusa is futuristic but only in 1970s sort of way with lots of over-the-top day-glo colors and more plastic than The Container Store.
Additionally, the intergalactic "technology" of the Medusians (not to mention those of the Earth scientists) has not aged well compared to even the most rudimentary real-life pocket tech of the 2020s.
But you can't blame the producers; they were doing the best they could predicting the future with a highly limited budget and, truth be told, some of their matte-painted FX and model use does hold up well, or at least well enough in a nostalgic sort of way. (By the way, the interior of the Medusan city looks not unlike a shopping mall which, in and of itself, recalls the cities of the feature film "Logan's Run." Interesting that mass commerce was what the future seemed to look like to everyone in the 1970s.)
Additionally, for all its camp, "Maidens" succeeds in some places. Though the two core storylines (the dual escape attempts) arc over all 13 installments, each episode is able to stand on its own; viewers are not excluded from the series if they happen to join in "in progress." Furthermore, the series, in its way, does dare to approach larger issues, not just gender issues but also the topic of acid rain in one episode and, to the Medusans, the preposterous idea of using region as any reason for taking a life. As one poster wrote about the series in an online fansite: "'Star Maidens' is definitely addressing larger issues, "even if it is only at a coded level (in much the same way 'The Avengers' in the '60s often played…."
Finally, despite a few histrionic moments, the cast seems well suited and game for all the goings on. Christiane Kruger as the determined Octavia is a special stand-out. A few episodes into the series, actress Dawn Addams appears as a supreme leader of Medusans. Her name? Clara.
Overseas, "Star Maidens" was successful enough to inspire a cult following and even a rash of product tie-ins, like paperback novels. In the US, due to its limited distribution, the "Maidens" just never seemed to have made an impact. Today, however, the entire series can be obtained on DVD or on Youtube.
Despite some vague "adult themes," "Star Maidens" is probably best suited for a not-so-scrutinizing audience of kids, or a truly dedicated sci-fi fan willing to suspend more than a little disbelief. Or, it's good for late-night viewing with your friends, perhaps abated by certain non-fictional, Earthly libations.
So, in the end, what is "Star Maidens"? Is it good sci-fi? It is satire and camp? Can it be both? Whatever it is, it is a lot of fun.
Hit Shows of the Seventies: Hitchhiker's Guide to the Galaxy / Gene Roddenberry in the 1970s / 1977-1978 Superhero & Science Fiction TV Shows / Funniest SNL Skit Ever! / Prisoner: Cell Block H / Why John Amos Left Good Times / Reviving Match Game / How Betty White's 'Happy Hommaker' Came About / TV Dads Talk Sex & Fatherhood / Angie Dickinson Blows Off This Is Your Life / Rare Audio of Bette Davis' Broadway Bound Flop 'Miss Moffat' / Orson Welles' Last Interview / Remembering Ed Asner / Bruce Vilanch on Writing for Donny & Marie / Writing For Fernwood 2 Night / Kris Kristofferson vs Barbra Streisand on A Star Is Born? Kinda... / Remembering Gavin MacLeod / Cher Reviews Her Iconic Outfits Since 1965 / Best Columbo Episodes / Star Maidens Sci-Fi Series / Interview with Cindy Williams (Lavern & Shirley) / One of the Most Controversial Episodes of All In The Family / Outside Chance / Norman Mailer & Muhammad Ali / Charles Nelson Reilly Flops on Broadway / Chuck Norris vs Eva Gabor / Dear Detective / Dirty Sally / The Protectors / Chevy Chase Talks Hollywood Cocaine Parties / 1977 Season Show Openings / Love Boat's Oscar Winning Guest Stars / Henry Fonda's 4 Favorite Films / Tom Snyder Interviews Star Trek Cast & Harlan Ellison / Tim Conway's 'The Dentist' Sketch / Henry Winkler on His Happy Days Audition / Patrick Duffy of Dallas Interview / Time Express / Wonder Woman Leaves Paradise Island / 1972-73 TV Season / George Burns on the Carson Tonight Show in 1989 / Best Season of Dallas Ever? / Cloris Leachman Remembered / Ken Berry Interview / Why Barney Miller Ended / Vivian Vance Almost Joined the Cast of Rhoda / Marilu Henner Talks About Andy Kaufman / Cher on Mike Douglas 1979 / TV Show Book Tie-Ins / 1972 Jackie Robinson Interview / Dr. Strange 1978 TV Movie / Kathy Garver Interview / Space: 1999 / Paint Along with Nancy Kominsky / Mary Kay Place Albums of the 1970s / The Supremes - Mary Wilson vs Diana Ross / When Bruce Dern Killed John Wayne / 1974 Tom Snyder Our Gang Special / Remembering Ken Berry / Bruce / Caitllyn Jenner? / Billy Crash Craddock Interview / Melissa McCarthy Almost Quit Acting Days Before Landing Gilmore Girls / Bar Rescue's Wildest Customers! / Alex Baldwin On His TV and Film Roles / Ray Charles' BIG Problem With TV / Top Ten Sitcoms of the 1970s / James Cameron Made No Money for Titanic / Ed McMahon Drunk on the Air! / Lucy Interviewed by Barbara Walters / Valerie Harper Cancer / Jeff Bridges Breaks Down His Iconic Roles / Dallas vs Eight is Enough / 1974 MAD Magazine TV Special - Never Aired! / When Lucy Got Fired / Partridge Family and Brady Bunch at Kings Island theme park 1972-73 / Awkward Talk Show Moments / Allan Blye Interview / Jack Benny's Last Tonight Show 1974 / Patricia Heaton's Audition for Everybody Loves Raymond / Ed Asner Interview / Norm Macdonald vs OJ Simpson / Tony Kornheiser Interview / Freddy's Nightmares TV Series / Emmy Award Multiple Winners / Nathaniel Taylor aka Rollo Lawson / Mary Kay Place Albums of the 1970s / That Girl & TV's Single Working Women / Can You Identify These Stars? / Betty White vs Joan Rivers / Paul Lynde's Greatest Hollywood Squares Zingers / Sonny Comedy Revue / Star Trek Animated / Dark Shadows / Hal Linden Interview / Dark Shadows Movies / Dark Shadows Novels / The Night Stalker / One of the Funniest Carol Burnett Show Skits Ever / Fred 'The Hammer' Williamson / Johnny Carson interviews Lucille Ball / Dawn Wells / Betty White : An Appreciation / Bette Davis' 2 Best Interviews 1971 / Barbara Eden Interview / Gavin McLeod / Spider-Man 77 / The Next Step Beyond / The Music Dark Shadows / 1970 TV Shows / Mike Connors Remembered / Mike Wallace, Virginia Graham & Jim Longworth / Dick Clark / Woody Allen Hosts Tonight Show 1971 / Carson Tonight Show / Alan Alda Interview / Jackie Gleason Show / 1973 TV Shows / Thriller / Post Modern Sitcoms / Elvis in Greensboro / Remembering Dick Van Patten / TV Dating Shows / The Jacksons TV Show / Fall Previews of the 70s / Lance Link, Secret Chimp / Star Wars Holiday Special / Alias Smith and Jones / 1977 Year in Review / Top Ten 1970-76 / The Rockford Files / All in the Family / Sam Hall (Dark Shadows) Interview / Actor Ed Nelson / Death of Archie / Battlestar Galactica / Wonder Woman / Network Jingles / Class of '74 / Happy Days / Good Times / Mr. Bill / Dinah! / Maude / Doris Day Show / Pamelyn Ferdin Interview / The Bicentennial Minute / Jingles & Catch Phrases of the 1970s / Early Cable TV 1970s / TV commercials for Women / TV Moms / Red Skelton / George Lindsay / Country Music TV Shows of the 1960s & 1970s / Betty White Show / Shirley Jones Interview / Tom Bosley / Rodney Dangerfield / How Sanford & Son Ended / Sanford & Son Spin-Off Grady / Great Memoirs / Virginia Graham Show / The "N" Word on TV / 10 Classic Comedy Routines You Have To Laugh At Before You Die / Hollywood Squares / 1970's Teen Idols & The Hudson Brothers / TV Stars with 3 Hit Shows / The Rookies / Unsold Pilots / Jackie Cooper / The Good Guys / Match Game / Make Room For Granddaddy / Mannix & Gail Fisher / Bette Midler in the 1970s / Bonus 1970's Stuff: Silent Star Marion Mack / Biff Burger / 1970s Fast Food Chains / Latin Casino / Beverly Hills Supper Club Fire / 1970's Daytime Talk Shows / The Fess Parker Show / Brady Bunch Sex Dungeon? / Love, Loss & What I Watched