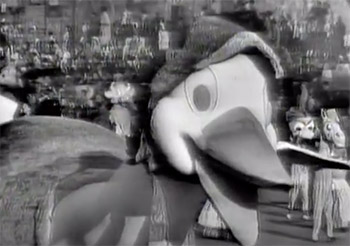 CBS All-American Thanksgiving
Day Parade Jubilees
by Kevin Butler
Thursday, November 28, 2019 marked the 60th anniversary of the CBS All-American Thanksgiving Day Parade Jubilees.
Starting in 1959, the CBS network and producer Mike Gargugilo broadcast four different parades from four different locales: The Gimbel's Thanksgiving Day Parade from Philadelphia; The J. L. Hudson Parade from Detroit; The Macy's Thanksgiving Day Parade from NYC; and The Eaton's Santa Claus Parade from Toronto, Canada (Eaton's parade was always pre-taped in advance for later broadcast).
Macy's Thanksgiving Day Parade as seen on NBC in 1959: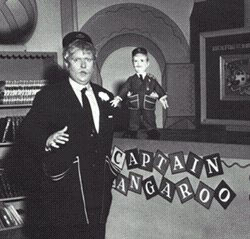 The main MCs for the CBS parade's early telecasts were Captain Kangaroo (Bob Keeshan), Mr. Green Jeans (Hugh Lumpy Brannum) Gus (Cosmo) Allegretti's puppets Mr. Moose and Bunny Rabbit. The group viewed the parades via a giant TV monitor which The Captain called "The Magic Picture Window Screen."
On his last parade broadcast in November of 1965 Captain Kangaroo's co-host was ventriloquist and entertainer Shari Lewis.


(The Detroit-based commentators were Dallas Townsend and Bob Murphy in 1962.)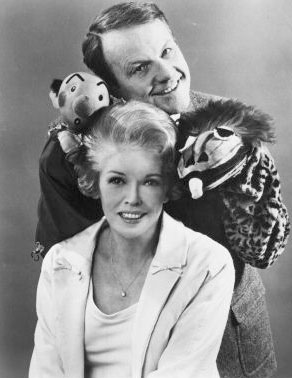 Other hosts for late-1960s / '70s / '80s parade telecasts were Peter Graves (when he was just beginning his stint as Jim Phelps on "Mission Impossible"); Bob Barker; Kukla, Fran (Allison) and Ollie with The Kuklapolitan Player Puppets, The Bil Baird Puppets, William Conrad and Larry Hagman.
With the exception of Kuklapolitans, Mr. Barker and The Bil Baird Puppets, the other hosts / narrators worked against a living room backdrop to give the viewers at home the feeling that they were sharing their holidays with warm and caring friends.


Many well-known performers and personalities served as the on the street commentators for the parade broadcasts like CBS TV newsmen Jack Whitaker and Gene Crane (who also hosted two CBS kid's talent shows in the 1950s - "Grand Chance Round Up" and "M&M Candy Carnival"/"Contest Carnival"). In the 1970s, Valerie Bertinelli ("One Day At A Time"), Danielle Brisebois ("All In The Family" and "Archie Bunker's Place"), Sorrell Booke ("The Dukes Of Hazard"), The Hudson Brothers, Isabel Sanford and Sherman Hemsley, and Kevin Frasier ("Kojak") all worked The Gimbel's Thanksgiving Day Parades from Philly.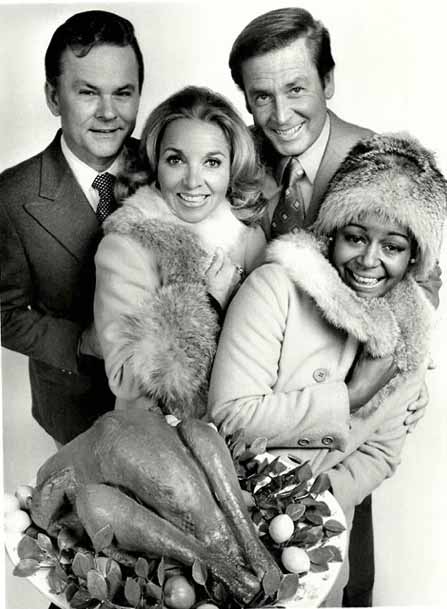 CBS Thanksgiving hosts 1971:
Bob Crane, Beverly Garland, Bob Barker and Gail Fisher.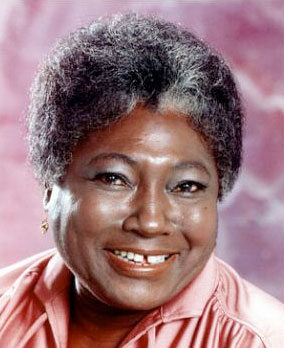 Esther Rolle & John Amos ("Good Times"), Linda Lavin ("Alice"), Ned Beatty, and Captain Kangaroo (Mr. Keeshan) and Kathy Garver ("Family Affair") were commentators for the J. L. Hudson Parades; Bob Barker and Rob Reiner commented on the Macy's Thanksgiving Day Parades" from NYC and Michael Lerned , Art & Jack Linkletter and Bob Denver, Herschel Bernardi, Jim Backus ("Gilligan's Island") commented on the Eaton's Santa Claus Parades from Toronto.

When the Eaton's Santa Claus Parades were dropped from the broadcasts, CBS acquired the rights to telecast "The Hawaiian Floral Parades" from the city of Honolulu. Loretta Swit ("M*A*S*H") and Gregory Harrison ("Trapper John, MD") hosted one parade telecast with the intros pre-filmed by actor Jack Lord (who was still playing Police Lt. Steve McGarrett on "Hawaii Five O").
Grand Marshals for The J. l. Hudson, Gimbel's and Macy's Parades include actor Van Williams (ABC/20 Century Fox TV's "Green Hornet") and children's book author and artist Teddy Geisel ("Dr. Seuss) appeared in The J. l. Hudson Parades; American Bandstand's Dick Clark, actress and singer Andrea McArdle (appearing on Broadway as "Annie"), Ted Mack ("Original Amateur Hour") and Captain Kangaroo.
The late Soupy Sales appeared in The Macy's Parades in NYC in November, 1964, November, 1965 and again in November, 1966. 'Captain Bob' Cottle (the second and last host/performer and instructor of NBC TV's and Hanna/Barbera's "Ruff & Reddy Show"), Gene London (who played Tinker Tom the Toymaker on WJZ/WABC 7's "Tinker's Workshop"), Shari Lewis, and Herb Sheldon (the MC of many popular NYC based kid's TV shows) played a lion tamer in the NYC Macy's Parades.
Gene London and Mark Ritts' puppet Flam Flamingo (both appearing on Mr. London's last kid's show "The Gene London Show" on WCAU TV 10 in Philly) appeared on the Gimbel's Parade from The City Of Brotherly Love. Gene London also appeared as Tinker Tom the Toymaker at the NYC Macy's Thanksgiving Day Parade back in the late-1950s.
CBS TV even broadcast "The Mummers Parade" one year.
Eventually, the Gimbel's, J. L. Hudson and Hawaiian Floral Parades were dropped and CBS began broadcasting the NYC Macy's Thanksgiving Day Parade in its entirety with the hosts/interviewers of "The CBS TV Early Show" serving as the commentators.
---
BONUS RARE PARADE VIDEO
Thanks to Kevin Butler for this - "The Santa Claus Lane Parade" from November, 1960 with appearances by Los Angeles local TV stars Skipper Frank Herman, Chucko The Clown, Sheriff John Rovick, Don Defore, Patty McCormick, "Bozo" (Vance Colvig), Francis X. Bushman and Soupy Sales.

William Conrad Fireplace CBS All American Thanksgiving Day Parade 1980
---
MOMENTS FROM THANKSGIVINGS PAST : THE 1970s
In 1972 ABC aired it's Saturday morning shows the Friday day after Thanksgiving to the welcome delight of kids home from school and
flustered moms that wanted the them out of her hair.
Promo for NBC's 1977 broadcast of the Thanksgiving Day festivities.
WDIV 1978 Hudson's Thanksgiving Day Santa Parade from Detroit
with their great kiddie show hosts.
More from that parade in Detroit.
---
Thanksgiving Parades on the 1980s
1980 Macy's Thanksgiving Day Parade opening.
The Macy's Parade from 1983 on NBC with Bryant Gumbel:
Macy's Parade on NBC from 1989: