These clips are bound to cause a flood of memories of Christmastime long ago! Like a collection of promos for CBS Christmas Specials in 1980...
If you were watching Jim Henson's The Christmas Toy on December 6, 1986 you saw these commercials for Kraft Foods, the sponsor. Also promos for Perry Como's holiday special.
Commercial breaks from the Rudolph the Red Nosed Reindeer, Frosty the Snowman, and How the Grinch Stole Christmas broadcasts on CBS in 1985. Featuring many of the popular toys that season like Teddy Ruxpin and Pound Puppies - included is a promo for Mary, Mary Tyler Moore's failed return to sitcom TV. If you tuned in to those specials in 1985 you may remember these!
A retrospective of 1986 holiday commercials.
John Denver Christmas in Aspen was a big ratings winner in 1988. Both Denver and Perry Como would host holiday shows from different locales. John Denver died in a plane crash in 1997 but Perry Como continued on.
The He Man & She-Ra Christmas Special has to be one of the decade's craziest holiday joints. He-Man and the Masters of the Universe and its spin-off She-Ra: Princess of Power were both very popular cartoon characters in daytime syndication, with an enormous number of action figures and various toy incarnations lining the shelves at Toys R Us. Originally broadcast in December of 1985.
At the end of the adventure, Prince Adam states, "Though we celebrate it and get presents, Christmas is about caring, sharing and goodwill and its spirit is within all of us." His pal Orko, on the other hand, says what make him happy on Christmas is - presents!
A little closer to reality was The Golden Girls Christmas episode from Season 2, 'T'was The Nightmare Before Christmas'. Dorothy has lost the spirit of the holiday... can she get it back?

BONUS: This is a sampling of primetime TV ads from the 1980s, as an example of what was airing the rest of the year.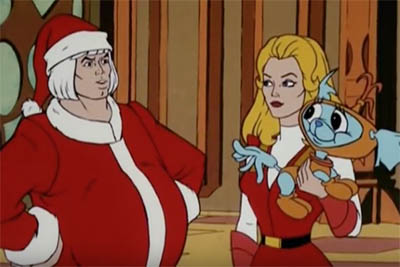 1980s Holiday
Moments on TV
Cabbage Patch Dolls, Glo Worm, Care Bears, Masters of the Universe, Rainbow Bright, Popples, Teddy Ruxpin, Wuzzles were some of the hot toys in the 1980s.
1987 Christmas Commercials