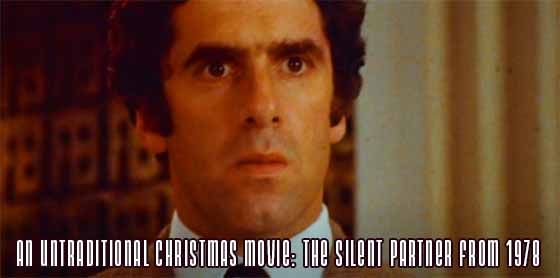 by Billy Ingram
Watching not 'Die Hard' this season but another Christmas movie from 1978… 'The Silent Partner' w Elliot Gould. Love the shots filmed in a mall… when Visa was also known as CHARGEX - probably because someone already had charge.com locked up!
Directed by Daryl Duke ('The Thorn Birds') the film stars Elliot Gould as a timid but cunning bank teller who anticipates a bank robbery will take place and steals the cash before the thief has an opportunity to do so.
The robber tracks down Gould's character and that initiates a mad chase for the loot. Also seen Susannah York, Christopher Plummer, and a very young John Candy.
Clocking in at just over 1 1/2 hours, it's a fast paced thriller with Christmas trees and carols galore - so that makes it a Christmas movie, right? Right up there with 'Die Hard,' 'Batman Returns,' 'Edward Scissorhands,' 'Lethal Weapon,' and 'Gremlins' just to name a few titles that have come to define the season for the untraditional sort.
In this neglected classic with a genuine twist ending, Christopher Plummer plays the thief disguised as a mall Santa. You may notice that Gould's character uses a Superman lunch box in the heist. One of the biggest box office movies of 1978? 'Superman.' But no one knew that when the motion picture was shot.
Rated R, 'The Silent Partner' is a true hidden gem from the 1970s with genuine humor, tension, kinkiness, and immersive performances. Christopher Plummer is a truly wicked bad guy while, in a small role, John Candy delivers an engaging performance as a happy go lucky bank employee. (Candy's first leading role in a Hollywood film didn't come until 1985's 'Summer Rental.')
Here's what Siskel & Ebert said about this unusual holiday flick…
The Silent Partner is currently streaming on Kanopy, if you have a library card you're likely able to see free movies on Kanopy.